Exhibition
Emma Talbot - Sounders of the Depths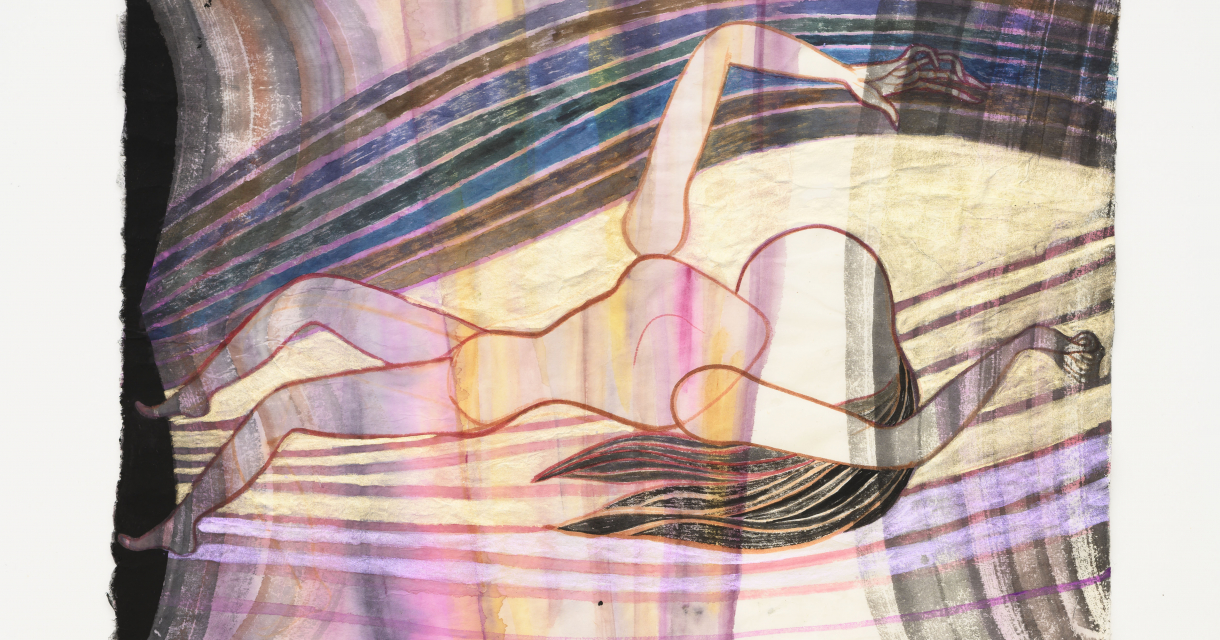 The multimedia work of Emma Talbot (b. 1969) explores human existence as a dreamlike, occasionally oppressive experience somewhere between the conscious and the subconscious, the everyday and the mythical. Poetry, light materials, flowing lines and decorative patterns are all distinctive elements of her work. Sounders of the Depths at GEM is Talbot's first solo museum show outside her native United Kingdom.
<br />
<br />
From drawings and sculptures to textile and sound &ndash; the female figures created by Emma Talbot take many forms. These faceless creatures are often seen in familiar situations: getting out of bed and glancing at their phone, taking something from a medicine cabinet. But some end up in strange, troubling adventures, in which they might tumble into a deep abyss or almost be struck by lightning. Talbot often seeks to achieve a certain transience, alluding to the temporary nature of an idea, a conversation and, ultimately, every human life.
<br />
<br />
The exhibition at GEM will include both new and existing work, in a chronological trail that takes us from birth to death. Talbot depicts beginning and endings as two epic moments that everyone has experienced or will experience, but which we are unable to remember or imagine. Between these two milestones life is like sleepwalking: a temporary twilight that links history and the future. Talbot expresses her view of life in a ten-metre installation in acrylic on silk (21st Century Sleepwalk, 2018) that will be the centrepiece of the exhibition. Hanging freely in the exhibition space, the work has a remarkable lightness, which transforms the scenes depicted into a visual stream of consciousness.
<br />
<br />
The subconscious is a subject of particular interest to Talbot. She attempts to capture the spirit of the times by focusing on that which cannot in fact be captured: the undertow of human existence. In the exhibition, she will connect today&rsquo;s society with tales from antiquity, referring to poetry and literature in the text included in her work, some of which she has written herself. At the same time, these pieces are intimately interwoven with Talbot&rsquo;s personal life. &lsquo;Everything I&rsquo;m concerned with while I&rsquo;m creating is translated into my work &ndash; memories, my surroundings, thoughts about who exactly I am&rsquo;, she explains.
<br />
<br />
<strong>About Emma Talbot
</strong><br />
Emma Talbot (b. 1969, UK) studied at the Birmingham Institute of Art &amp; Design and the Royal College of Art. Her work has previously been exhibited at Arcadia Missa in New York, Turner Contemporary, Drawing Room and the Freud Museum in London, Galerie Onrust in Amsterdam, Neuer Aachener Kunstverein and Tate St. Ives. She currently holds the post of Tutor in Painting at the Royal College of Art&rsquo;s School of Arts and Humanities.
Unfortunately, this event has expired
View all upcoming events in The Hague in the agenda overview