Exhibition
The Lavino Collection - Showcase of Dutch Delftware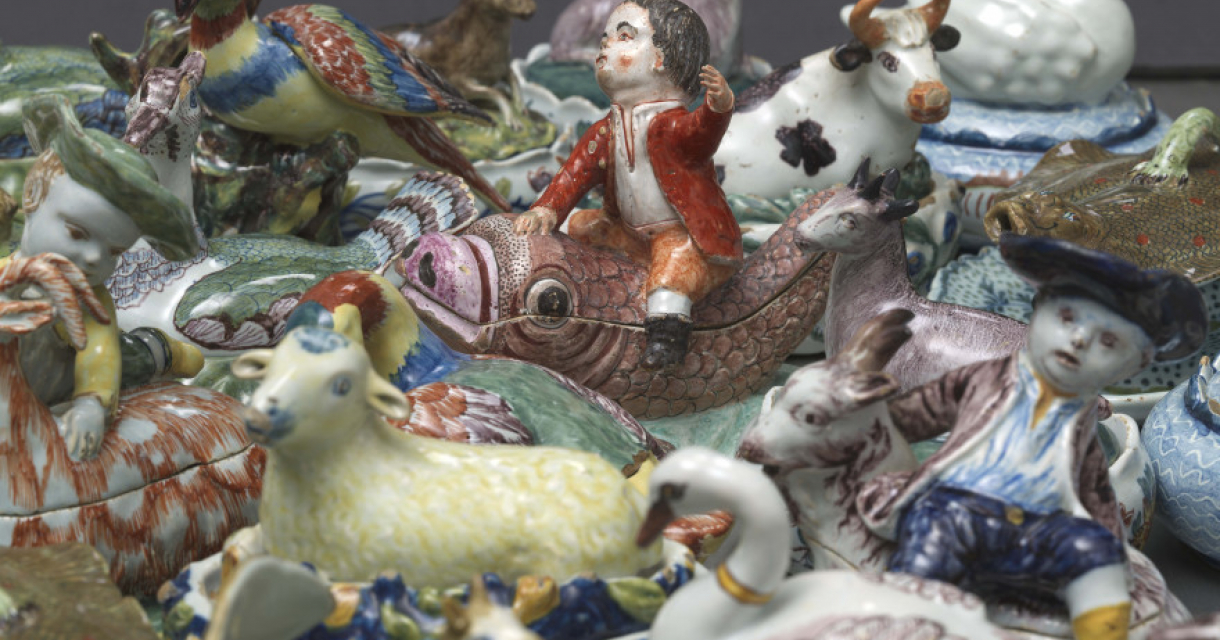 Colourful containers in the form of elegant ladies, lavishly decorated flower holders, fruit bowls, jumping horses, human figurines, objects inspired by Chinese porcelain, cupboard sets, shoes and other miniatures, and even a plate in the rare &lsquo;Delft. Kunstmuseum Den Haag recently received one of the world&rsquo;s largest and most important private collections of Dutch delftware on long-term loan. The Lavino Collection was built by steel magnate Meijer Lavino, who died in 2005. This unique collection, never before shown to the public, includes almost the entire range of wares produced by Delft potters between 1660 and 1820. The exhibition will focus on the quality and range of the collection, and its history.<br />
<br />
<strong>Meijer Lavino</strong><br />
Meijer Lavino (Rotterdam, 1937 &ndash; Antwerp, 2005) was the only child of Jewish parents. In 1964 he and Jo de Jong set up De Jong &amp; Lavino, steel suppliers. In addition to his love of clocks, romantic paintings and rugs, between 1980 and 2002 he devoted himself with great passion to collecting Dutch delftware. He bought a wide-ranging and varied selection of Dutch delftware and was also intrigued by pairs and complete sets. Besides the variation in forms, he also collected Delftware featuring all the decorative techniques, from white and blue-and-white to multicoloured and pastel shades with gilding. He had a remarkable eye for the best-quality pieces. To ensure he purchased the best available, Lavino surrounded himself with Dutch delftware experts, and he could also rely on the support of his wife Paula Lavino-Ridderhof.<br />
<br />
<strong>Kunstmuseum Den Haag</strong>&nbsp;<strong>&nbsp;</strong><br />
Kunstmuseum Den Haag is one of the finest and most diverse museums in the Netherlands. The magnificent Berlage building houses not only the largest Mondriaan collection in the world, but also a permanent exhibition of modern art, an outstanding silver collection, finely decorated Delft Blue, interactive Wonderkamers and countless continuously changing exhibitions.
<br />
<br />
<strong>Directions to&nbsp;Kunstmuseum Den Haag</strong>&nbsp;<strong>&nbsp;</strong><br />
Kunstmuseum Den Haag is located in Statenkwartier nearby Scheveningen beach and is easy to reach by public transport, car and bike. From Den Haag Centraal Railway Station and Hollands Spoor, tram 17 will take you to the museum in approximately 20 minutes. From Station CS you can also take bus 24, which runs between Station Mariahoeve and Kijkduin.
<br />
Kunstmuseum Den Haag can be reached by car via Utrechtsebaan towards Kijkduin. On arrival in the city follow the signs for 'Kunstmuseum Den Haag '. There are plenty of opportunities for free parking. If the car park should be full then paid parking is available in the World Forum parking garage at Churchillplein 10, which is about a 5-minute walk from Kunstmuseum Den Haag .
Unfortunately, this event has expired
View all upcoming events in The Hague in the agenda overview