Favourites
Remove
Bakery Hessing is a household name in The Hague. On the Denneweg, but also in the branches on the Reinkenstraat and the Theresiastraat, you will find this family business where the real Hague baker still bakes fresh bread with love at night.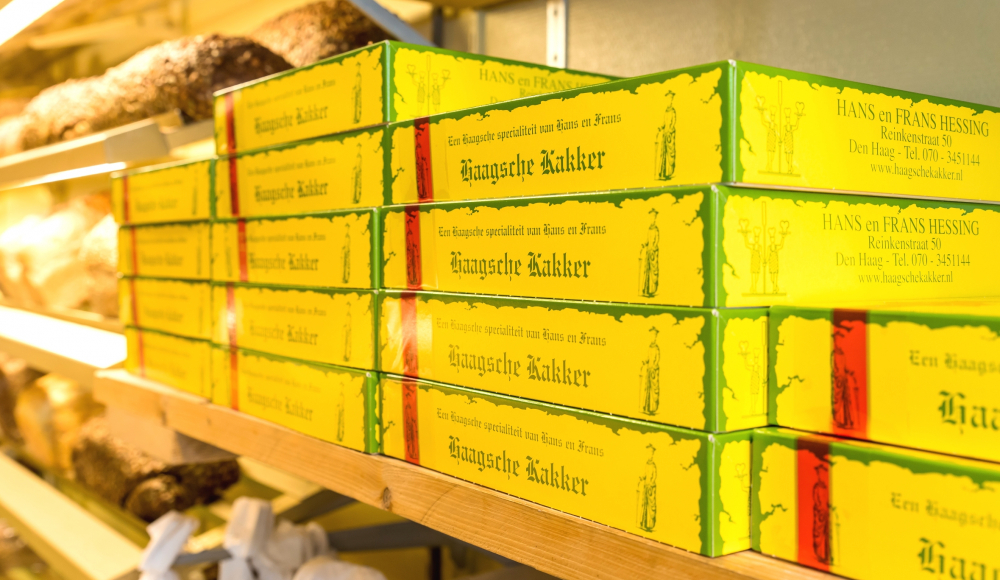 Bakery Hessing
The Hague baker Hessing is a family business where delicious breads have been baked for three generations. A craft that is passed on from father to son. The Hague bakers are particularly known for the special Hague specialties such as the Haagsche Kakkers, Ooievaartjes, Den Haagelslag and the Haagsche Jantjes. Sourdough bread has also been baked for over thirty years with special raw materials, often supplied from our own country. In the bakery you can enjoy delicious pastries, tasty breads, sandwiches and beautiful chocolate work.
 
The 'Haagsche Kakker'
The Haagsche Kakker originated years ago, when stingy people from The Hague wanted to present themselves generously to their guests. To prove that they were not stingy, they served their guests a traditionally filled currant bread, with a filling of almond paste, cinnamon, butter and nuts. The Hague Cockroach. Brothers Frans and Hans Hessing of Bakkerij Hessing have restored this tradition. At the traditional bakery of the Hessing brothers you can again buy Haagsche Kakkers, which taste even better when you warm them up in the oven.
The Hague Specialties
In addition to the Haagsche Kakker, Bakkerij Hessing offers even more typical Hague specialties such as Haagsche Jantjes, bonbons filled with hazelnut praline and pieces of browned hazelnut. The Haagsche Ooievaartjes (butter hazelnut cinnamon biscuits) and the Den Haagelslag (green-yellow chocolate sprinkles made from white chocolate) can also be found at Bakkerij Hessing.
Denneweg
Denneweg, which used to be the antique street in The Hague, is now a 'must see' for lovers of lifestyle and design at an international level. With its adjacent streets and canals, the Denneweg is like an open-air department store with specialty shops where service is of paramount importance. Discover all the beauty that the street, together with the adjacent Vos in Tuinstraat, Spekstraat, Kazernestraat, Hooistraat, Hooigracht, Mauritskade and Lange Voorhout, have to offer. From early in the morning until late in the evening, you can enjoy many leading fashion and lifestyle stores in this neighborhood, from a variety of cafes, restaurants and terraces and various cultural institutions.