Favourites
Remove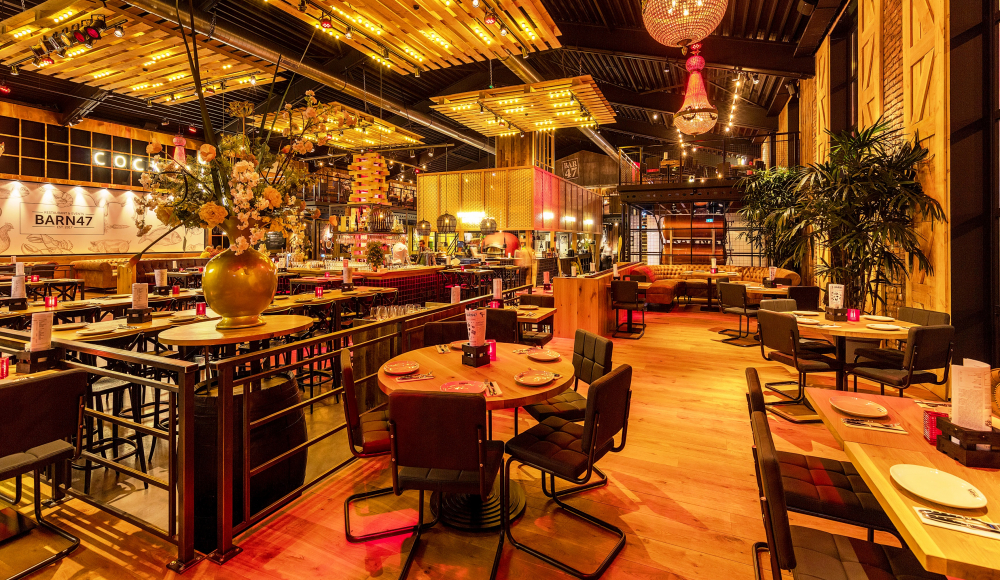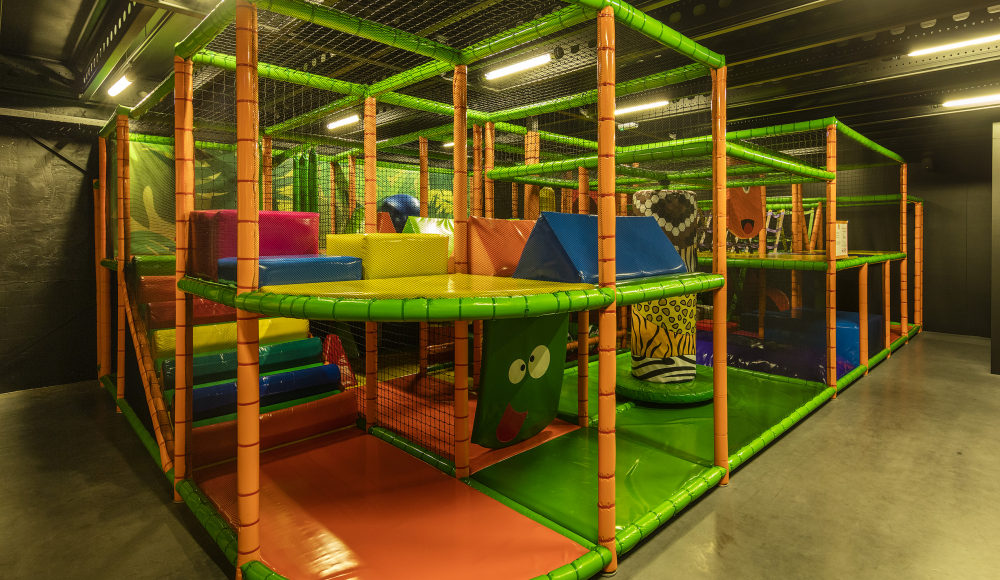 At Barn47 you'll have an amazing food experience. In a very warm and special entourage of a big American warehouse you can enjoy food and drinks on a complete new level. Inspired on the foodhalls of Madrid and Copenhagen you will find an impressive foodcourt where street food, comfort food and nice signature dishes are being prepared. For one price you can choose from a big assortment of international and authentic dishes. Walk past all the food courts to choose your favorite dishes or let our guest assistents surprise you for a selection of Barn dishes. Because of the big range in food everyone will love Barn47.
Asian Bar
You will be taken down on a journey around South-East Asia. With spicy classics like Thai fish cookies with mango chilidip, Taiwanese Bao with char-Siu bacon, sweet-sour cucumber and chili-lemon grass mayonnaise. Or do you prefer a slightly lighter snack, such as Vietnamese rice rolls with red curry gambas and soy-ginger dip?
Barn's Butcher
In addition to the Asian cuisine, you will find the department for the real meat-lovers. On the large charcoal grill we grill the best BBQ specials and signature dishes. Barn47 works with a local butcher who selects the most beautiful pieces of meat for Barn47.
El Cucino
In the Mexican cuisine you can choose from nachos, soft tacos and quesadillas. Quesadilla is Mexican for 'cheese dough'. They fill them with spicy meat, cream cheese and a mix of cheddar and gruyère. They can of course also prepare a vegetarian version for you.
Woodstone Kitchen
In the traditional pizza oven, the Italian pizza chef makes the best fresh pizza's. Like the classics Quattro formaggi, Salami and Margarita.
The Fish Market
Barn47 also thought of the fish lover. Together with their supplier Q-vis, they select a few beautiful fish for you every day on the plate (like salmon, cod and gambas). We serve the fish and seafood that are the best of the season.
Rotisserie
Do you like the smell of grilled chicken? Barn47 makes it even harder for you, because fresh chicken is always on the French flamb grill. They also serve chicken wings with a crispy crust.
Patato Atelier
Do you want to eat old fashioned fries? In the Potato Atelier Barn47 serves a selection of fries and you can choose from different sauces.
Sushi
At the sushi bar Barn47 daily prepares the most delicious sushi. The sushi rice is prepares according to an authentic recipe and enriched with nice ingredients such as salmon, tuna and avocado. Of course these sushi can be dipped in tasty soy sauce, with or without wasabi.
Salad
On the nitrogen-cooled salad bar you can make your own salad. Barn47 has selected different types of sliced and mixed wedges for you to prepare yourself with classic home-made dressings like balsamic dressing, Caesar dressing, 1000 Island dressing and honey mustard dressing.
Kids Kitchen
Last but not least, the kids (and adults!) Can get their hearts out at Kids Kitchen. Where you can find pancakes in the best shapes. They also make fresh Pizza Pops with nice Nutella topping.
Dessert
Barn47 serves different desserts each day in a glass. Not too big, so you can taste them all! You must think of pannacotta, cheesecake, chocolate mousse or tiramisu. But then with the Barn47 twist. There is also a soft ice machines with a lot of different toppings, where you can make your own ice cream.
Events
Do you want to organize an event at Barn47 yourself, like a drink, company event, anniversary, wedding or birthday? Barn47 can help you out. Barn47 has a lot of space in the restaurant and also a top floor and our Club47, where private events can take place. Barn47 can organize a diner for 2 for you, but also parties up to 1.500 people.
Opening time
Monday 17.00h-22.00h
Tuesday 17.00h-22.00h
Wednesday 12.00h-15.30h + 17.00h-22.00h
Thursday 17.00h-22.00h
Friday 17.00h-22.30h
Saturday 12.00h-15.30h + 17.00h-22.30h
Sunday 12.00h-15.00h + 17.00h-22.00h
These are the opening times of the kitchens, off course you can stay longer to have some drinks after dinner.
Prices Barn47
Barn Tasting (dinner adults): mon.-thu. € 24,50 p.p. fri.- sun. € 28,50 p.p. 
Barn Tasting (dinner kids): 

Kids untill 3 years free, 

Kids from 4-7 years old € 10,50 p.p., 

Kids from 8-11 years old € 17,50 p.p.
ion to pancakes the menu also offers other delicious lunch and dinner dis
hes.