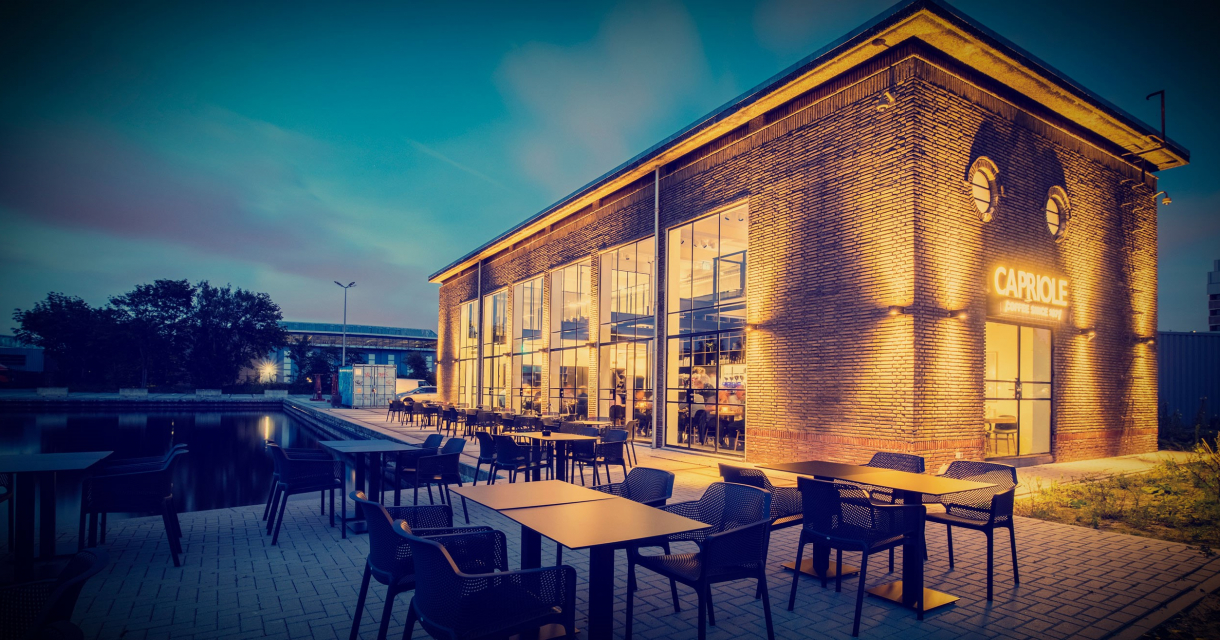 Capriole Café is a genuine Hague hotspot. Concealed in a fabulous industrial waterside location in the Binckhorst near Voorburg, this is an excellent spot to enjoy organic coffee roasted on site or a delicious lunch on the terrace at the Fokkerhaven. In the evenings, the restaurant serves daring and refined dishes from the open kitchen. The sleek, minimalist design of the converted paint factory on the Trekvliet canal also has a warm and homely atmosphere, not least thanks to the enthusiastic and friendly staff. Moreover, you can park for free in front of the restaurant, but you can also moor your boat. Capriole Café is temporarily open from Wednesday to Sunday, so what are you waiting for?
Slightly concealed
Although somewhat hidden, once you've found Capriole Café you'll be sold. The sleek industrial building perfectly matches the industrial setting of the Fokkerkade. When you go inside, you'll immediately notice the beautiful Giesen coffee bean roaster. Your table not only gives you a view of the baristas, but also of the chefs in the open kitchen. The coffee bar is open for lunch with an extensive coffee menu and sweet treats. For lunch, Capriole Café has a lunch menu with surprising sandwiches to warm street food dishes (including vegan options). In the evening, Capriole Café serves a three, four and five course chef's menu with a choice of fish, meat and vegan dishes. After your visit, you are guaranteed to add this hidden gem from The Hague to your favorites!

Coffee roasting house
Fairtrade and organic coffees are freshly roasted in Capriole Café by Giancarlo Matarazzi, using a Giesen roaster. Giancarlo roasts artisanal Capriole coffee daily and holds different coffee workshops. Freshly roasted coffee to take home is also on sale at Capriole Café every day through koffie.nl

Directions
Admittedly, Capriole Café is hard to find. Buses 26 and 28 both stop a five-minute walk away (Zonweg stop). Make sure that you turn right into the narrow street lined with businesses to the right of the Fokker Terminal, until you automatically arrive at the Fokkerhaven. If you're coming by car, follow the signs for 'Capriole' once you get to Binckhorstlaan. After the parallel road at the Fokker Terminal, drive past the narrow street lined with businesses towards the water. You can park free here outside the entrance to Capriole Café.