Bookmark
Remove
The measures that have been taken against the spreading of the Corona virus (COVID-19) will impact your visit to The Hague. The Government of The Netherlands has taken measures for the whole country in order to counter the further spreading of the virus.
Everywhere in The Netherlands, it is obligated to keep at least 1,5 meters distance to other people, except people who belong to the same household. Moreover, people who gather with more than 2 people without keeping the minimal 1,5 meters distance to each other, can be fined. The rules will be strictly enforced and those who ignore them can get a hefty fine. The Dutch government asks everyone to stay away from crowded places. Public transport in The Hague is operative, but people are asked only to make use of it when it is strictly necessary. The Dutch government specifically points out that people should not use public transport to travel to the beach when the weather is nice, because it will lead to dangerous situations. From 1 June, the use of a protective mask in public transport is obligated.
At this moment, all museums, concert halls, libraries, theaters and other highlights of The Hague are currently closed. Also all restaurants, bars, beach bars and other eating and drinking establishments are closed, but some offer take-away or delivery. Some hotels in The Hague are still open, but others have decided to close for now.
Step by step reopening
In the next months, the measures that have been taken to stop the spread of the Corona virus will slowly be eased, if the developments regarding the fight against the virus allow this. This means that public life in The Hague will slowly start again.
From 1 June, restaurants, bars and other eating and drinking establishments will be allowed to open their doors again under strict conditions. Outdoor seating may be used again, but every customer is obligated to sit at a table and guests should be able to keep 1,5 meters distance to the next table. Also the indoor seating of these establishments may be used again from 1 June, but there is a strict limit of 30 guests that are allowed to be inside at the same time. Also, everyone will have to reserve a table beforehand. During this reservation, staff of the establishment will ask about your health situation. People with health issues are still obligated to stay inside.
Also museums are allowed to open their doors again from 1 June, but only if they can guarantee that guests can keep a minimum of 1,5 meters distance. Tickets will have to be reserved beforehand. Therefore, spontaneously going out for dinner or drinks or visiting a museum is still not possible. We recommend to always check the website of the restaurant, bar or museum before visiting, to check if they have reopened or not and which specific measures are in place.
If the fight against the Coronavirus is going well, the measures will be eased again on 1 July. Restaurants, bars and museums will then be allowed to have a maximum of 100 people inside. Moreover, from 1 July, campsites and holiday parks will be allowed to open their sanitary facilities again. Also conference halls and churches will be allowed to operate again from 1 July.
The beach
Especially when the weather is good, in the weekends and outside of regular working hours, parks and the beach tend to get too busy. Because of that, people will no longer be able to keep the minimum distance of 1,5 meters to others. Therefore, the Government strongly advices to avoid visiting the parks and beach during these busy moments and avoid crowds altogether. When it is expected that it might become busy, the Municipality of The Hague has the possibility of closing all parking garages close to the beach. Moreover, main roads to the boulevard or harbor might be closed to avoid traffic. When it becomes to busy on the beach or in parks, the Municipality has the option of closing the area all together.
The Hague Info Store (THIS)
The Tourist Information Office located in the main library in the city centre, The Hague Info Store (THIS) is open as of Monday 25th May from Monday to Saturday from 12.00 to 17.00 hrs. It is still possible to reach The Hague Info Store (THIS) via phone, email, twitter and whatsapp. Go to the page of THIS for more information.
Are you planning to visit The Hague? We strongly advise you to check with the relevant organisations themselves if events are cancelled or not and if locations that you were planning to visit are open. In addition, we recommend that you should keep yourself informed regarding the information the Government is providing which will advise you about the current public health situation.
For more information about the measures taken against the Corona-virus, please visit the website of the Government of the Netherlands: https://www.government.nl/topics/coronavirus-covid-19
Virtual visit
Since the Corona virus currently makes an actual visit to The Hague rather difficult, we will gladly provide you with some tips to explore The Hague online. Are your children bored from being at home? Check our tips to entertain them while still experiencing a bit of The Hague. In these difficult times, we stand strong together in The Hague. Have a look at the most beautiful initiatives that have been set up in The Hague during this Corona-crisis.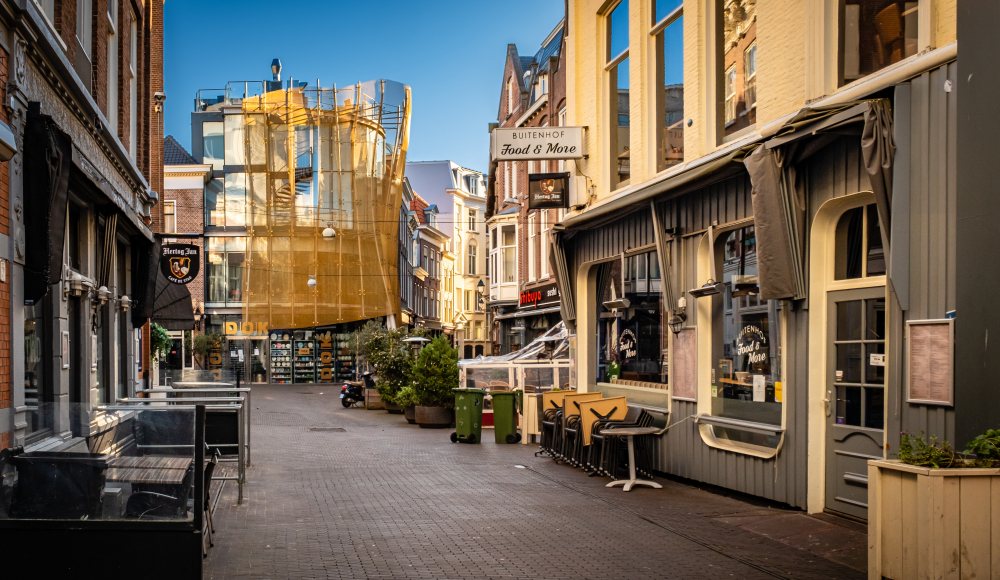 Als het goed gaat met het terugdringen van het Coronavirus, kunnen bij restaurants, cafés, andere horeca en musea vanaf 1 juli zelfs 100 mensen tegelijk worden toegelaten. Ook zullen vakantieparken en campings dan weer hun sanitaire ruimtes mogen openen. Daarnaast mogen congrescentra en kerken vanaf 1 juli weer openen.
Strand
Vooral met mooi weer, in het weekend en buiten vaste werktijden wordt het soms te druk in parken en op het strand. Daardoor kunnen mensen niet meer de verplichte 1,5 meter afstand tot elkaar houden. De Gemeente Den Haag kan bovendien op momenten dat drukte verwacht wordt de parkeergarages en parkeerplaatsen bij het strand en wegen rondom de boulevard en haven sluiten voor verkeer. Als het toch te druk wordt op het strand of in een park, kan de gemeente het gebied helemaal afsluiten.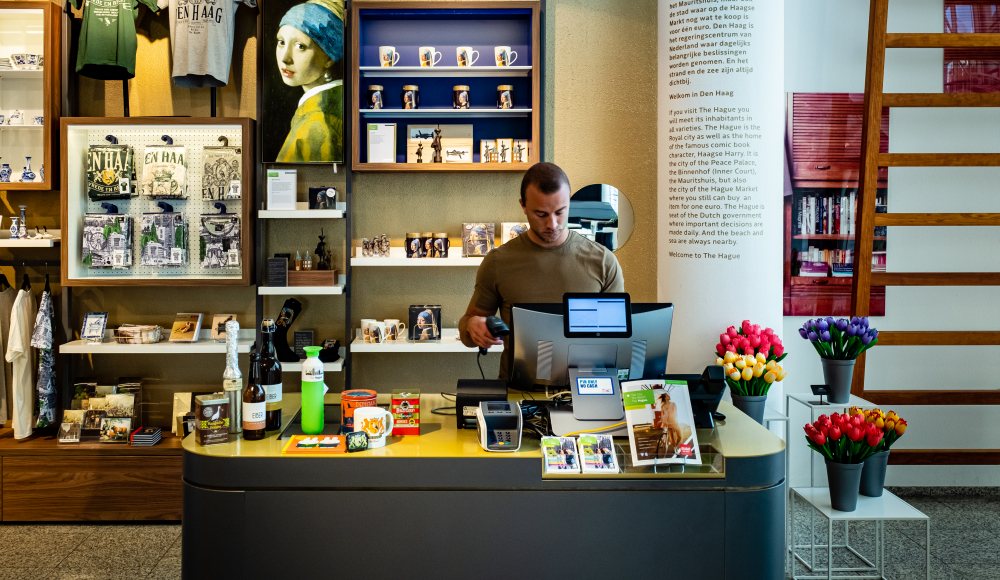 The Hague Info Store (THIS)
Het toeristisch informatiepunt in de bibliotheek aan het Spui, The Hague Info Store (THIS), is vanaf maandag 25 mei geopend van maandag tot en met zaterdag van 12.00 tot 17.00 uur. The Hague Info Store (THIS) is ook telefonisch, via mail en twitter en whatsapp bereikbaar. Kijk op de pagina van THIS voor meer informatie.
Je kunt tevens terecht in de online winkel. Hier vind je een deel van de collectie uit The Hague Info Store zoals (lokale) Haagse producten en lekkernijen. Van plattegronden tot Haagse boeken, kleding en speciaal voor THIS ontworpen souvenirs; je kunt ze nu hier bestellen. 
Plan je een toekomstig bezoek aan Den Haag? Informeer dan eerst goed bij de organisaties zelf of evenementen zijn afgelast en de locaties die je wilt bezoeken inmiddels weer toegankelijk zijn of niet. Hou ook goed de informatie van de Rijksoverheid en het RIVM in de gaten over de huidige situatie en de maatregelen die genomen worden.
Voor meer informatie over deze maatregelen verwijzen wij je naar de website van de Rijksoverheid: https://www.rijksoverheid.nl/onderwerpen/coronavirus-covid-19
Virtueel bezoek
Op dit moment is vanwege het Corona virus een live bezoek aan Den Haag nog lastig, wij geven je graag wat leuke tips om Den Haag online te bezoeken. Geniet op een andere wijze van de mooiste Stad aan Zee. Slaat de verveling bij de kinderen toe in deze tijden van thuiswerken? Bekijk dan onze tips voor kinderen om Den Haag toch nog een beetje te beleven. In deze moeilijke tijden staan we in Den Haag samen sterk. Bekijk de mooiste Haagse initiatieven die zijn opgezet.