Favourites
Remove
Leave your winter coat and wool sweater in the closet because you can still sit on a heated terrace. To make sure you're not surprised by some cold weather, we have made a top 10 of heated terraces in The Hague.
1

Jamey Bennet - Plaats 11
Young, old, late or early. Jamey Bennet has a lovely heated terrace. Open early in the morning until late at night. In this urban garden located at 'de Plaats' you can drink your early smoothie or red wine under a warm heater and if you're lucky aside a fireplace. Jamey Bennet is open 7 days a week for breakfast, lunch and dinner. 
2

De Posthoorn - Lange Voorhout 39-A
Sitting around in a traditional hotspot in The Hague 'de Posthoorn' located in the lovely Lange Voorhout. Traditionally jet still the place where artists, journalists, politicians, business people, tourists and expats meet eachother. Today an iconic place where friends and families also feel at home. Keep your 'bitterballen' warm by placing them under a heater.
3

Hoender en Hop - Grote Markt 25
Who doesn't know the big black push buttons to switch on the heaters? Which you will delight all your friends with in the fall. The Grote Markt is the place where you can find heated terraces all year round. You can also enjoy delicious food and drinks at Hoender en Hop. 
4

Bleyenberg - Grote Markt 10
A lovely heated terrace with a beautiful view over the center of The Hague. If you don't get warm from heights, you will probably get nice and warm from the heaters on the rooftop bar at Bleyenberg in The Hague. The ideal place to relax after an afternoon strolling in the city.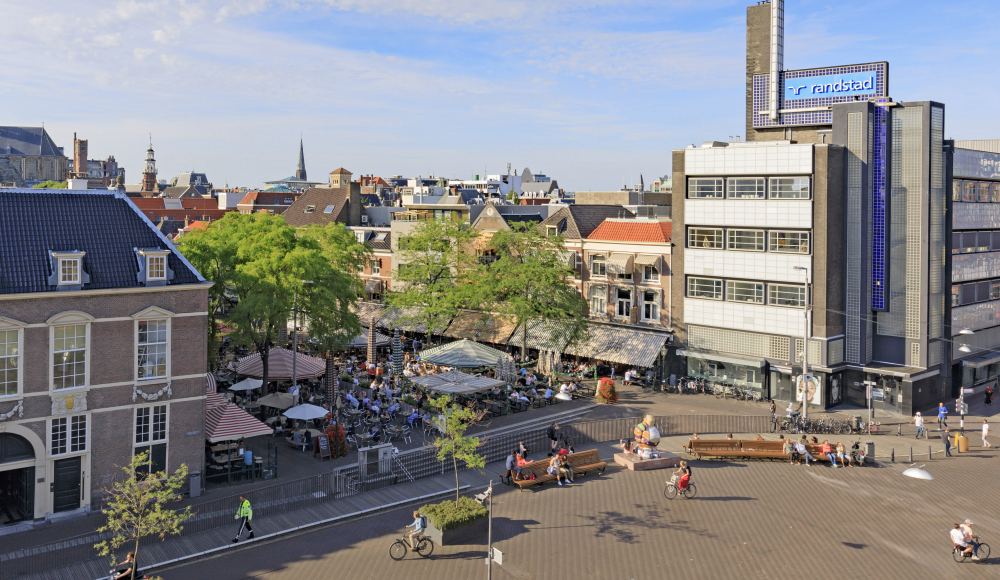 5

Little V - Rabbijn Maarsenplein 21
Little V is located at the cozy Rabbijn Maarsplein. Right in the center of Chinatown is one of the best Vietnamese restaurants in The Hague. If the heaters are not hot enough, we recommend ordering extra spicy dishes and don't forget to order the rice paper rolls!
6

Room - Anna Paulownaplein 16
Run for the best spot or make sure you have reserved a table under the heater, otherwise they will always have blankets. Room has a wonderful homely atmosphere. After a pleasant afternoon or evening at Room, you can take a photo with Princess Anna on the bench in the middle of Anna Paulownaplein.
7

Appels en peren - Appelstraat 155
'Appels en peren' in the 'vruchtenbuurt' is not exactly an unknown place to eat. A full and heated terrace every day. Are you in the area and do you feel like delicious sandwiches and a good coffee? Then you're in the right place at Appels en peren!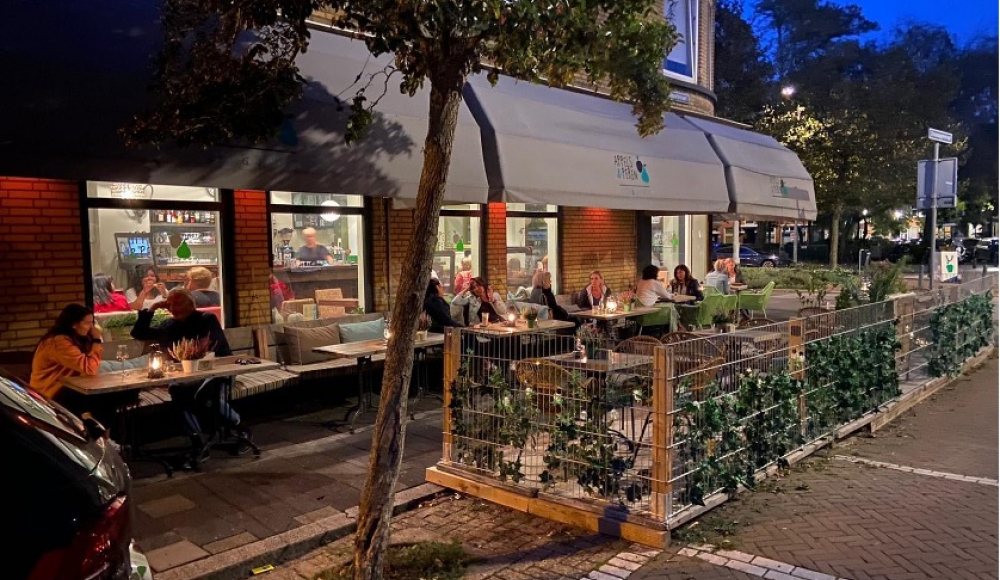 8

Restaurant Pex - Evert Wijtemaweg 5
Restaurant Pex is open from Monday untill Sunday from 9:00 AM to 9:00 PM. After a nice walk through the forest or after an afternoon of sports on the surrounding sports fields, you can warm up under the heaters of restaurant Pex, 7 days a week.
9

Suzie Q - Doctor Lelykade 33-37
Have dinner or lunch whilst enjoying the beautiful view over the harbor of Scheveningen. Suzie Q serves surprising and tasty dishes. Thai mussels, Bao Buns, Buratta or a truffle risotto. Take a seat underneath a heater and enjoy a hot chocolate fudge for dessert with a view of the beautiful sailboats.
10

Strandtenten Kijkduin & Scheveningen
During autumn it is lovely to spend your time in Kijkduin and Scheveningen! Whether it's a lovely late summer evening or even a little chilly outside it is comfortable to sit and relax at one of the beachclubs. Walk past the beach clubs and see for yourself where you want to relax.