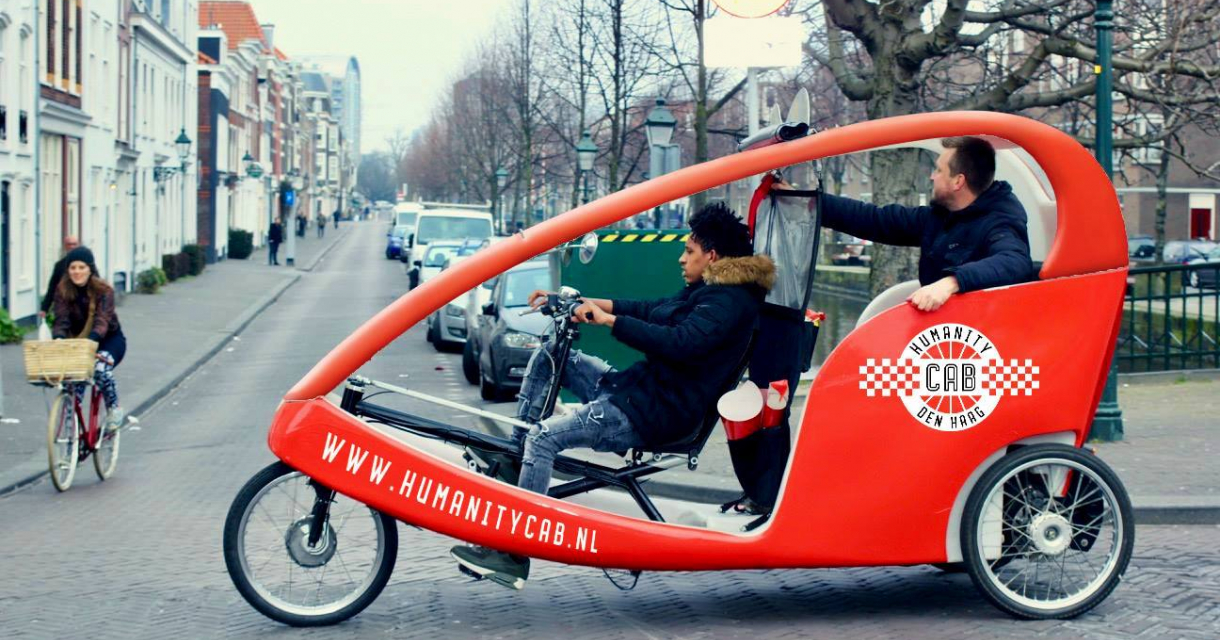 Favourites
Remove
Looking for a sustainable and relaxing means of transport through The Hague? Try a bike-taxi operated by Humanity Cab. (Untill 15th of November 2018, restarting in April 2019, special tours throughout the year).

The story of Humanity Cab
Humanity Cab is the first electric bike-taxi service fully run by Eritreans holding residence permits. Why specifically by Eritreans? Just like Dutch people, they too like to ride bikes. Humanity Cab is part of Eritrea Fietst (Eritrea Cycles) and its purpose is to provide Eritreans with residence permits a long-term place in our society. Due to the immense differences between Dutch and Eritrean cultures, the latter face great challenges in finding a place in Dutch society. That is why Humanity Cab helps them find a pleasant job, which means cycling just like you and I.

The bike-taxis
Humanity Cabs offer a comfortable and covered cabin that lets you enjoy the scenery during your ride while the chauffeur brings you to your destination. Every bike-taxi holds two passengers. The taxis are produced in Germany and are completely durable. The bikes are equipped with an electric pedal support.

Rates
The price of a ride in a Humanity Cab starts at 5 Euro. In addition, there are fixed prices, for example to the Mauritshuis, the Vredespaleis (Peace Palace) and the Kunstmuseum Den Haag. If you want something different, for example a ride around the Hofvijfer, then the calculation rate is per minute. You can pay cash, with a credit card or a debit card.

Where can you find a bike-taxi?
Humanity Cab has a number of fixed spots. You can find these bike-taxis near the Central Station, Spui and the Mauritshuis. If you need a bike-taxi, you can call 06-36396909 between 10:00 and 18:00 or visit the website of Humanity Cab.

Humanity Cab offers three special rides:
Humanty Cab City Tour
Binnenhof, Buitenhof, Vredespaleis – there is plenty to see in our city of peace and justice. The chauffeurs are happy to take you on a tour along the loveliest places in The Hague, viewing it all comfortably from the bike-taxi. The tour lasts around 60 minutes and costs 40 Euro (for two people). Start and ends: at the VVV (Tourist Office), Central Station or at a location agreed upon.

City Tour PLUS
In collaboration with Lola Bikes & Coffee, there is the City Tour PLUS arrangement for people who want to enjoy an extra: a Humanity Cab City Tour of around 60 minutes, which concludes with the most delicious coffee and homemade cake for two people. Start: VVV (Tourist Office), Central Station or at a location agreed upon. End: Lola Bikes & Coffee (Noordeinde 91). Price: 45 Euro.

Wedding taxi
With its comfortable seats for two, the Humanity Cab is also a great idea for a wedding taxi. On such a special day, the company makes sure the bike-taxi is beautifully decorated and the chauffeur is smartly dressed.