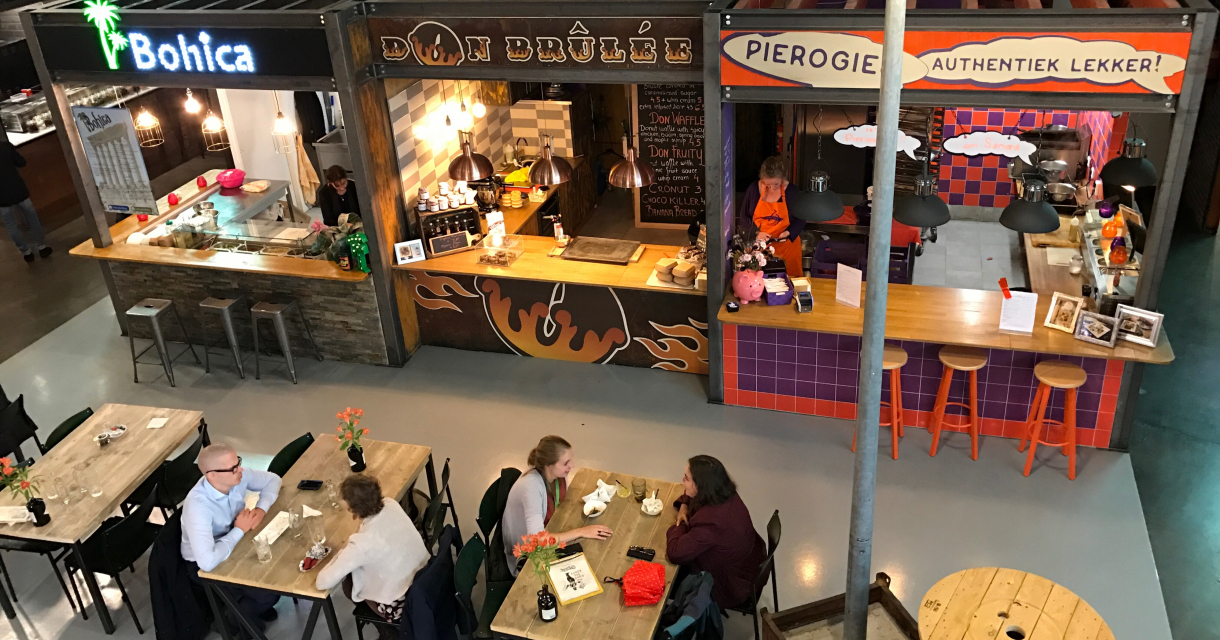 Favourites
Remove
It is time to Mingle!
In the middle of hectic The Hague, next to Central Station, there is a special place for all of us. Filled with all the stuff we need to make life even better. Food Hall MingleMush! Why choose? Meet friends, dive into the world of coffee and tea, have good food, a cocktail or brewski, have a blast at the arcade, enjoy a retro read, and dance like you never grew up! Good food and good mood: all at once on a single spot. Come and taste something delicious from our 15 food stands. Open 7 days a week. No cash, cards only.

Culinary journey around the world
Fifteen food stands form a menu of high-quality dishes with prices that vary from low to higher. Every concept brings its own personality within the hall. Foodies range from delicious Spanish snacks from The Tapas Bar to the Polish specialties of Sannie's Comfortfood to a Hawaiian Pokébowl from ThePokéBar. Asian fusion streetfood comes from Lime Leaf & Red Pepper, while Het Pizisseisje offers the true Italian pizza and antipasti and Don Brûlée serves the dessert with crème brûlée donuts. Guests order dishes at the stand to see the food being prepared live. Drinks serve the hosts at the table to make a visit even more relaxed. The three bars of MingleMush each have their own specialty: special beers on tap and bottle at Anna's Bar, coffee and tea at the MingleMush Bar, not to mention the beautiful cocktails and Gin & Tonics. The bartenders make and serve them with pride.

Food Hall and terrace
MingleMush is like an indoor festival, a food jungle. The entire glass room is divided into smaller clusters, allowing visitors to wander through streets from square to lounge. Natural materials are combined with light lettering and colorful elements. An art wall ensures Instagram worthy moments. Within this design each concept gets the possibility to determine the appearance of its stand for a warm, eclectic chaos. Lounge in the sitting pit, equipped with real library, play arcade games on the 1st floor. There is a Mush Garden for the little ones. Jazz on the Lazy Sundays. Mingle for Kids is an activity afternoon with games and children's disco that is organized every other week on a Sunday afternoon.

Besides the 1600 m2 indoor MingleMush also has about 700 m2 of terrace, in summer the whole day sun-drenched. The fountain next to it, live music outside and you can escape the hectic pace of the city.

Reservation for events, drinks and parties
MingleMush is a very suitable location for an event, drinks, birthday party for big and small or a company party. Whether you want to celebrate a children's party, your birthday with a drink for 20 people or a company party for 500+ people, MingleMush can do it all. We can reserve part of the Food Hall and it is also possible to rent the entire location exclusively. You can make free use of WiFi, flat-screen TV with HDMI connection and flip chart. Of course you can combine your event with lunch, dinner or drinks and a combination with various (musical) entertainment is also possible.

Location
By chance, the MingleMush entrepreneurs came across the building next to The Hague Central. From there the idea arises for a new place. A place for Hagenezen and visitors of the royal town. The place to meet, catch up, eat dishes from all corners of the globe, drink drinks, relax, read a book, listen to (live) music, work, date or forget about time. A melting pot of concepts, a mishmash, a MingleMush. Under MingleMush is a parking lot with about 1000 places (parking garage New Babylon) to bring together as many people as possible. The development of MingleMush comes simultaneously with a complete transformation on the east side of The Hague Central. After a couple of years of redevelopment, this area flourishes, with MingleMush in the heart.