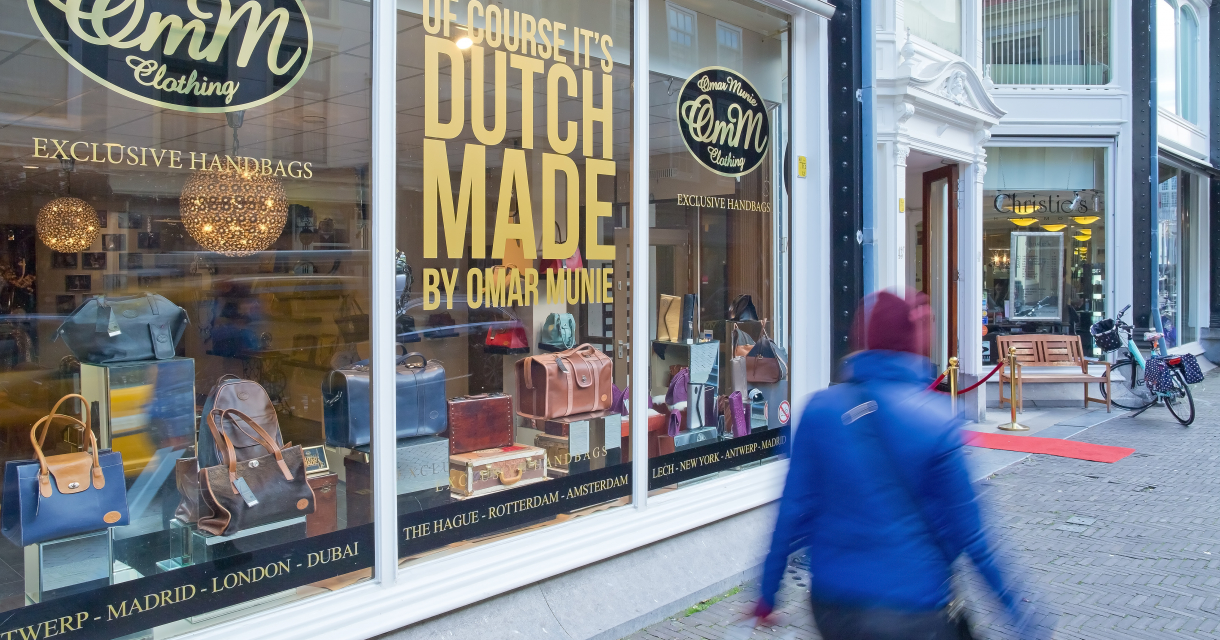 Favourites
Remove
Omar Munie is a young, talented designer from The Hague, who specialises in exclusive handcrafted bags. Through his creativity and perseverance he has acquired fame in the fashion world and his company Omar Munie Clothing is one of the most famous handbag labels in the Netherlands. A growing number of people consider his bags to be the perfect combination of functionality and design. Munie's bags, belts, phone covers and other accessories are handcrafted in The Hague from superior quality leather. In the Flagship Store on chic Noordeinde you will find a wide selection of bags in an array of colourful designs for both men and women.

Omar Munie
Omar Munie (1986) fled from Somalia to the Netherlands at the age of 9 with his brothers and sister. He went to fashion school here. Munie soon began making his first bags, which he sold directly to the girls in his class. During his studies he set up his own business, Omar Munie Clothing.
A year after starting his business, Munie won the prestigious award 'Best Student of the Year' and opened his own workshop on Binckhorstlaan in The Hague. After this prize more followed, including 'Best Entrepreneur Under 25 Years of Age' and 'Most Innovative Entrepreneur 2011'.
In 2013, Munie opened his Flagship Store on the prestigious Noordeinde in The Hague. He went on to design bags for clients such as KLM and Schiphol airport. Stars and famous Dutch celebrities such as Hillary Clinton, Jane Fonda, Yfke Sturm, Jessica Mendels, Leontien van Moorsel, Edsilia Rombley, Caroline Tensen, Kim Feenstra, Inge de Bruijn, Quinty Trustfull, Jeroen Pauw, Hint Laroussi, Paul Witteman and Fatima Moreira de Melo own his bags.

Exclusive bags
Omar Munie's bags are exclusive and handcrafted and have a global appeal. The exotic accents, such as the Sharie-sharie bag hanger and the sustainable French Munie fabric, leave an unforgettable impression. All bags by Omar Munie Clothing are made from the finest leathers and have the most colourful linings. Limited editions ensure that every design remains unique. All these products are created by hand with love and passion in The Hague.

Omar Munie Workshop
Omar Munie Clothing makes the bags in his workshop on Binckhorstlaan in The Hague. By recycling and using sustainable materials Munie strives to create his products sustainably. He also uses different styles that make his bags surprisingly versatile. Nevertheless, each bag retains the unique signature of the designer. All the bags are made with love and passion in his workshop in The Hague. He designs his creations around the modern woman who loves being in control and is not afraid of taking risks: a self-assured woman who loves to accentuate her presence with her accessories. There are also bags for the man who loves beautiful things and is not afraid to own a stylish eye catcher, whether casual or businesslike.

Bag clinic
Have you always wanted to design your own bag? Then the Omar Munie clinic is the perfect address for you! Every month, Omar Munie organises a bag clinic in his workshop on Binckhorstlaan in The Hague. Choose a basic design with him and add your own style with different types of leather, lining, patterns, zippers and clasps. Design your own unique bag that cannot be found anywhere else in the world! After the clinic you can enjoy a delicious exotic dinner with Omar Munie.

Oriental Bag & Tea
Would you like to enjoy a high tea amidst the designer bags of Omar Munie? Then come to the Oriental Bag & Tea by Omar Munie. A Bag & Tea is organised every two weeks in the Omar Munie Flagship Store on Noordeinde, where the surroundings of glamour and craftsmanship create an authentic sense of togetherness.

Noordeinde
Noordeinde is one of the best-known shopping areas in the old centre of The Hague. In addition to King Willem-Alexander's working palace, Noordeinde Palace, the chic Noordeinde district is primarily known for its distinctive fashion boutiques, galleries and art and antiques dealers, located in beautiful art nouveau buildings. Jewellers, antique dealers and galleries are interspersed with coffee cafés and restaurants, which makes Noordeinde worth visiting for anyone.

Getting there
Noordeinde is easy to reach by car, tram and bike. There are plenty of parking opportunities in the vicinity. The nearest parking garages are Noordeinde parking in Heulstraat and Parkstraat parking garage in Oranjestraat. Noordeinde is a fifteen-minute walk from Central Station. A number of trams stop at the Kneuterdijk stop. The rest of The Hague is also easy to reach from Noordeinde.