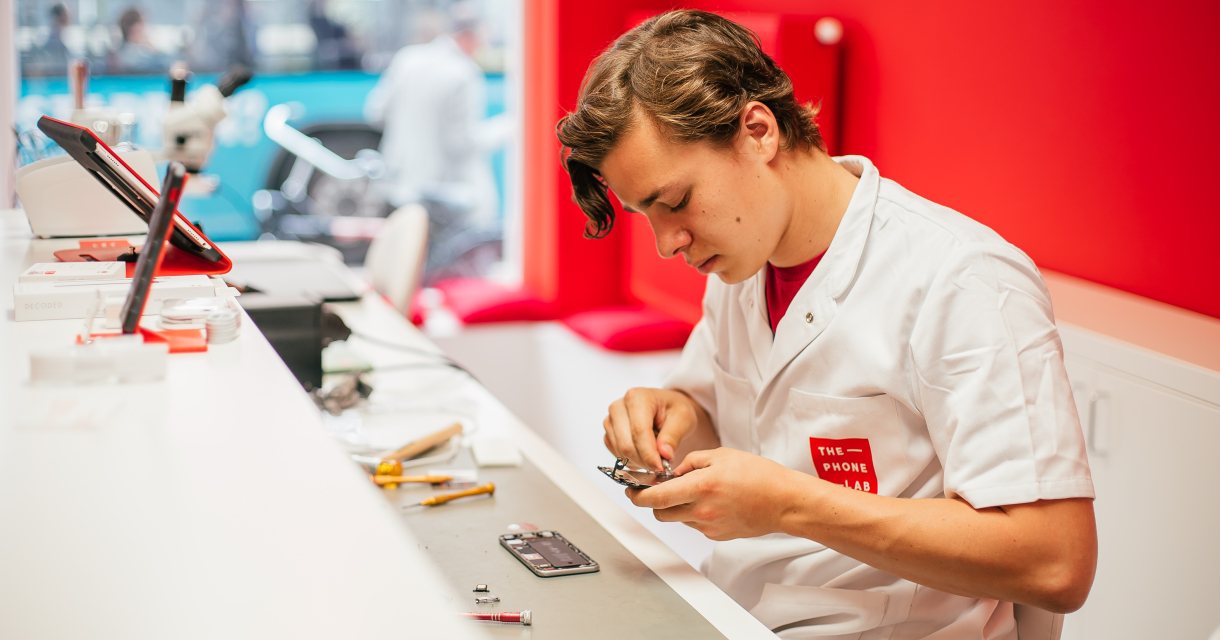 Favourites
Remove
ThePhoneLab specializes in telephone, tablet and laptop repairs. The specialists are fond of technology and like to work with their hands. They know everything about software and hardware, but also about protection and prevention. That is why you can always contact ThePhoneLab with a broken device.
Damage to your phone during your stay? Go to ThePhoneLab at the Frederik Hendriklaan in the Statenkwartier for repairs to your phone, laptop or tablet. The specialists repair almost all brands, so you can come by for an iPhone repair, Samsung repair, OnePlus repair, OPPO repair, iPad repair, Google repair and much more! Do you have a crack in your screen, a malfunctioning camera or a bad battery? ThePhoneLab will make it for you, with or without an appointment, usually within 30 minutes.
Do you have a problem with your phone but you are not sure what the cause is? Even then ThePhoneLab is ready for you. You can always come by for a free and non-binding inquiry. One of the specialists can often tell you what is wrong with the device within 30 minutes. You then decide whether to proceed with the repair. You are not obliged to do this!
A transparent method
ThePhoneLab strives for clear and open communication. Without fuss. You can see that in the clean, fresh store and high-tech lab. Quality and prices of parts are closely monitored. In this way, the best service and the highest quality are offered at the lowest price. You are welcome at ThePhoneLab at Frederik Hendriklaan 7 days a week, with or without an appointment.
The promises of ThePhoneLab
A broken smartphone, tablet or laptop is annoying enough in itself. That is why ThePhoneLab wants to solve this problem for you as quickly, easily and carefree as possible. Customer satisfaction is of paramount importance and that is why there are 5 promises:
30 minute service - most common repairs are completed within 30 minutes.
iPhone screens lowest price guarantee - the compatible iPhone screen is always the cheapest at ThePhoneLab. If not? Then you get the difference back.
Lifetime Warranty - The function of the replaced part is covered by a lifetime warranty. With some exceptions.
No cure, no pay - does the repair fail? Then you don't have to pay.
Safe of your data - before we get started, we don't have to delete any data from your device. This way you don't have to think about annoying things such as restoring the backup.
The Frederik Hendriklaan, also known as "De Fred" is located in the Statenkwartier in The Hague and is known for its unique architecture. De Fred has beautiful buildings with unique details. That is why you can not only shop and eat, but also enjoy the beautiful buildings. De Fred has various shops, from a local cheese farmer and bakery, to a florist, clothing stores, telephone shops and catering establishments. All in all, a unique shopping street, where there is much to experience.
Accessibility
The Frederik Hendriklaan is about five to ten minutes away by car from the center of The Hague. You can reach the Fred from the city center of The Hague within ten minutes by public transport. Take tram 16 and get off at the Frederik Hendriklaan stop, or take tram 11 in the direction of Scheveningen beach. ThePhoneLab on Frederik Hendriklaan is also easily accessible by bus 21 and 24.