Favourites
Remove
Its' great all this walking during the lockdown. But it also makes you thirsty! And if it's cold you can use a warm drink. That's why we made an overview of places where you can score the best coffee to go. In the city center, Kijkduin and Scheveningen.
The Hague city cente
Hug TheTea
Try a green Japanese Matcha tea at the sisters of Hug The Tea. Warming and healthy.
Grote Markt
Get your cup of coffee at the cosy square of the Grote Markt. There are trucks and stalls with all kinds of goodies.
Café de Oude Mol
Make a pit stop at café de Oude Mol. The lovely ladies have all kinds of heartwarming goodies and also give away 'free happiness'.
Hop & Stork (headerphoto)
For a good coffee with a cake or homemade chocolate, go to Hop & Stork. And if it rains you can take shelter in the adjacent historic Passage. 
Bartine
Are you coming from the station? Then start your walk with a coffee from Bartine. Hungry? Then order a delicious cardamom bun with it.
Bookstor
Loop je over het Noordeinde? Haal dan een koffietje bij Bookstor. Neem er vooral een dadeltaartje bij! 
Confetti
Grab something delicious from the colorful Confetti and enjoy it at the nearby Palace Garden.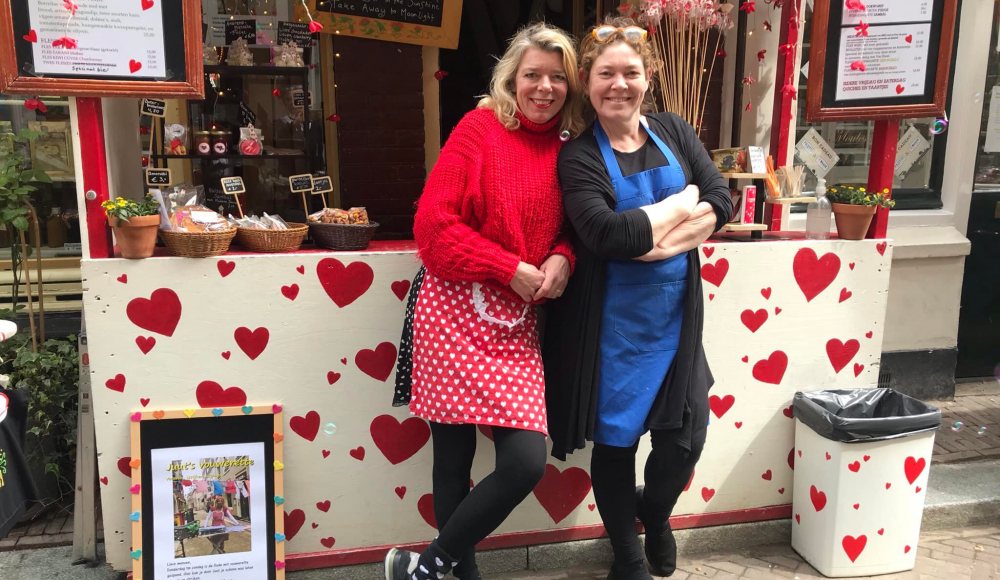 Kijkduin
The Daily Taste, the food court of the beautifully renovated Kijkduin, is open for take away. There is a trendy van where you can get delicious coffee or hot chocolate and buy something delicious to go with it at the bakery opposite. At Daily Taste you can also get food to go to take home. For example sushi at the Sushi Meisjes, tapas or fresh fish. And also handy; the public toilet is open!
Scheveningen
At Scheveningen you can of course go to various places at the boulevard for a warm drink and you can also get all kinds of goodies at the Foodhall or in the harbor at Catch. But also in the cozy Keizerstraat you can go for a drink at Appeltje Eitje or the Snoeshaen. And if you do take a tour through the village of Scheveninen, make a stop at the surfers at Tiger Shark for a specialty coffee to go. 
Also nice
Discover the nature of Voorlinden around the museum during a walk in their lovely garden. On a clear day you can even see the North Sea. You can get a snack and hot drink at the Voorlinden Deli in the country house.