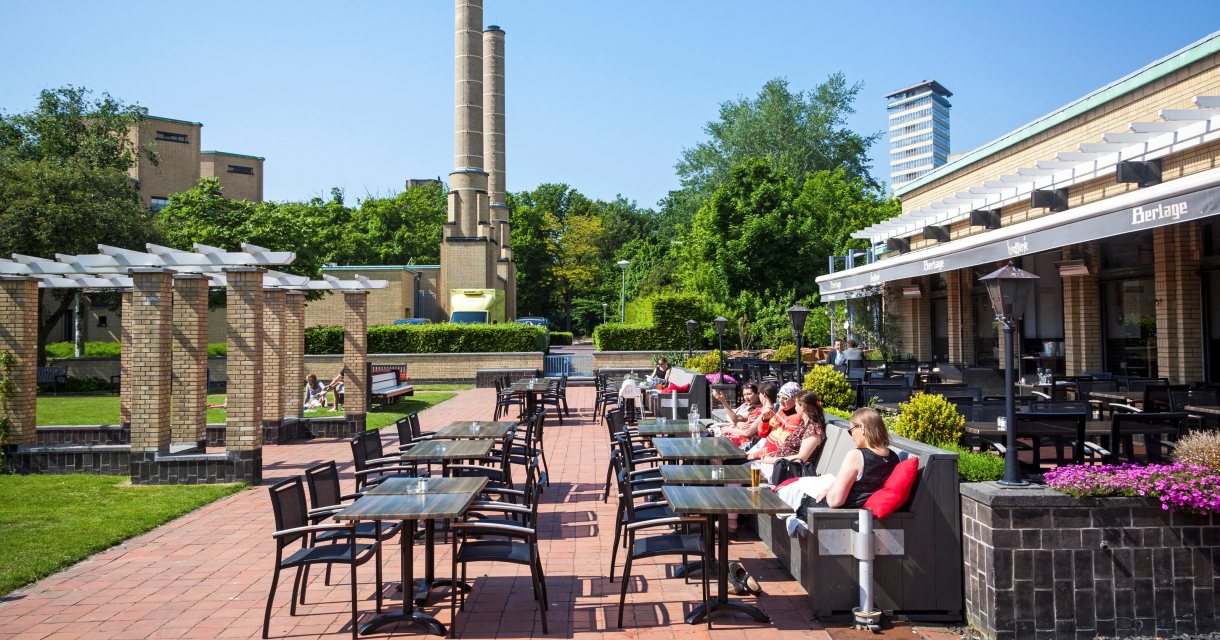 Bookmark
Remove
Brasserie Berlage enjoys a splendid location within the gardens of the Kunstmuseum Den Haag. Here you'll discover culinary refinement at its best: contemporary and classic dishes, à la carte, a light lunch, a cup of coffee or simply a drink after work. Brasserie Berlage caters to your every need, throughout the day.
Architect Berlage
During architect H.P. Berlage's last magnum opus, Kunstmuseum Den Haag in the Statenkwartier, a splendid pavilion was built in the garden as a haven for visitors and walkers. The long-established brasserie is decorated in style and does justice to the name 'Brasserie Berlage'.
Terrace in the gardens of the Kunstmuseum Den Haag 
The spacious, stylish Art Deco brasserie has 70 covers and boasts a large terrace in the gardens of the Kunstmuseum Den Haag. Whether you're seated indoors or out, you'll want for nothing! Comfort on a cold winter's day savouring the hustle and bustle whilst seated at small convivial tables or resplendent on the terrace on sultry summer days; and always with a magnificent view over the gardens of the Kunstmuseum Den Haag. Be inspired by the menu and wine menu. Feast on classic and contemporary dishes in the restaurant, served by efficient waiting staff.
High Tea at Berlage
Each day the Brasserie Berlage serves a scrumptious high tea (reservations only) serving a delicious selection of sweet and savoury treats on étagères, with unlimited tea, coffee, fresh orange juice and water. Rest assured, there is something for everyone. 
The Serre
Located at the side of the pavilion, the spacious Serre boasts an intimate and private atmosphere. Completely equipped with a separate entrance, a private sanitary group, an old oak floor and stylishly painted sketches of Berlage. Overlooking the beautiful Kunstmuseum Den Haag and with a private terrace, the Serre is an ideal space for private occasions, such as business meetings, theme dinners or smaller events.
Wedding location
The Serre is also a great venue for an intimate wedding, a wedding dinner, a classic reception or a wedding party. You can plan the wedding ceremony at Brasserie Berlage as well. There are multiple possibilities for realizing your desired reception, drinks, bites and a suitable closing.
Getting there 
Brasserie Berlage is easy to reach by car. If you're coming from the direction of the A12 motorway or the A44, follow the signs to Kijkduin / Omniversum. The restaurant is located on the President Kennedylaan in between the Worldhotel Bel Air and the Omniversum. For those coming by public transport, it is best to take a bus or tram direction Scheveningen, disembarking at the Kunstmuseum Den Haag/Museon of World Forum stop.