Favourites
Remove
You can enjoy the beach all year round in The Hague. Whether it's for a beach day or a dinner at one of the beach pavilions, or for a winter day blowing off with a hot chocolate. The Hague has the luxury of 11 kilometres of coast on its doorstep. Each part of the beach has its own vibe.
'Nowhere in the Netherlands can you find so many kilometres of beach so close to the city. A unique combination.'
Scheveningen
The Hague's most famous beach resort is Scheveningen. With its vast beaches, large number of beach bars and unique promenade and harbour, Scheveningen is the perfect location for a beach day.
Zuiderstrand
Zuiderstrand, right behind the dunes, is also known among locals as the quiet beach. You will find some authentic beach pavilions and it is a perfect place for water sports.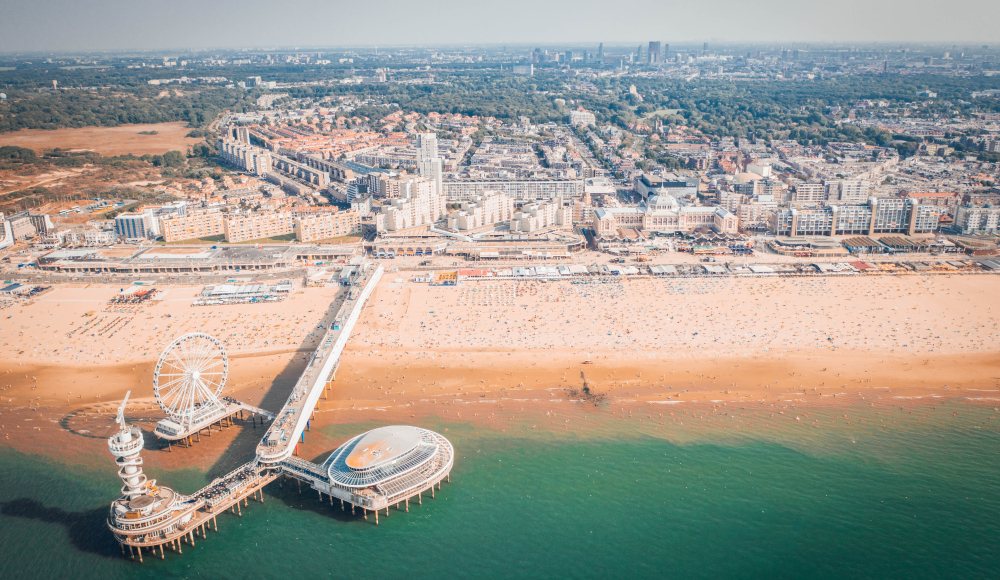 Kijkduin
Kijkduin's small scale gives it its charm and it is the ideal place for a brisk walk or bike ride. There is also plenty for children to do in Kijkduin. Grab a bite to eat at one of the beach pavilions or restaurants along the boulevard. The boulevard is also home to a small shopping centre for food and clothes.
Eating and staying at the beach
Barbecue at a beach pavilion, dine with a view of the sunset, have a romantic dinner in the atmospheric harbour: at the dozens of restaurants in Scheveningen and Kijkduin you can relax after a day at the beach. And the fish? It comes fresher than fresh straight from the sea! Besides those fine restaurants, you will find plenty of accommodation on the coast to spend the night. Sleeping with the sound of the North Sea in the background: who wouldn't want that?
Traffic and transport to the beach
A day or weekend at the beach in Scheveningen or Kijkduin? Check in advance how you can travel best and fastest. Public transport, bicycle or scooter will get you to the beach the fastest. Coming by car to Scheveningen? Then use Park + Beach. 
More information about the accessibilty of The Hague
Safely enjoying your Hague beach day
What do those different flags at the lifeguard mean? The sea looks calm, but maybe there are currents to watch out for. What are those big Miffy poles for? These may not be the things that immediately come to mind when spending a day at the beach, but they are very useful to know. 
More information about a safe day at the beach