Your visit to The Hague starts at The Hague Info Store 
Here you can find all tourist information about the city and the seaside resorts of Scheveningen and Kijkduin, various cycling and walking routes, Hague souvenirs and gift cards. The team of THIS also provides you with the necessary insider tips to make your visit to the city as complete as possible!
Typical Hague Products
 Get to know real Hague products that you can find in the store of The Hague Info Store, from typical Hague delicacies and city guides to products for the little ones. Come and see the products with your own eyes in the store or visit the webshop.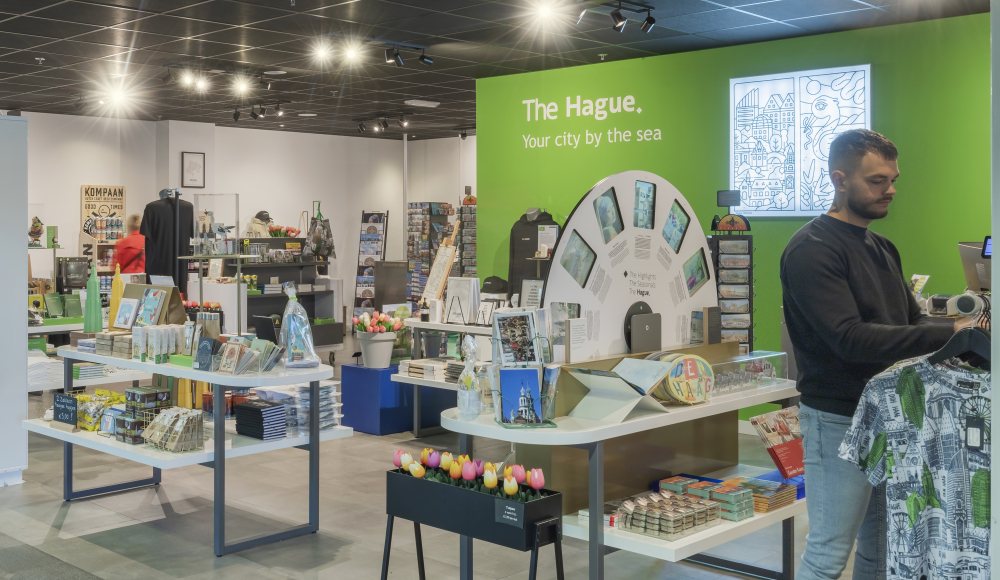 Museum entrance tickets 
Are you visiting The Hague? Then you should definitely visit one of The Hague's famous museums because it houses a large treasure chest of art. Buy your ticket for Het Mauritshuis or the Kunstmuseum at THIS easily and quickly so that you have more time to admire the art without having to queue at the museum.  
Please note: this is unfortunately not possible at the moment. 
Excursions in The Hague 
Discovering The Hague on your own is a great idea, but consider taking a tour or excursion with an enthusiastic guide. Experience the royal city from the water, discover the many hidden courtyards with the Hofjes walk or climb the Hague Tower for a beautiful view of the city. For more information, ask one of the employees or book your excursion online.
Book your excursion here
Gift cards 
You can also go here for gift cards. The wide range of gift cards in combination with the nice products in the store are the ideal place to score a gift for someone. The VVV Gift Card is still one of the most popular gift cards in the Netherlands, but also think of the other gift cards that you can purchase here, such as the Dinercard, Podium Card and the Bol.com Card. 
Webshop The Hague Info Store 
The best souvenirs and products from The Hague can also be found in the webshop of The Hague Info store where you can shop 24 hours and find inspiration for a nice gift. Curious about the range?
Visit the webshop
Contact 
The Hague Info Store is not available by phone you can reach us by whatsapp or by email with your question