Welcome to The Hague Info Store
Your visit to The Hague starts at the tourist office or also called THIS Store. The quality and reliability of the Tourist Information Office remains at the very highest level renowned to the Tourist Board! You can go to The Hague Info Store for information and tips about The Hague, Scheveningen and Kijkduin. From attractions to excursions and from going out to the hidden gems of the city. The Hague Info Store is centrally located in the city centre and is easily accessible by public transport.
Products from The Hague
The Hague Info Store sells a wide range of products from The Hague. T-shirts, caps with the skyline of The Hague, local brewed beer, of course Haagse Hopjes and the Haagse Kakker are just a few examples! Besides unique souvenirs there are also maps, city walks, books about The Hague, tickets for museums and attractions and public transport tickets are available. Walks, bicycle and boat trips and tours can be booked at THIS.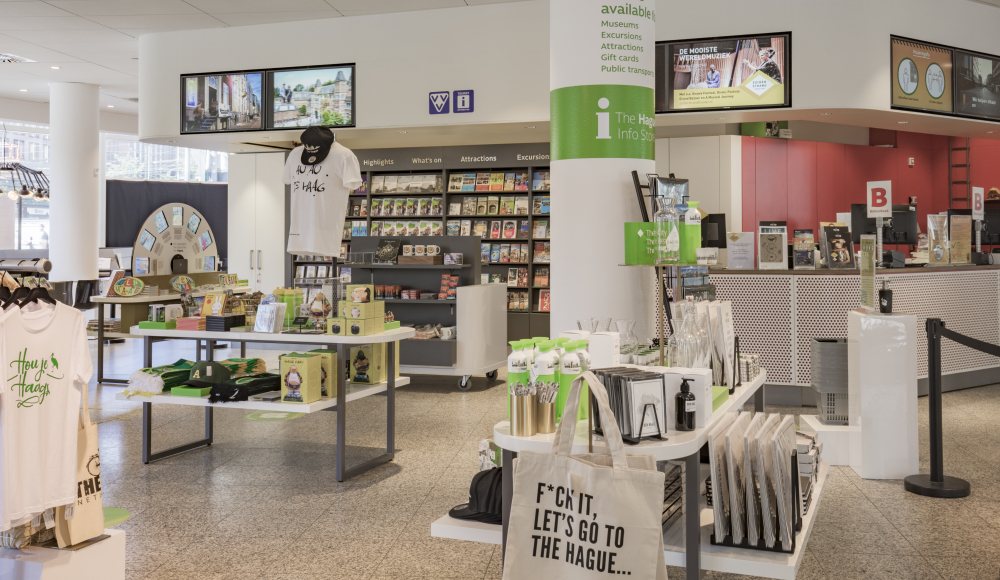 Excursions and group outings
There are many fun and educational excursions and tours in The Hague and Scheveningen. What do you think about a city walk where secrets of the Knight's Hall are revealed? Alternatively an excursion especially just for children?
On foot, by bike or by boat
Explore the city on foot, by bike or by boat? The Hague offers various city walks, bicycle tours and boat trips, possibly accompanied by a guide. At the coast, in Scheveningen or Kijkduin you can enjoy the seaside and the nature.
More information about excursions and group outings
The Hague Info Store is available by telephone during workdays:
+31 (0) 70 361 88 60
Tuesday to Friday: 9 a.m. - 5 p.m.
Visiting address 
Spui 68
2511 BT The Hague
Opening hours
Monday 12.00 - 18.00
Tuesday until Friday: 10.00 - 18.00
Saturday and Sunday 10.00 - 17.00
Public holidays: 12.00 - 17.00 
PLEASE NOTE: At the office of The Hague Info Store you can only pay by Pin, debit card, credit card, VVV voucher and / or VVV gift card.
Contact
E-mail: vvv@thehague.com
Facebook: facebook.com/thisisthehague
Chat with Harry
WhatsApp: 06-55376853
Twitter: @vvvdenhaag
We are available on WhatsApp and on Facebook, Twitter and Instagram from Monday to Friday between 9:00 AM and 5:00 PM.
By telephone during the week ( Tuesday till Friday ) : +31 (0) 70-361 88 60. The Hague Info Store is not available by phone during the weekend.
More tourist information points
Jij kan ons helpen denhaag.com nóg beter te maken! Zou je 5 minuten van je tijd willen besteden aan het invullen van onze korte vragenlijst? Dan zijn wij jou heel dankbaar!
Naar de vragenlijst >