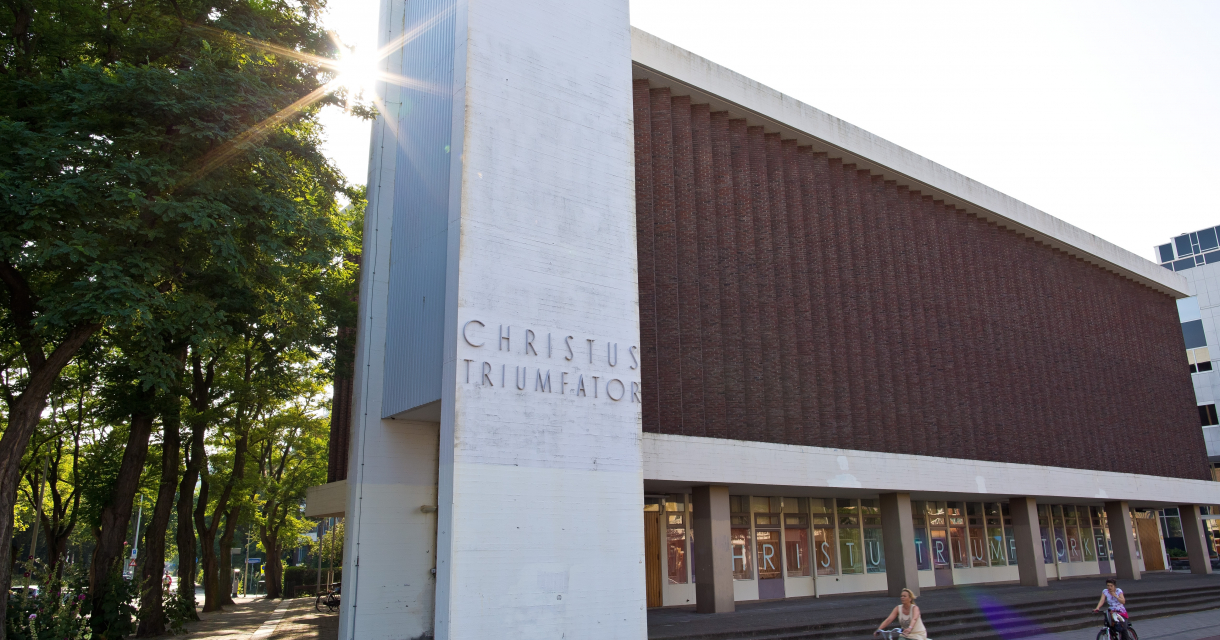 Favourites
Remove
The Christ Triumfator Church is located in the Bezuidenhout district of The Hague. The Christ Triumphator Church is part of the Protestant Church and has many different activities. In addition to church services, cultural events such as exhibitions, concerts and movie nights regularly take place here.
History
The Christ Triumfator Church was inaugurated in 1962. The bombing of the Bezuidenhout had freed up space on the corner of Juliana van Stolberglaan and Laan van Nieuw-Oost-Indie. This land was assigned to the Reformed Church, which had the Christ Triumfator Church built here. The church is a replacement of two existing churches: the reformed Oosterkerk and the reformed Maranathakerk. The name Christ Triumfatorkerk comes from a text from the bible. The church has been a national monument since 2013.
Build
The Christ Triumfator Church was built in 1957. The architect of the Christ Triumfator Church, Geert Drexhage, had to take a number of things into account. The pulpit had to be given a central place, the liturgical center and the baptismal font had to be clearly visible and the sound insulation had to be good. Furthermore, Drexhage was allowed to apply his own style in the furnishing of the church hall and the church centre. The church hall of the Christus Triumfatorkerk is located on the first floor, which is somewhat unusual, but provides optimal sound insulation. In addition, the reception hall has a beautiful glass wall from the Wilhelmina Church and the church tower is separate from the church and built on steel. A modern church with old influences.
Church services
A church service is held every Sunday at 10:00 AM in the Christ Triumfator Church.
Art program
In September 2003, the Christus Triumfatorkerk started an art program as part of its Open Church project. The aim of the art program is to start a conversation with each other through art. Under the direction of an artistic director, seven exhibitions are organized annually in the church building. Professional artists are invited to create in-situ works of art. In addition to the exhibitions, the church offers an open stage to students of the Royal Conservatoire twice a month around noon, as well as organizing lectures and literary activities.
Accessibility
The Christ Triumfator Church is located in Bezuidenhout in The Hague. The Christ Triumfator Church is easily accessible by car via the A12. Also by public transport: the NS stations Den Haag Centraal and Laan van NOI are nearby. Tram 2 and 6 stop in front of the door and bus 23 also has a stop within walking distance of the Christ Triumfator Church.