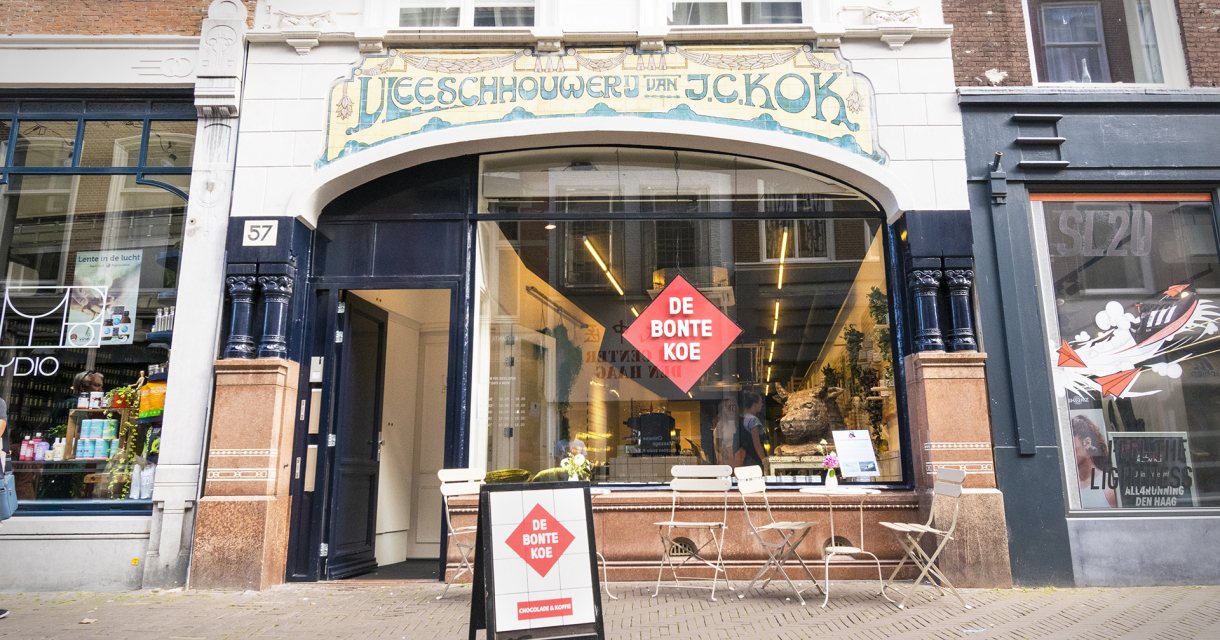 Favourites
Remove
At Korte Poten 57 you will find De Bonte Koe Chocolate in a beautifully converted former butcher's shop. Nowadays you can buy the most delicious bonbons, bouchées and chocolate bars.
Artisanal chocolate
For thirty years, De Bonte Koe Chocolade has been making artisanal chocolates, bouchées, bars and small edible works of chocolate art. Everything is made by hand from the very best chocolate.
Location
The store is located in the center of The Hague on the shopping street Korte Poten and is easily accessible. It is within walking distance of Central Station and close to the parking garage under Het Plein.
Historic building
Who in The Hague does not know 'De Vleeschhouwerij van J.C. Kok'? The former purveyor to the royal household with the magnificent tile tableau. The interior is now ultramodern, but the historical details have been carefully left intact. It is a feast for the eyes to enter the store and now see chocolates, bouchées and bars instead of entrecotes, chops and roast beef. The building breathes history and upon entering you immediately smell the delicious aroma of chocolate.
Surprising flavor combinations
De Bonte Koe offers particularly surprising flavor combinations. Bonbons such as 'Coal', 'Tea' or 'Red Pepper'. You can also choose between bonbons 'Red port', 'Gin' or 'Irish coffee'. A little larger than a bonbon is the bouchée, literally 'mouthful'. Will you go for the bouchée 'Proosje', the 'Zebra gianduja' or perhaps the 'French rose'? Come in soon to see them all, because there are many more bonbons and bouchées.
Bars
Also a chocolate bar? Take your pick! Will you take the 'Haagsche hopjes milk'? Or a 'Caramel Sea Salt' (in both dark and milk)? Maybe you'll go for a sugar-free or vegan bar? Maybe an 'Art Bar'? Again, come in and see them all.
Gifts
You can also come to De Bonte Koe for a gift or a business gift, including shipping. Moreover, everything can be arranged online at your convenience.