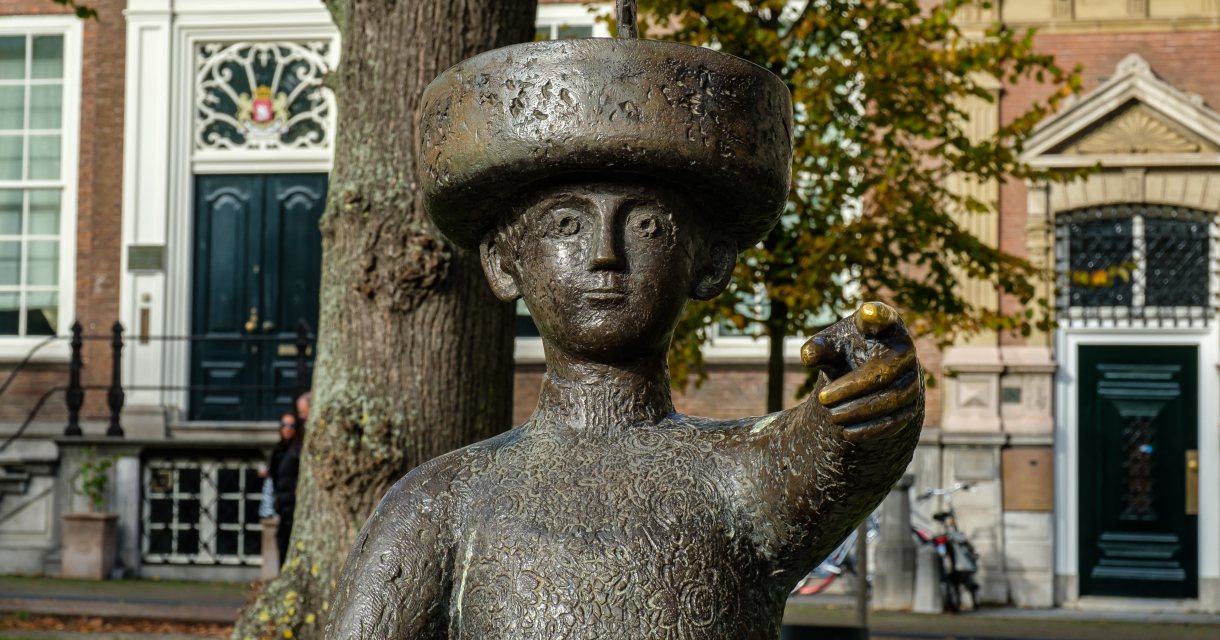 One of the most beloved sculptures in The Hague is located on the Hofvijver and points to the parliament buildings of the Binnenhof. The sculpture was made in bronze by the sculptor Ivo Coljé and was given its place on the Hofvijver in 1976. Jantje is sung in the children's song In The Hague there lives a count and his son is called jantje. In the photo above you can see his index finger and thumb shine through the touch; people cannot resist giving Jantje a hand. Will you also come and shake hands with Haags Jantje?
Singing is compulsory!
History statue of Haags Jantje
Jantje Graaf Jan (1284-1299) is probably the son of Floris V. The nursery rhyme is in the 1871 collection of Dutch Baker and children's rhymes by Johannes van Vlot. But it is probably much older. It is not known whether there is a connection with a historical Jantje who really existed. Not even how old the verse is.
The lyrics of "In The Hague there lives a count and his son is called Jantje
Translated from Dutch.
In The Hague there lives a count, And his son is called Jantje.
If you ask where does your dad live, Then he points with his hand,
With his finger and his thumb He wears a feather on his hat
A basket on his arm Goodbye my dear Jantje! I
Ivo Coljé
The maker of Haags Jantje is Ivo Coljé (The Hague, February 13, 1951 - March 2, 2012). He was a Dutch monumental artist (ceramics) and sculptor. He studied at the Royal Academy of Art and then at the Free Academy in The Hague, where he found inspiration from Jan Snoeck. He mainly made sculptures in steel and iron, but became famous with the bronze sculpture Haags Jantje (1976) after an idea by Bram van Pijpen..
Listen here the version by City carillonneur Gijsbert Kok
Replica Haags Jantje
Do you want your own Jantje at your home, that's possible! A replica of Jantje from The Hague is for sale at the THIS and via the webshop. The statuette is in Neolith with bronze coating and 20 cm high.
Buy your own Haags Jantje here