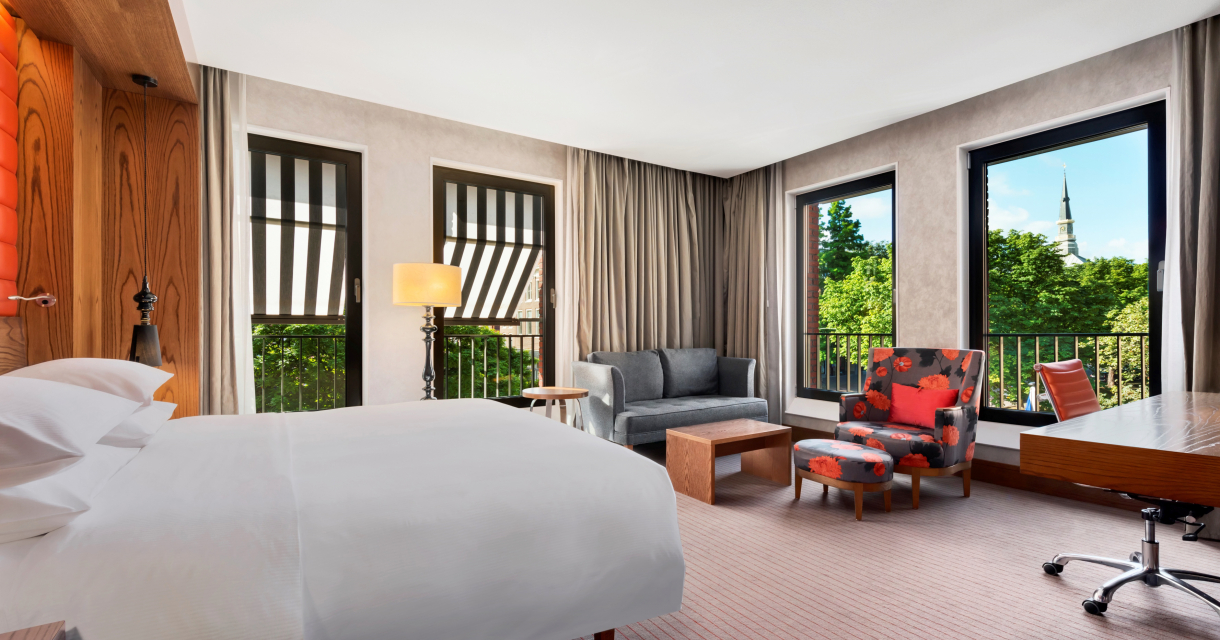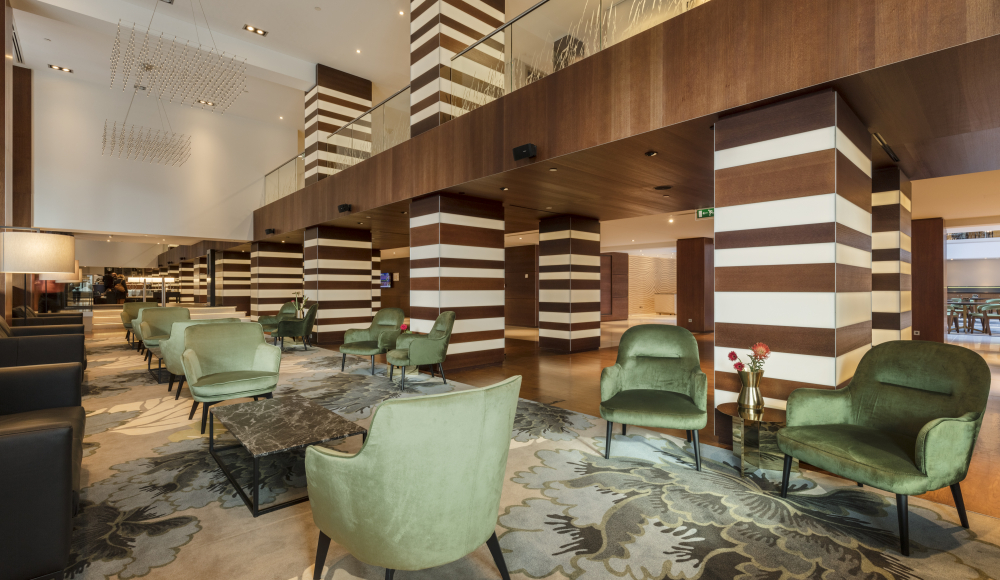 With its international allure, Hilton The Hague is one of the best hotels in the city. It is not for nothing that the hotel won the 2016 and 2017 Travellers' Choice Award from Tripadvisor, with which it was proclaimed 'Best Luxury Hotel in The Hague'. The perfect location near Panorama Mesdag and the popular Noordeinde shopping street, the most spacious guest rooms in The Hague, and the exceptional service make this modern 5-star hotel on the Zeestraat highly recommended.

Location
Hilton The Hague has a fabulous location at the intersection of the historical Hofkwartier with its many boutiques, the charming Zeeheldenkwartier with its diverse cafés and the green Willemspark. Panorama Mesdag is a neighbour of Hilton The Hague. If you haven't visited Panorama, then you haven't been to The Hague. 120 metres of painting: 120 metres of Scheveningen!
Diagonally opposite the hotel, in front of the canal, you will find the small store Aan Tafel met Portazul. The most colourful dinnerware in the Netherlands is on sale here. Do you have enough plates at home? The dinnerware is a joy to behold and looking is free!
For the evening time: walk down Noordeinde and turn right at the Coffee Company onto Molenstraat until Café La Grenouille. You can listen to fantastic jazz here six evenings a week.

Rooms
The 195 guest rooms at the Hilton Hotel are some of the most spacious in The Hague. The rooms are decorated in warm orange and wood tints. The beds are so comfortable that tears of joy well up in your eyes. And we haven't even mentioned the bath. Actually, it is worth booking a room at this hotel for this reason alone. Do we need to say more?

Best Hotel in The Hague
In 2016 and 2017, Hilton The Hague won twice the Travellers' Choice Award by Tripadvisor, which declared the hotel Best Luxury Hotel of the year in The Hague. This ranks the hotel in the top 10 of the Best Luxury Hotels in the Netherlands according to TripAdvisor. The hotel in Zeestraat was evaluated based on exceptional service, style, facilities and the perfect location. 

Tripadvisor
Favourable reviews on Tripadvisor: 
krisztians2016: "Quality hotel in perfect location."
Peter6862: "Great hotel for weekends and bussiness."
Jimbotrip: "If only all Hilton's were as nice."

Directions
The Hilton Hotel is located just a few minutes from public transport connections to destinations such as Schiphol, Amsterdam and Rotterdam. Tram 1, bus 22 and bus 24 stop at the Mauritskade stop. Instead of taking the shortest route back to the hotel, be sure to walk via Plein 1813. It is worth it to be able to admire all the greenery and beautiful embassies in Willemspark. Handy for drivers: Hilton The Hague has its own car park.