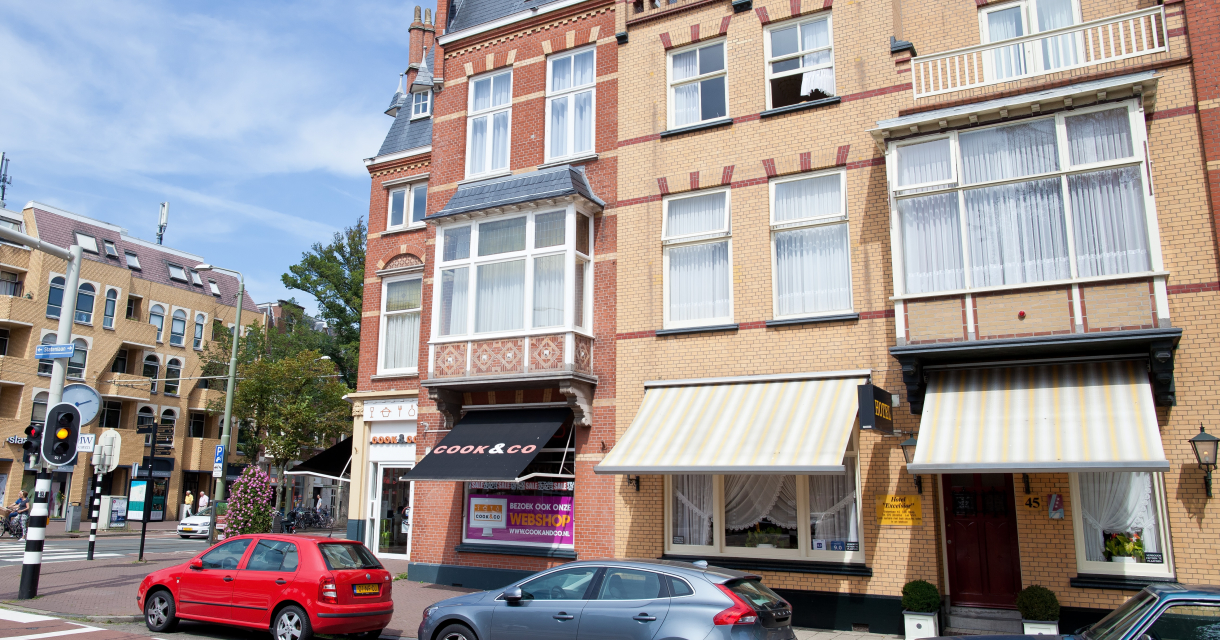 The center of The Hague is easily accessible from the hotel. Tram 16 takes you to the center of The Hague, where many sights such as the Binnenhof, Noordeinde Palace, Peace Palace and museums such as the Mauritshuis, Panorama Mesdag and Escher in the Palace are easily accessible. Scheveningen is also easily accessible from your hotel by public transport or a nice walk.
The Statenkwartier has a rich history dating back to around 1895. The 19th century district, with a lot of special architecture, beautiful streets, squares and avenues, is one of the most beautiful districts of The Hague. The architect Berlage left his mark here on the Kunstmuseum The Hague and monumental villas such as Villa Henny. The range of living and sleeping clothes can be found throughout the Statenkwartier, but of course has the largest selection on the Frederik Hendriklaan. Yet there is still more to discover and see in the Statenkwartier than the beautiful buildings designed in Art Nouveau style. In the Statenkwartier you will also find the Museon, the Omniversum and the Photo Museum The Hague. This wide range of art and culture offers you plenty of opportunities for all ages. This district of The Hague with a lot of history, but also with its time, is definitely worth a visit.
Frederik Hendriklaan
The Frederik Hendriklaan, also called 'de Fred', is the shopping street of Scheveningen. The always busy street immediately gives you a cozy feeling upon arrival and the beautiful buildings in the Statenkwartier give it an otherworldly feeling. On the Fred you will find a wide choice of shops, in addition to shopping for clothing, leisure and holiday items, you can also go to this beautiful shopping street. In addition to the various shops, the Fred offers a wide choice of cafes, canteens and restaurants. Enjoying a glass of wine or eating an exotic dish in one of the tastiest shops in the Netherlands is one of the possibilities here. If you are looking for a nice shopping street, full of character and cosiness, then you should definitely visit the Frederik Hendriklaan!
Horeca
In addition to the various catering establishments that the Frederik Hendriklaan offers, the Statenkwartier has even more beautiful places. One of these places is Brasserie Berlage. Located next to the various museums, it is a great place to visit on a cultural day out. Admiring a beautiful exhibition in the Kunstmuseum in The Hague or exploring the Omniversum followed by a delicious lunch or afternoon tea at Brasserie Berlage is the ideal combination. Just outside the Statenkwartier is the cozy and comfortably furnished restaurant De Huyskamer. With always fresh ingredients and carefully prepared dishes, it is a feast here. De Huyskamer is conveniently located within walking distance of the Circustheater and the World Forum. Combine culture and hospitality and experience a wonderful day in this beautiful part of The Hague.