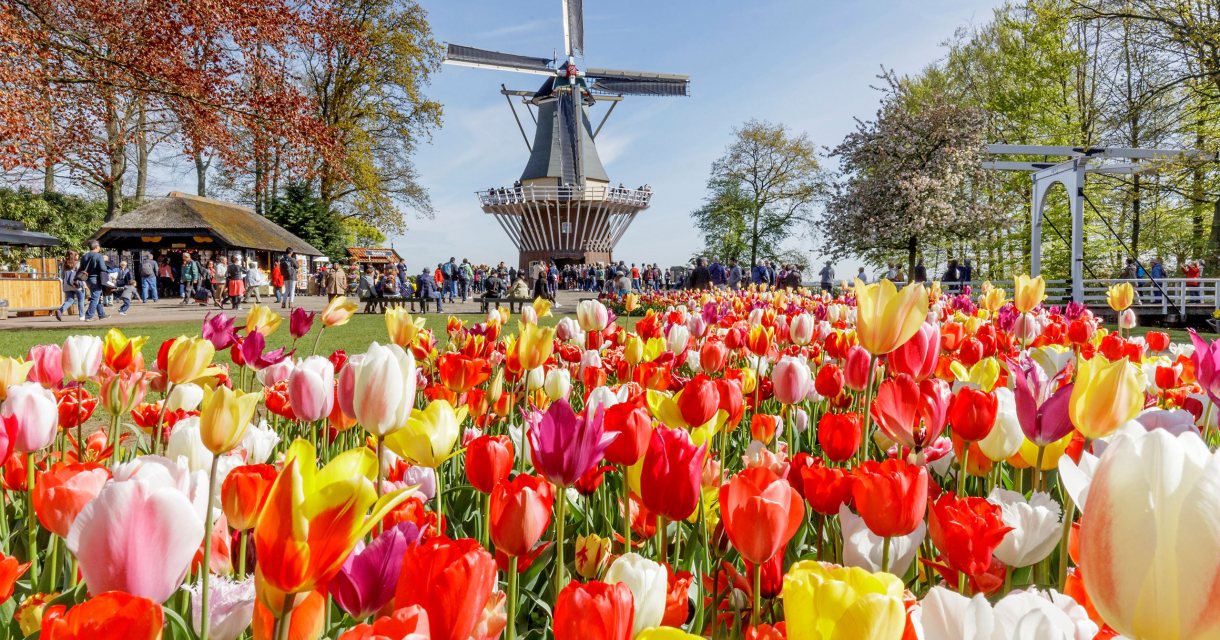 Favourites
Remove
Keukenhof will be open in 2022 from March 24 to May 15.
Most beautiful spring park of the world
Leading (inter) national media have named Keukenhof as one of the most popular destinations in the world and some 50 million visitors from all over the world have visited Keukenhof in the past decades. Discover the most beautiful spots in the park on foot. Get on the whisper boats and enjoy the bulb fields around Keukenhof, or rent a bicycle if you want to further explore the Bulb Region.
Taking the kids to Keukenhof
Keukenhof is a party for the whole family. Children can wander among the most beautiful flowers, 'walk' on the water, play in the natural playgrounds, enjoy the petting zoo, wander in our new maze. In the meantime they learn a lot about nature and flowers. What could be more fun than ending a festive day with delicious pancakes or poffertjes!?
Activities
Every day there are beautiful flower shows and activities for young and old in Keukenhof. Come and smell, taste, listen and above all enjoy your visit to Keukenhof. Look for the current program on the Keukenhof website.
Flower bulb route
On the way to Keukenhof you will pass the most beautiful and colorful bulb fields. Nice to look at at your leisure during a bike ride. Here you will find routes along these photogenic seas of flowers.
Would you like a preview of the beautiful flowers in the park? Click here to take a virtual look.
Accessibility from The Hague
Keukenhof is located between The Hague and Amsterdam in the Bollenstreek and is easily accessible by car via the A44 (exit 3, Lisse). Follow the signs 'Keukenhof'. There are plenty of parking spaces at the park. Keukenhof is also easily accessible by public transport from The Hague with bus 90 from The Hague Central Station and Bus 50 from Leiden Central.
By car
By car you can reach Keukenhof from The Hague within half an hour. The fastest way is the route via the N44 and A44. Parking costs 6 euros per day.
Public transport
From The Hague Central Station you can easily travel by public transport to Keukenhof. Bus 90 from The Hague CS runs directly to Keukenhof. Bus 50 runs from Leiden CS to Keukenhof Park.
Entrance tickets
Tickets for the Keukenhof park are only available online. The tickets are valid on a fixed date during the opening season with a specific time slot.
Spring Pass
Do you want to visit the Keukenhof several times? With the spring pass you have unlimited access to the most beautiful spring park in the world during the opening season.
You can download a map of the park for free from the park's website.
Prices
Adult € 18.50

Child (0 to 3 years) free

Child (4 to 17 years) € 9.00

Group ticket (from 20 people) € 17.00

Spring pass Adult € 45.00

Spring pass Adult + parking € 57.00

Spring pass Children (4-17 years) € 17.50

Parking card € 6.00