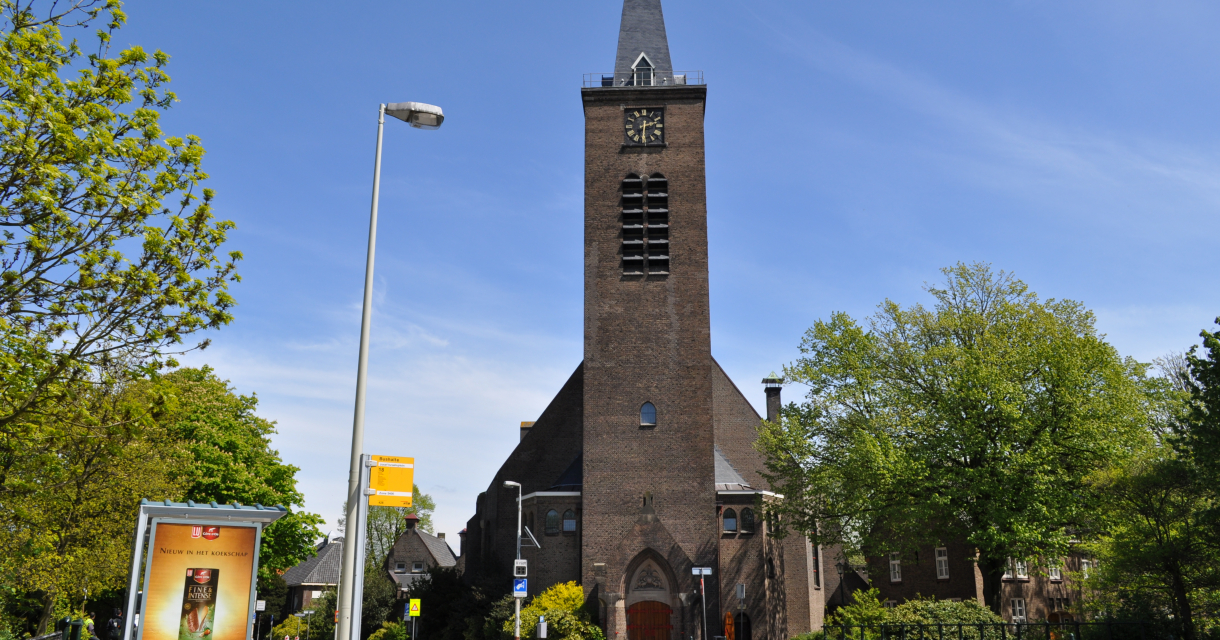 The Saint Paschal Baylon Church was built between 1919 and 1921. The church is named after the Spanish saint Paschalis Baylon.
Build style
The church is a good example of the traditionalist architectural style of A.J. Kropholler, who had never built such a large church before. All walls are made of brick, except for a few natural stone elements. There are still a few houses by the same architect around the church. The walled site is almost square, the church stands diagonally on it with the door to the west on the corner of Neuhuyskade and Wassenaarseweg. So the choir is on the east side. The pseudobasilical nave has a wooden sighted hood, supported by a wooden construction. Only the choir is vaulted. Due to its prominent tower and its location on the corner of Jozef Israelsplein, it dominates the surrounding district.
Furnishings and artworks
The nave of the church is very wide, because Kropholler wanted the priest and the altar to be clearly visible to everyone. The aisles are narrow and dark. The northern one ends in the pulpit, the southern one in a side altar with a retable dedicated to Saint Paschalis Baylon with a painting by Lodewijk Schelfhout.
Various other works of art have been installed in and on the church, including a relief above the entrance by Lambertus Zijl and a pulpit, a baptismal font, stations of the cross and a communion rail by the brothers Leo and Jan Eloy Brom, as well as statues by Jacques and Johanna Sprenkels. The pews and other furniture plus the chandeliers were designed by the architect.