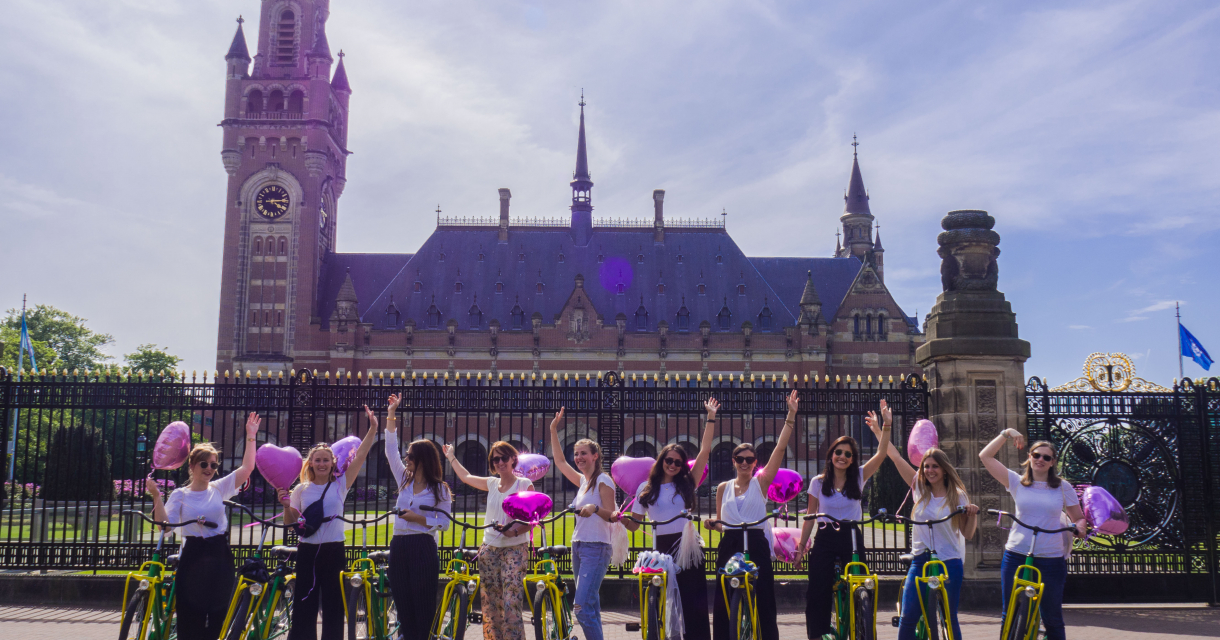 Favourites
Remove
Love local? Experience the Dutch way of life with Verita's Visit Holland. Go explore the Hague countryside and meet the cheese farmer, miller or greenhouse vegetable grower. Go cultural with the locally themed challenges in the City of Peace, City by the Sea. Go royal and live like a king in the palaces of the Hague area. Go discover the Golden Age in Vermeer's Delft and surrounding villages. The Hague is thé starting point to the best of the Netherlands. So bring friends, family and colleagues for a private tour, group activity or team building event and let's go Holland!
Go Holland!
The typical Dutch landscape with its windmills, green meadows and canals. Golden Age palaces and castles hidden from view by century old trees. A city of high tech greenhouses behind the sandy beach and dunes. It's all there, just a stone's throw away from The Hague. Use The Hague as a base for your Holland vacation and relax. Let tour – and event company Verita's Visit Holland arrange your dream trip. All private tours, group activities and team building events are based on local food or local themes. Let your imagination go wild. Everything is possibly! From a relaxed bike tour to the Scheveningen lighthouse to a team building city game or a Gouda cheese making workshop. Custom made for you! Go explore The Hague countryside
The best way to live the Dutch way of life is to explore Holland by bike. A guided bike tour The Hague countryside is a perfect private tour or group activity. A bike ride with guide means you don't have to check on the route or the time. Your guide takes care of everything. In the cycling tours of Verita's Visit Holland you get a chance to really connect with each other. The ride is relaxed with several stops. It always includes a coffee break at a local café and a visit to a greenhouse or windmill. Not into cycling? Verita's Visit Holland also offers other modes of transportation to explore The Hague area. How about a boat or carriage ride?
Go cultural team building events
The enthusiastic owner of Verita's Visit Holland was born on a bicycle and raised in Delft. Showing international visitors the hidden gems of Holland by bike fills her with joy. Also, she loves sharing Dutch culture and tradition through typical Dutch workshops and games. The city challenges in The Hague, Delft and Leiden are based on local festivals. The Hague Peace Challenge is all about the peace organizations and monuments in the City of Peace and Justice. It is great as a social event for conferences or as company event. The Hague is also dubbed City by the Sea. The Lord of the Herrings Challenge is inspired by the annual celebration of the first herring catch. This is a fantastic family activity even if you don't like herring! The Leiden Ontzet and Delft Vermeer Challenges take place in the 2 neighboring cities of The Hague. All team building events are fantastic to experience on the day of the local festival itself. On request these group activities can be completely customized so you and your company can enjoy them on any day of the week.
Go royal and discover
In The Hague and surroundings you will feel like a king. Estates, castles and palaces invite you to take a look at the glamourous Dutch way of life of past and present. For you and your company Verita's Visit Holland can arrange a royal stay in one of the luxurious castles. You can include a private tour to a vineyard and taste local wines. With the North Sea and lake area nearby, why not go for a sailing lesson?
Great for family, friends and colleagues: Go discover Delft and experience the Golden Age. Paint your own Delft blue tile in a workshop at an original Delftware factory or taste different local beers. End your day, weekend or week with a high tea at a cosy tea room on the royal estate. Ready to go? Come to The Hague, contact Verita's Visit and go Holland!
Individual cycling tours
On every 2nd Thursday of the month at 2 PM Verita's Visit Holland organizes a kidsfriendly guided cycling tour of 2,5 hours. Individual registration is possible. This green Hague bike tour passes an estate, park, dunes and sea and includes a drink in a greenhouse and a visit to a windmill. More info on
http://veritasvisit.nl/the-hague-area-water-windmill-and-local-food/