Accessibility The Hague
The Hague is located in the west of the Netherlands and can be reached in many ways: by plane, by train and by road. Rotterdam is less than 30 kilometres away from The Hague and Amsterdam is approximately 60 kilometres away.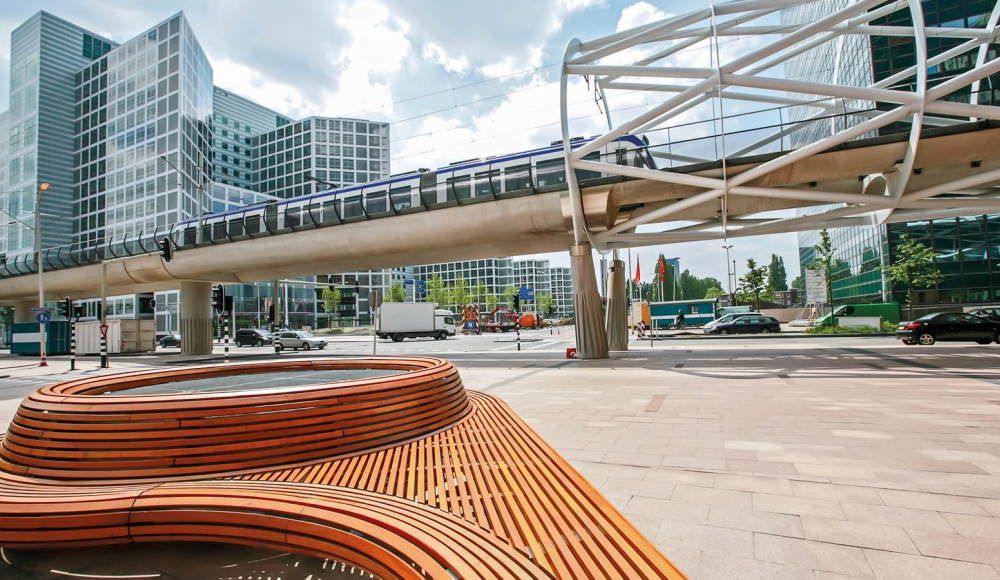 Accessible City Center
The city center of The Hague is easily accessible by public transport and car. From the two train stations, The Hague Central Station and Holland Spoor, you can easily reach the center. Parking garages can be reached quickly from all directions. The Q-park garages in the center in particular offer enough space for parking your car. Once in the compact and car-free shopping area, you can easily do everything on foot. Or you rent a bike. Moreover, you can drive to the beach within fifteen minutes!
By car
From the highway you are already in the center of The Hague with the car and the motorcycle after two traffic lights. Follow the signs for Centrumring for this. This route takes you around the car-free city center and leads you to the nearest parking garages where there are still free parking places. From the Centrumring you can choose from one of the four parking routes: P-route Center-North, Center-South, Center-West and Central Station.
Parking
The shopping area in the center of The Hague is car-free with paid parking on all days of the week. The easiest and cheapest way is to park the car in a parking garage on the Centrumring. In total there are more than 20 parking garages and areas along this route. The rates for these car parks vary from 2 to 4 euros per hour, and 20 to 30 euros per day. Most parking garages are open 24 hours a day. Or opt for one of the affordable park and rides.
Public transport The Hague
The Hague has excellent public transport. A large number of bus and tram lines will take you to the center of The Hague. You can get off at the Spui stop (in the tram tunnel), Center, Kalvermarkt-Stadhuis or Amsterdamse Veerkade. More info via HTM.
Accessibility Scheveningen
Scheveningen is easily and quickly accessible by public transport, car and bicycle. The popular resort has a large number of parking garages, and is only 10 to 15 minutes by public transport from the center of The Hague.
In the summer it can be busy on the roads to Scheveningen. Below you will therefore find useful tips on accessibility, routes and parking. Public transport and the (moped) bike are the quickest way to get to the beach during crowds. Are you still coming to Scheveningen by car or motorcycle? Then take extra crowds into account and go well prepared. From the highway follow the signs to Scheveningen, so your visit starts relaxed.
Parking
Scheveningen offers many parking options. The parking areas and garages are indicated on the roads to Scheveningen with blue signs. Free parking is possible from November 1 to March 1 at the Zwarte Pad and Noordelijk Havenhoofd car parks. Paid parking has a maximum parking duration of 120 minutes on a significant number of streets. Hereby an overview of the parking garages. You can also park cheaply on a park and ride and by public transport to Scheveningen.
Public transport Scheveningen
Scheveningen is very easy to reach with public transport. From the Hollands Spoor and The Hague Central stations you can use tram 1, 9, 11 and bus 22 of the HTM, which will take you to the beach within fifteen minutes. Buses 21 and 23, both around The Hague city center, also go to Scheveningen. The trams and buses to Scheveningen run all day from 7:00 AM to midnight, approximately every 10 minutes.
Public transport
To be able to travel by public transport, you need an OV chip card with a sufficient balance. This allows you to check in and out at the card readers in train, tram and bus. you can load your OV chip card. The OV chip card can be purchased and recharged at the HTM service points at The Hague Central and HS and THIS (VVV) Spui 68. You can also go for the day ticket for one day of unlimited travel with the HTM, the economical Children's Day card or a three-day card. The Uurnet card can be purchased in the tram or bus via the handy HTM Ticket app. More info about public transportation in The Hague via HTM
Parking touringcars
Parking during a day in The Hague for coaches and getting in and out near the highlights of The Hague There are reserved places for long-term parking for coaches. There are also reserved places where passengers can get in and out in the vicinity of tourist places. Parking fees do not have to be paid at the reserved places.
View the reserved places on the map
long-term parking (indicated by a pink / purple stripe)

to allow passengers to board and disembark (indicated by a blue line).
De stad verkennen op de fiets?
Bezoek je Den Haag of Scheveningen en wil je de stad op een andere manier ontdekken? Doe dit dan per fiets! Geniet van al het moois dat je tegenkomt onderweg, fiets langs de paleizen, het Binnenhof en over het Lange Voorhout. Je bent zo in Scheveningen waar je heerlijk door de duinen kunt fietsen of richting de haven kunt gaan.
De Haagsche Stadsfiets
Beschik je niet over een eigen fiets? Dan kan je snel en eenvoudig een groengele stadsfiets huren bij De Haagsche Stadsfiets. De groengele fiets met een praktisch transportrek- en of/krat kun je op 2 locaties in de binnenstad en aan het strand oppikken. Handig is dat de fiets niet op dezelfde locatie ingeleverd hoeft te worden. Een abonnement is evenmin nodig; iedereen kan voor € 8,50 (terugtraprem) en € 10,00 (drie versnellingen) een Haagsche Stadsfiets huren.
Park & Bike
Op diverse strategische plekken in Den Haag parkeren en op de fiets verder? Dit is nu mogelijk met Park & Bike! Met Park & Bike kun je de hele dag voordelig parkeren en een fiets huren in één. Een snelle, duurzame én gezonde manier om verder te reizen en Den Haag op de fiets te ontdekken.
Felyx e-scooter
Heb je geen (deel)auto of fiets of reis je liever niet met het openbaar vervoer? Maar wil je toch relatief goedkoop, snel en duurzaam op je plaats van bestemming komen? Meld je dan aan bij Felyx en huur een e-scooter.
Prijs
Felyx kost ongeveer hetzelfde als het openbaar vervoer en is bijna altijd goedkoper dan de auto of een taxi, omdat je sneller door de stad kunt rijden en je geen parkeer- en brandstofkosten hebt. Je betaalt alleen voor wat je gebruikt. Dus je rijdt al door de stad voor €0,30/min zonder verborgen kosten. Zowel binnen- als buiten het servicegebied kun je overal een Felyx pakken en gratis parkeren waar en wanneer jij wilt voor €0,10/min.