Festivals
Embassy Festival
Embassy Festival is an international event spotlighting the many different cultures that reside in The Hague. Festival goers can soak up a truly innovative and transnational one-day programme presenting music, activities, art, theatre, culinary delights, debates and readings on The Hague's Lange Voorhout. The free Embassy Festival promises to surprise and appeal to all senses. 

Two days of festivities
The festivities will kick-off on the first day with one stage offering a diverse and colourful programme. The festival will fully commence on the second day, centering around four stages, the Kids Compound and the International Market.

Programme
The musical programme of the Embassy Festival offers a rich palette of currents from the most diverse countries. Two carrousel podiums will be resonating with different musical genres throughout the afternoon. The classical podium features international musicians enchanting their audiences on unique instruments. Pop fans can make their way to the pop podium on the other side of the festival terrain, where elements of desert rock, funk, soul, jazz and indie pop from the most diverse countries intertwine in an innovative and, at times unexpected, programme. 

Contemporary stage 
The musical experience of this stage offers a rich palette of currents from the most diverse countries. Elements of jazz, singer-songwriter, indie pop, flamenco, folk and blues intertwine in an innovative and, at times unexpected, programme. 

Classical stage 
A stone's throw away from the city's historic concert halls, opera houses and art galleries, The Hague's Lange Voorhout makes the perfect backdrop for the international classical programme. In this setting, audiences have the opportunity to savour some the world's most exciting contemporary performers in engaging concerts celebrating the vitality and diversity of musical culture. 

Creative Arena
In the Creative Arena almost anything goes, from authors reading from their unique travelling stories to traditional dancing and even to ancient literature brought to life. The Creative Arena offers a suitable stage for a wide variety of (semi-)professional group or solo-performances. 

International Market
The International market is the heart of the Embassy Festival, this is where you can surf the wave of global delights. Meander across the tree-lined boulevard and expect to feel like you're in ten different countries at once. You will experience the most unique aspects of various parts of the world, with culinary delights, worldly handicrafts, wines from undiscovered regions and special coffees: you will feel like an absolute world traveller!

Kids compound 
The Kids Compound is especially created for our youngest visitors.

International city 
The Hague has every right to call itself an international city. With the presence of the any embassies, NGOs and multinationals the city enjoys continuous interaction with the est of the world. The third edition of the Embassy Festival shows a beautiful compilation of international culture that can be seen, heard and tasted in The Hague. 

Lange Voorhout 
The L-shaped Lange Voorhout in The Hague merits its reputation as one of the finest urban ensembles in Europe. Its rows of linden trees were first planted by Emperor Charles V, and are supposed to have inspired the layout of Berlin's great boulevard Unter den Linden. The hundred year old buildings flanking its sides are now homes to various embassies, residences, offices and various cultural institutions. 

Directions 
The Lange Voorhout lane in the city centre is easily reached by car, public transportation and bicycle. From the Utrechtsebaan (A4 and A12) follow signs to 'Centrum'. Parking around the Lange Voorhout is limited, though. You can use parking Museumkwartier, or parking Malieveld. From the Central Station in The Hague it's a short, ten-minute walk to the Lange Voorhout. Traveling by tram, you can take tram 1 or 9 in the direction of Scheveningen beach from either Central Station or Hollands Spoor.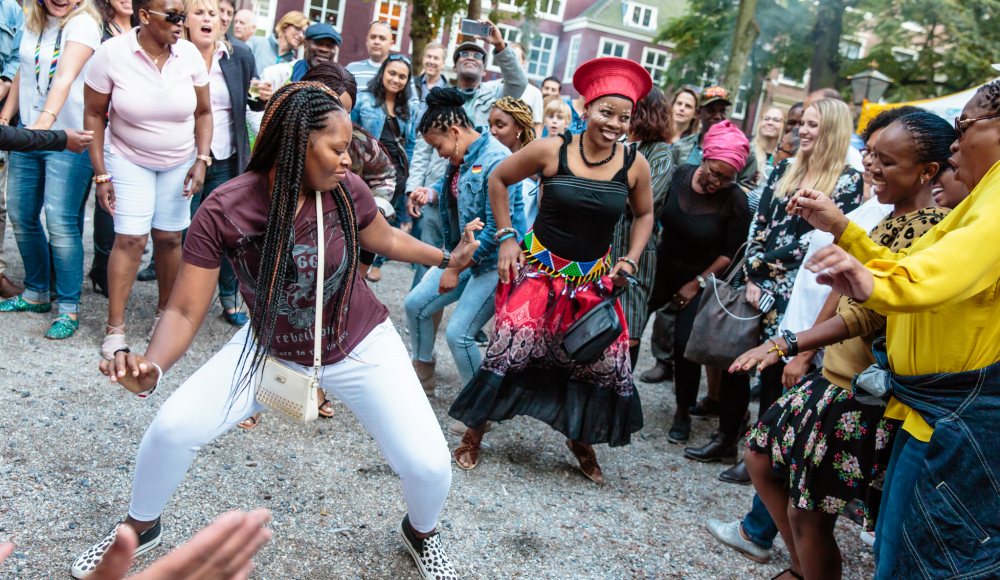 Unfortunately, this event has already taken place. A new date for the next edition is not yet communicated to us.
View all upcoming events in The Hague in the agenda overview