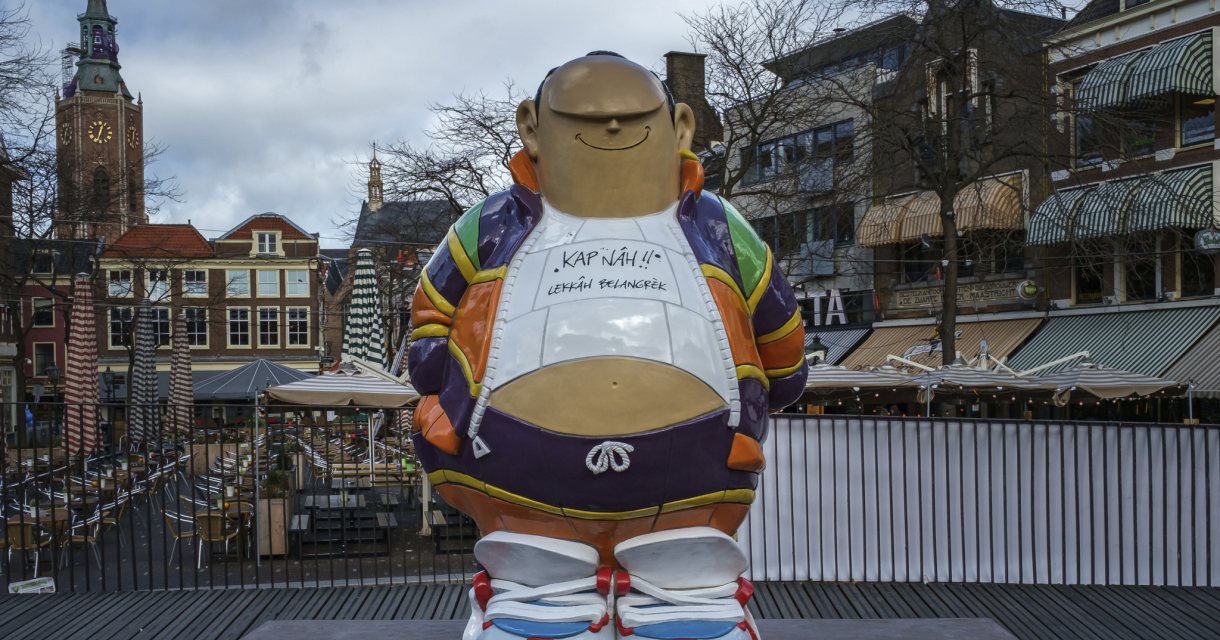 Favourites
Remove
For many residents of The Hague and Hagenezen, this is a popular place in the city center of The Hague, the mega large Haagse Harry. The statue has been an icon for the city since 2016.
The popular comic strip hero on the Grote Markt is more than two meters and weighs more than three tons. You can come and stroke his bare belly and take a picture with him!
Origin of the Harry statue in The Hague
The statue of Harry from The Hague was designed by artist Bouke Schuemie and modeled by Rob Daenen. It is a tribute to the creation of illustrator Marnix Rueb (1955-2014). Rueb came up with the cartoon character after living in the Schilderswijk for a while. Harry is an unemployed Hagenees with a big belly and a mat on his neck. He always wears a tracksuit with white sneakers and wanders around the street while commenting in The Hague on everything and everyone.
In the early 1990s, Rueb became widely known for his comic character through his phonetic spelling that he developed for the flat Hague dialect. This can also be found on the T-shirt of the statue.
The Hague language and selfie hotspot
The illustrator immediately found the people from The Hague special types and the Hague language very beautiful. You will have to read the comics aloud to understand them. His goal was to maintain the flat Hague dialect. Rueb died of cancer in 2014, to which the whole of The Hague responded sadly. On April 1, 2015, the culture prize was awarded posthumously to Rueb by the Municipality of The Hague. This was soon followed by the statue of Haagse Harry. The location is remarkable: it stands above the entrance to the tram tunnel, with a view of the tower of the Grote Kerk. This tram tunnel is often ridiculed in his comics because of the much higher costs than budgeted in advance.
Selfie hotspot
Immediately after the unveiling, the Harry statue from The Hague became a beloved selfie spot. View more selfie hotspots in The Hague here.