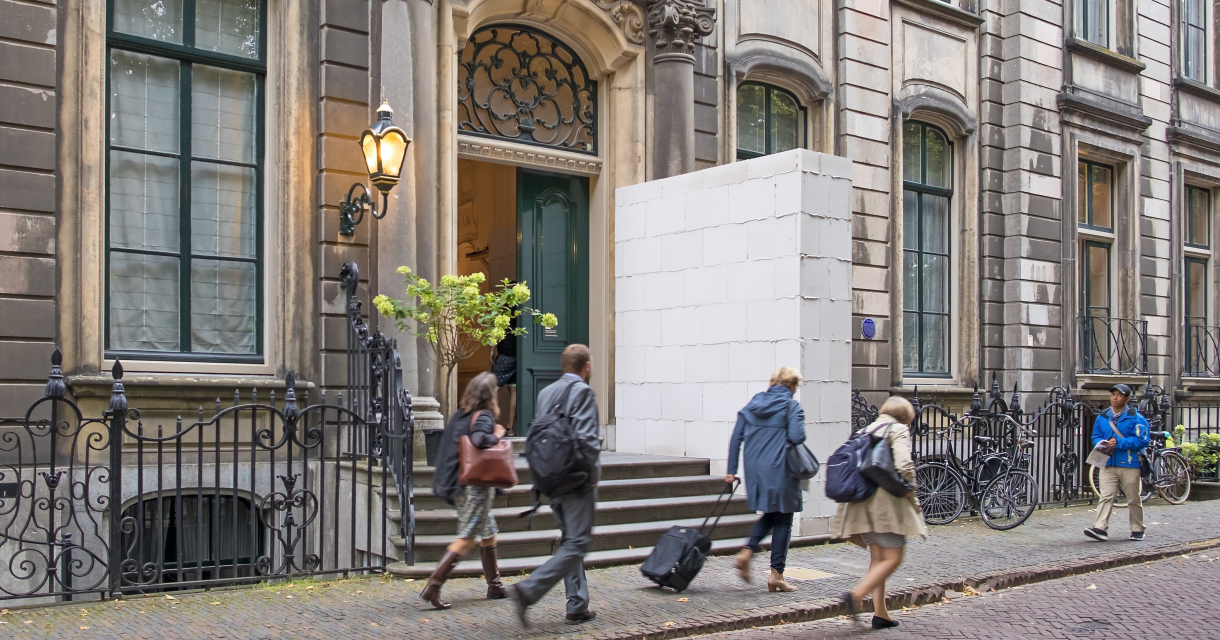 House Huguetan on the Lange Voorhout in The Hague has a rich royal history. This city palace built in 1734 was the temporary residence of William I in 1813. William II and his wife Anna Paulowna made use of it as well. Today it is in use as a temporary museum.

History
It's difficult for us to imagine, but Lange Voorhout has not always had such magnificient buildings. The older, smaller houses whih used to be here, gradually fell into disrepair and were consequently demolished in the 17th and 18th centuries. Construction of the town palace at No. 34 commenced in 1734. The architect Daniël Marot, wo was court architect to Louis XIV of France, designed and built the house for Adriana Margaretha Huguetan, a wealthy banker's daughter. After her death, her neighbour Baron van Tuyll bought House Huguetan. Since he also owned the house on the other side, he was able to connect the houses with one another by building a single façade at the front. This façade, designed by Pieter de Swart, was finished in 1761.

Royal inhabitants
In 1813, the city palace became the temporary residence of King William I after he arrived in the Netherlands. He only lived here a short period of time, before he moved to the newly renovated Noordeinde Palace. William II and his wife Anna Paulowna made use of House Huguetan as well. The lived here for two years before moving to Kneuterdijk Palace.

Lange Voorhout
The L-shaped Lange Voorhout in The Hague merits its reputation as one of the finest urban ensembles in Europe. Its rows of linden trees were first planted by Emperor Charles V, and are supposed to have inspired the layout of Berlin's great boulevard Unter den Linden. It was here in the 17C and 18C that the famous and fashionable came to see and be seen, particularly during the Sunday church parade.

Directions
The Lange Voorhout lane in the city centre is easily reached by car, public transportation and bicycle. From the Utrechtsebaan (A4 and A12) follow signs to 'Centrum'. Parking around the Lange Voorhout is limited, though. You can use Interparking Museumkwartier, or parking Malieveld. From the Central Station in The Hague it's a short, ten-minute walk to the Lange Voorhout. Traveling by tram, you can take tram 1 or 9 in the direction of Scheveningen beach from either Central Station or Hollands Spoor.