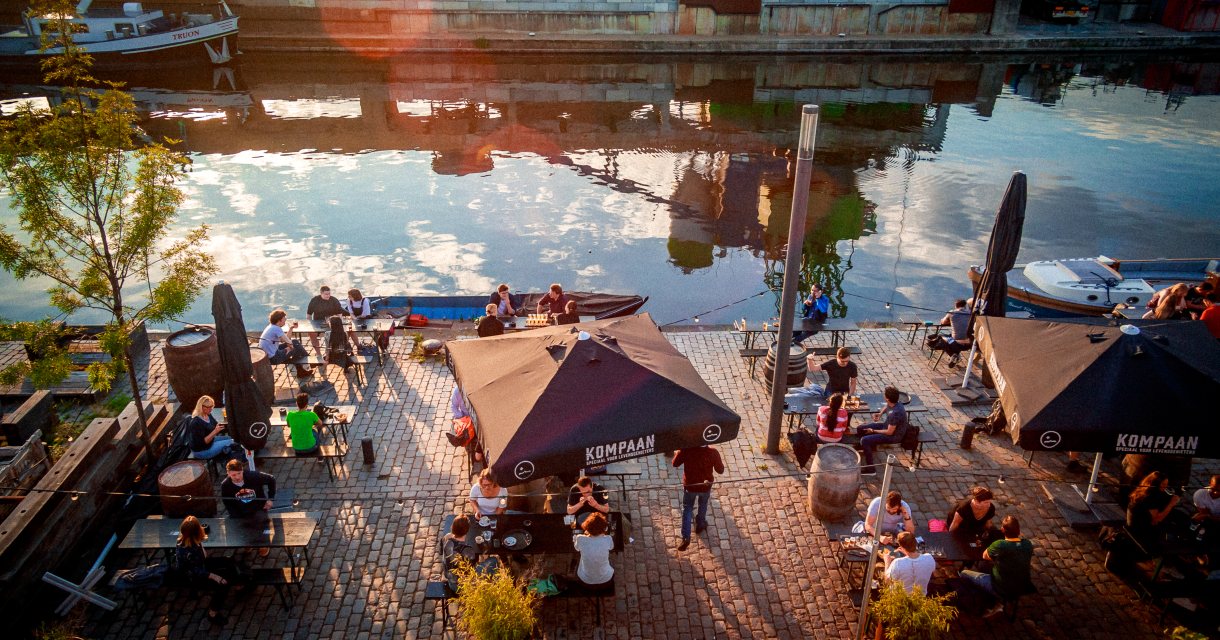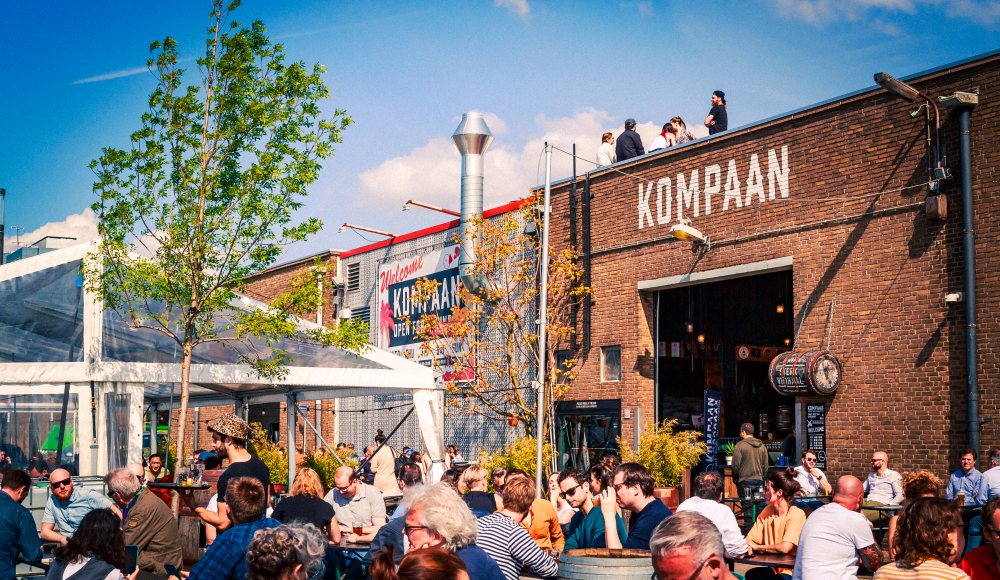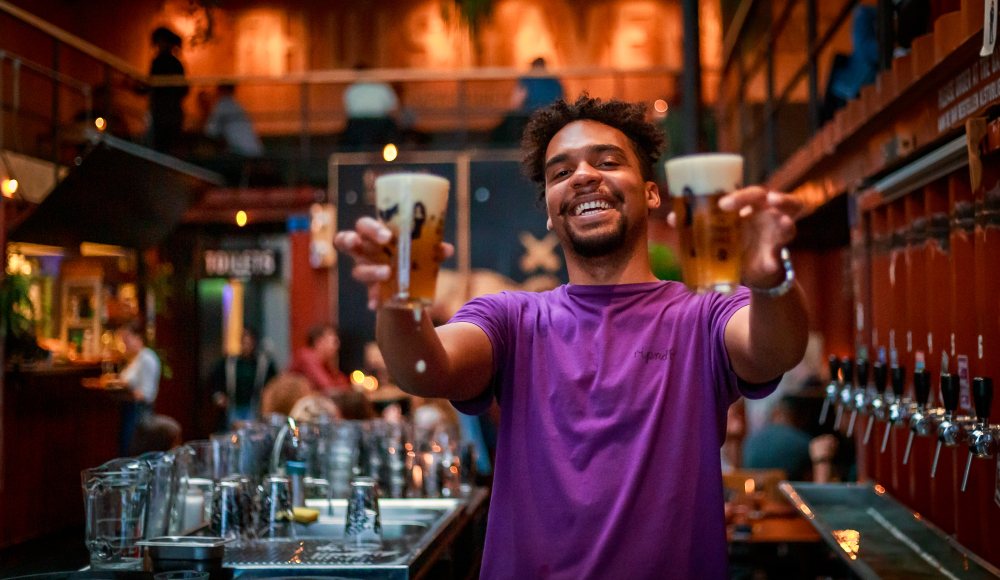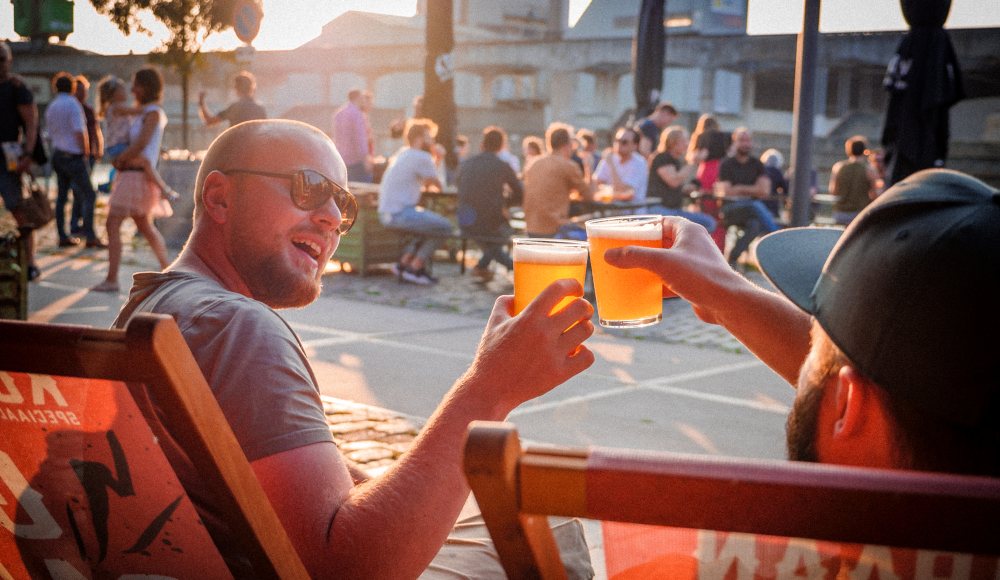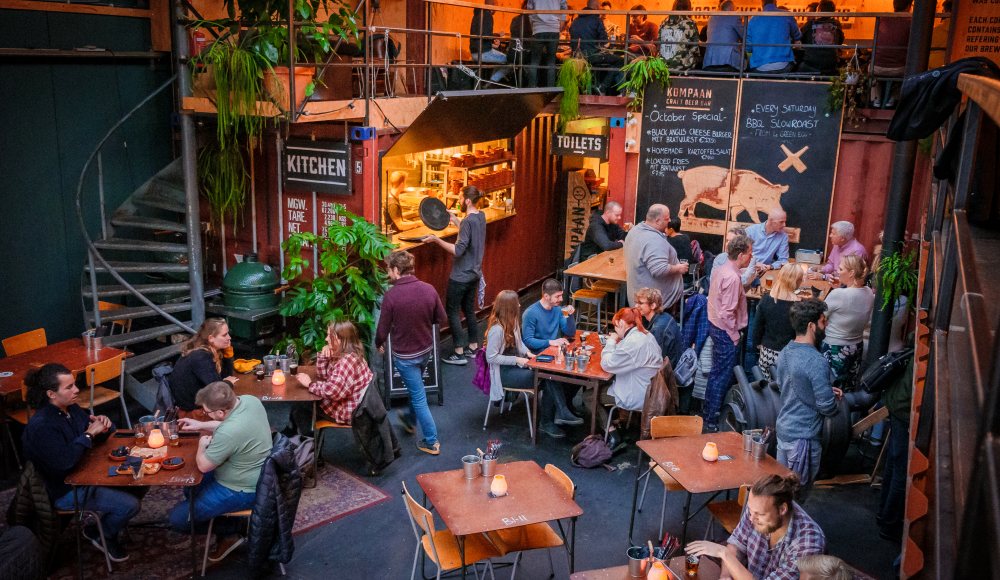 Kompaan (mate) is an authentic Hague beer brewery with a bar annex tasting room, hidden away in Binckhorsthaven. At this industrial location with a terrace and beautiful view of the inner harbour and its factories, two partners, Jasper and Jeroen, realized their dream in 2015: brewing typically Hague beers. Not only beers with names such as Bondgenoot (Ally) and Bloedbroeder (Blood Brother) originate from Kompaan in The Hague; in the Craft Beer Bar you can also enjoy dozens of beers brewed on the spot four days a week accompanied by delicious dishes such as brisket and pulled pork with home-made barbecue sauce. Highly recommended for beer lovers and anyone looking for a typically Hague insider tip!

Kompaan beer
The Kompaan beers offer a comprehensive palette of flavours. Each beer that Kompaan brews contains several kinds of malts and hops. The Hague microbrewery has a handful of permanent beers in its range: from dry hopped pilsner to an imperial stout with port. Every season, Kompaan brings a season beer onto the market. In addition to these beers, the local brewery has unique special editions that age in wooden vats: Barrel Aged specialty beers. Whisky, bourbon or gin vats are primarily used for these strong and dark Kompaan beers. They are usually sold in small batches, so be sure to visit the Kompaan brewery shop to take advantage of these special flavour sensations.

Kompaan Craft Beer Bar
The Kompaan Craft Beer Bar in Saturnusstraat is open four days a week. The sea containers and scaffold wood planks give the interior of the brewery pub a raw, authentic look befitting of the industrial location in The Hague's Binckhorsthaven. The tasting room is fitted with no less than twenty taps. Enjoy discovering the freshly brewed beers, straight from the craft brewery, including Vrijbuiter (Freebooter), Handlanger (Accomplice), Bondgenoot (Ally) and Bloedbroeder (Blood Brother). Furthermore, Kompaan has a unique selection of craft beer from fellow breweries at home and abroad, super fresh from the tap.

Tasting session
Would you like to know more about the different Kompaan beers? Attend a tasting session! It includes different Kompaan beers and an explanation, plus information about Kompaan and the brewery. The tasting takes around an hour.

Kitchen
The barbecue/slow-smoke-style kitchen at Kompaan reflects the same mentality as the beers: craftsmanship and quality come first. The slow-smoker is always on in the kitchen, smoking delicious briskets and pulled pork for hours, nuts are house smoked and the chefs are always busy creating their own barbecue sauces, beer syrup to accompany the delicious cheese platters and sausages braised in Kompaan beer. Take a seat in the restaurant or if the weather is nice on the waterside terrace with its view of the surrounding factories. A unique experience!

Events
The Beer Bar is a regular home base at weekends for events, including musical performances, culinary theme evenings and small-scale festivals.

Groups
The beer café is open to the public from Thursday to Sunday. On other days, it is possible to hire the Beer Bar privately for groups and parties up to 170 people.

Directions
Kompaan is easy to reach from the motorway: De Binckhorst industrial estate is located directly beside the A12. Kompaan, located in Saturnusstraat (quayside) is around two minutes' drive from the exit. There are plenty of parking spaces. Kompaan is also reasonably easy to reach by public transport. Buses 26 and 28 both stop in the vicinity of the brewery. Thanks to the location on Haagvliet (or Trekvliet), Kompaan is also easy to reach by boat: visitors can tie up behind the brewery in Binckhorsthaven.