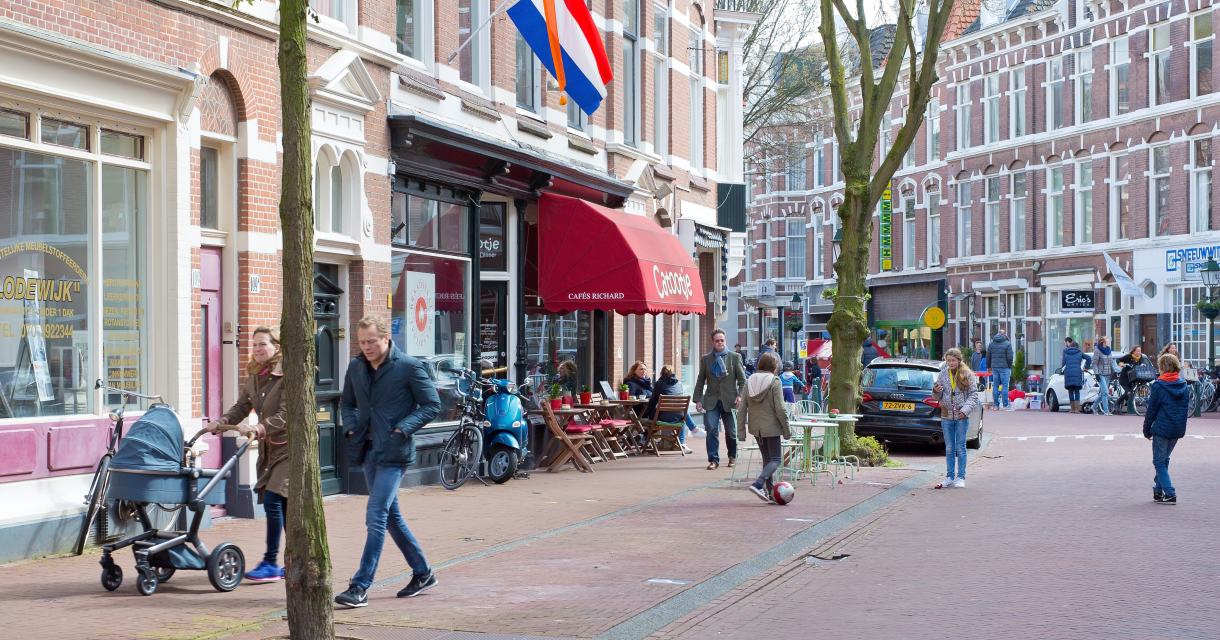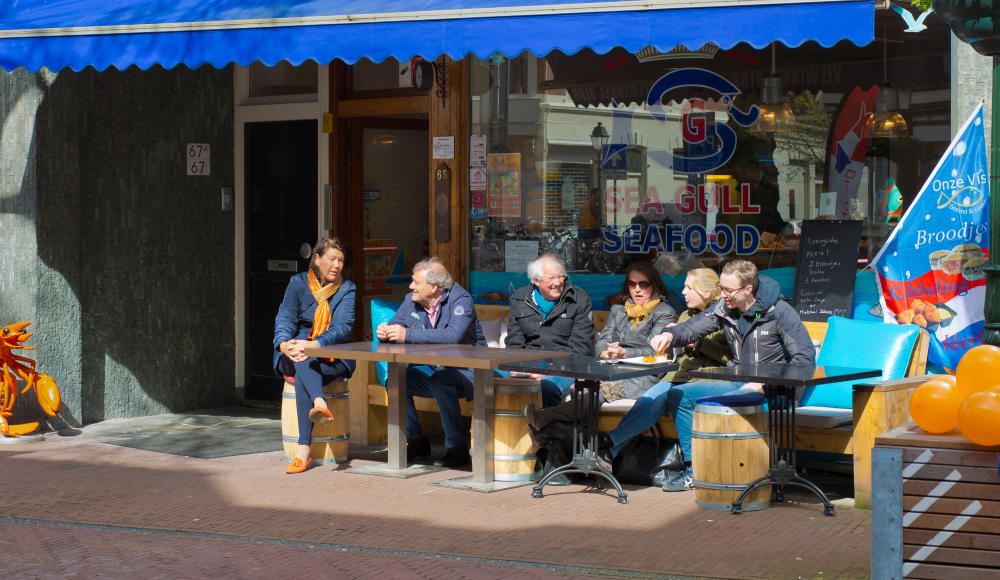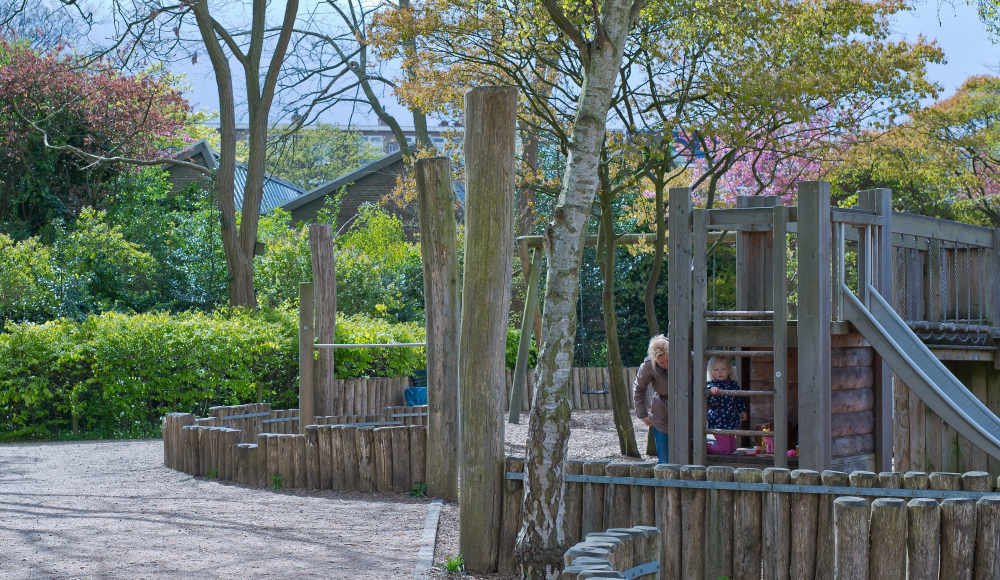 Reinkenstraat is located precisely between the centre of The Hague and Scheveningen beach. Surrounded by beautiful town houses and large trees, this is the shopping street in the Hague district of Duinoord. This authentic shopping street is the perfect place to soak up the atmosphere and obviously enjoy some fine shopping. In Reinkenstraat you will find various clothing and lifestyle stores and many small specialist shops, Have you done enough shopping? Then it's time for a delicious snack or drink in one of the eateries. For those who love unique stores, cosy coffee houses and beautiful architecture, a visit to The Hague would not be complete without having visited this part of the city.

Tasteful shopping
What makes Reinkenstraat so different from other shopping areas is not only its smaller scale, but also the beautiful neighbourhood. The shopping street is located on what is undoubtedly the most beautiful square in The Hague: Sweelinckplein. No other spot in The Hague has so many protected monuments. Sweelinckplein and the surrounding streets are characterised by monumental town houses in neo-styles that were in vogue around 1900 and formed the precursor to Art Nouveau. The shops in Reinkenstraat exude the same atmosphere as the surroundings. You will find many tasteful businesses here and authentic craft shops that have been based in Reinkenstraat for years. This not only makes Reinkenstraat a charming spot for local inhabitants to do their daily shopping, but also the definitive insider tip for shopping lovers who are looking for a change from the large shopping streets.

Shops
Reinkenstraat offers diverse unique shops where you can buy the finest goods, as well as many fresh produce stores for daily and festive shopping, including excellent butchers, bakers, delicatessens and vintners. The stores below are certainly worth visiting!
Carman & Co: gift shop for young and old with lifestyle products for home interiors

Antiquarian Bookshop Colette: the most charming bookshop in The Hague

't Hollands Kaashuis: large range of Dutch and international cheeses

Sucré Salé: French caterer for all delicatessen products from La Douce France

Scharrelslagerij 't Oude Ambacht and Slagerij Van Den Broek: two of the best butchers in the Netherlands

La Mesa Koken & Tafelen: cooking and gift store for dinnerware and kitchenware with fresh olive oil from the tap
Cafés and restaurantsIn addition to the distinctive fresh product shops, Reinkenstraat also has a striking number of charming little luncheon rooms and restaurants such as
Eetcafé Lokaal Duinoord: cosy eatery with speciality beers, which uses regional products

Rotisserie Braadstaal: Bas & Bas make everything fresh daily from the rotisserie each day or the Big Green Egg

W'IJS: lovely lunch room with breakfast, lunch and delicious artisanal Italian ice cream
Events
During holidays and other special occasions Reinkenstraat often organises great events for young and old. For example, on King's Day there is a children-free market and at Halloween there are always great kids activities, while Sinterklaas always visits at the end of November and there is a market during the Christmas period.

Insider tip
Around the corner from Reinkenstraat is one of the secret spots of The Hague: Sunny Court. This hidden inner park can be accessed from an entrance on Laan van Meerdervoort. Once a tennis park, Sunny Court is now a tranquil city oasis with plenty of greenery, large trees and wooden play equipment for children.

History
The Duinoord neighbourhood was constructed between 1892 and 1902. The residential neighbourhood built on sandy ground was primarily designated for the well-off and middle class and became particularly popular with returnees and those on leave from the Dutch East Indies. The middle of the neighbourhood is home to the oval-shaped Sweelinckplein with its neo-renaissance revival buildings. Originally, the shops in Duinoord were divided across different streets. During the nineteen twenties and thirties, Reinkenstraat developed into the most important shopping street.

Directions
Reinkenstraat can be reached by tram 11 for Scheveningen (Laan van Meerdervoort stop) and by tram 3 for Loosduinen (Conradkade stop). The street can also be reached easily by car via Laan van Meerdervoort and Koningin Emmakade. It is advisable to park away from the shopping street, however. This is a good idea for anyone who wants to visit more unique shops in the neighbourhood: the shopping streets Prins Hendrikstraat, Weimarstraat and Frederik Hendriklaan are all within walking distance from Reinkenstraat.