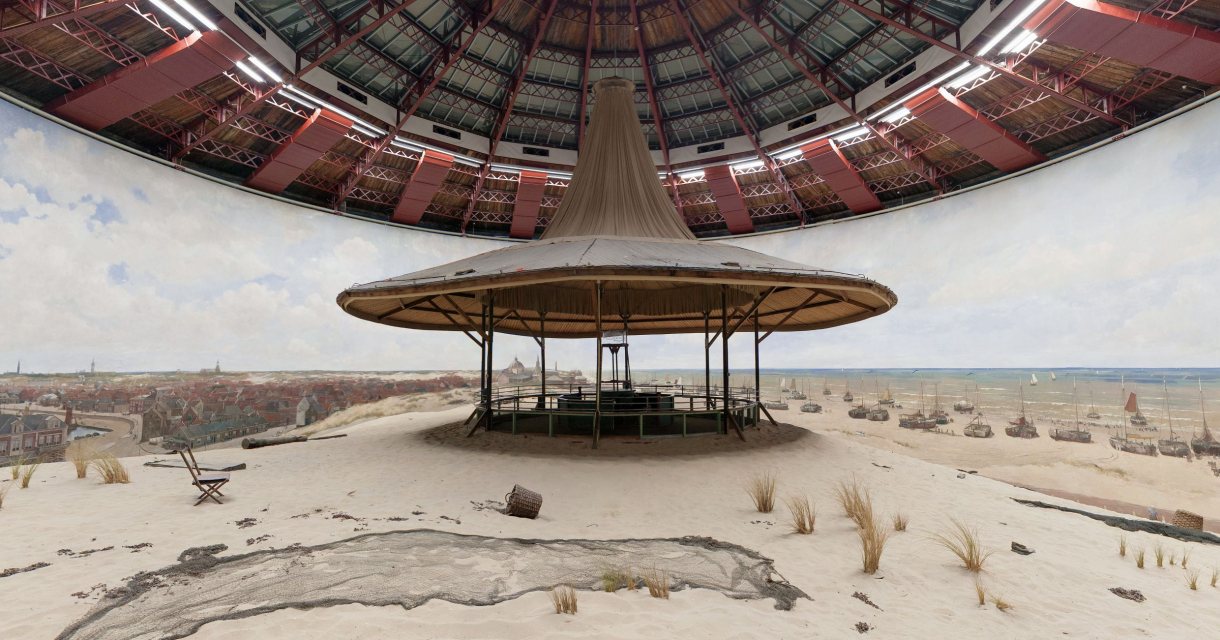 Panorama Mesdag in The Hague is the largest circular canvas in Europe. Look 360º around you and experience the magical optical illusion created by this panorama of Scheveningen from 1881 in Museum Panorama Mesdag. The view is never the same; the incidence of light is more than magnificent and changes from moment to moment. The vista of the sea, dunes and old fishermen's village Scheveningen was painted by H.W. Mesdag. Panorama Mesdag is a unique cultural historical monument. 

Cultural-historical monument
The building that incorporates this panorama was constructed specially for the painting. In the centre of the building, an artificial dune has been created on a roundabout. From a viewpoint above the dune, visitors will see the same panorama as if they were standing on the Seinpost dune levelled off in 1881, as the canvas hung around it shows an impressively painted beach and seaside scene.

Illusion
The canvas has a surface area of around 1680 m2 and was painted by the painter H.W. Mesdag in four months, supported by several fellow artists, including Breitner, Mesdag-van Houten, De Bock and Blommers. The roundabout has a diameter of 36 metres. The hidden skylights in the tent roof illuminate the space to give an illusion of a natural environment. The transition from the artificial dune to the painting is achieved with phenomenal artistic skill and strongly suggests to visitors that they are outside.

Only remaining panorama in The Netherlands
The entire work, which comprises the structure and panorama, was completed between 1880 and 1881. As an example of the typical 19th century "instruction and entertainment" idea, Panorama Mesdag is unique in being the last vestige of the maritime panorama in the Netherlands. The painting is important as a product of the Hague School, not only because of its size, brushstrokes and theme employed, but also as a result of the collaborating artists of the Hague School. From a cultural-historical perspective, Panorama Mesdag grandly and gloriously sets forth the tradition of the trompe l'oeil effect in a manner unsurpassed.

Experience the museum online
Have you become curious? Immerse yourself digitally in this masterpiece on the Museum Panorama Mesdag website! At the top of the homepage is a special online version of the Panorama of Scheveningen, containing texts, images and films that provide more information about the panorama, its makers and Scheveningen from 1881 to the present. Discover this interactive experience, just from home, to experience all the details of this unique painting in The Hague up close!
Diverse range of exhibitions 
In addition, the museum presents a varying range of temporary exhibitions. Engaging and relevant presentations of related themes or work by contemporary makers. The permanent collection has recently been redesigned to provide more information about the work and life of Hendrik Willem Mesdag and his wife Sientje Mesdag-van Houten. In addition to a cozy museum café and an inviting museum shop, the museum also has multifunctional rooms for organizing lectures, events or rental.