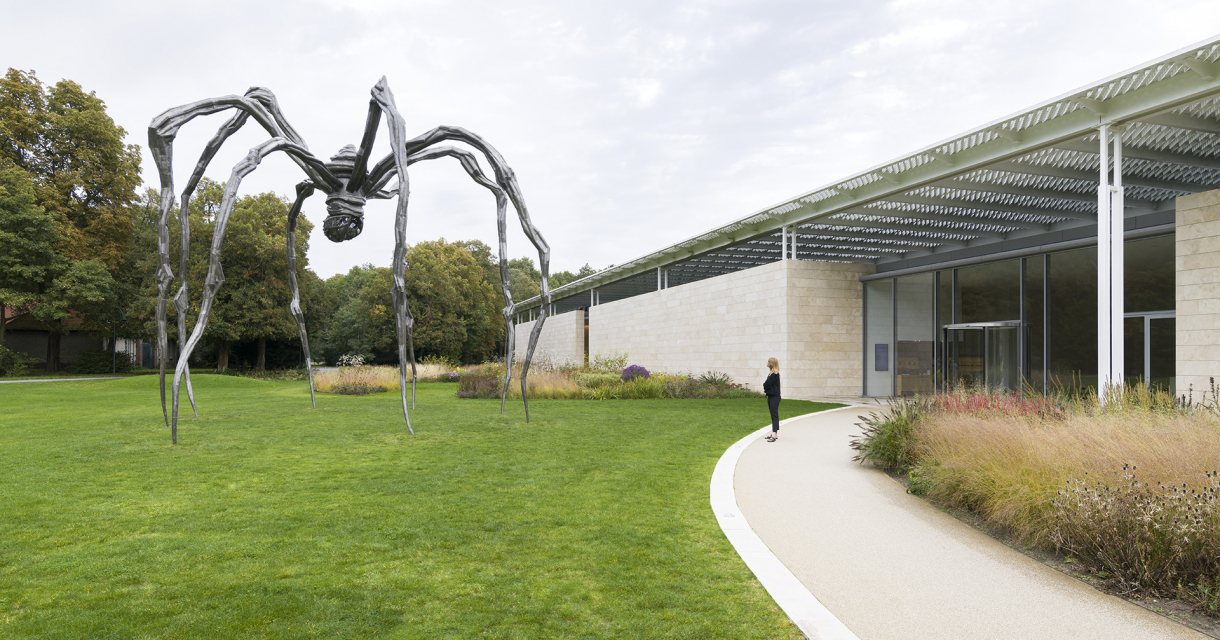 Favourites
Remove
Voorlinden is a private museum for modern and contemporary art at a magnificent estate in the dunes at Wassenaar, a stone's throw from The Hague. Businessman and art collector Joop van Caldenborgh realised his dream here in 2016: a museum of international allure that houses his renowned collection. The attractive white building offers a space for Van Caldenborgh's rich and surprising collection, permanent works of art made especially for the museum and temporary exhibitions.

Building
Every aspect of Museum Voorlinden has been designed to enhance art. The basic oblong shape consists of variegated dune sand-coloured natural stones and transparent glass walls, which enhances the experience of nature inside the building. An elegant, white-steel colonnade bears the ingenious roof structure. The overall threefold division of the interior matches the museum programme: collection presentations, changing exhibitions and permanent in-situ works. The exhibition rooms are illuminated by the ever-changing natural daylight that brings the artwork to life. The distinctive light of the Dutch coast falls into the building in gradations thanks to ingeniously cut tubes. A velum and transparent glass roof, in which indirect LED is integrated, ensures that the artwork is illuminated as naturally as possible on less sunny days and in the evenings. 

Permanent works
Museum Voorlinden features a number of artworks on permanent display. Skyspace by James Turrell (1943) and the corten steel sculpture Open Ended (2007-2008) by Richard Serra (1938) have been incorporated into the building itself. Museum Voorlinden additionally boasts permanently installed work by Maurizio Cattelan (1960) and the illusionistic Swimming Pool by Argentinian artist Leandro Erlich (1973). The hyper-realistic Couple under an Umbrella by Ron Mueck (1958) and the enchanting glass sculptures of Roni Horn (1955) are on semi-permanent display as well. In order to present these works to their optimum advantage, each singular piece has been placed in a separate gallery. 

Voorlinden Estate
Voorlinden Estate has a long history that harks back to Roman times. The name Voorlinden originated in 1584. During the seventeenth century various country estates emerged around The Hague, one of which was Voorlinden. At the start of the nineteenth century, father J.D. Zocher (1791-1870) and son (1820-1915) designed a park here in landscape style. When Voorlinden came into the hands of Esquire Ir. Hugo Loudon, he commissioned British architect R.J. Johnston to build the current country house along the lines of the stately country house of his English wife. In the same period, landscape architect Leonard Springer (1855-1940) redesigned the landscape and created new lines of sight. The combination of indigenous and exotic tree species was his work. For the opening of Museum Voorlinden, landscape and garden architect Piet Oudolf (1944) was commissioned to design the area around the new building. This final intervention resulted in an example of early 19th-century, 20th-century and 21st-century landscapes. The woods, dune meadow and dune areas are freely accessible for walking on the footpaths. Dogs should be kept on a leash due to the presence of wildlife and birds.
Op maat gemaakt voor Voorlinden
Andere werken zijn eveneens op maat gemaakt voor Voorlinden. Speciaal voor het museum ontwierp James Turrell een Skyspace, die je de lucht laat beleven als nooit tevoren. Open Ended van Richard Serra laat je dwalen door een enorm stalen doolhof. Volwassenen en kinderen verbazen zich over de miniliftjes van Maurizio Cattelan, die je naar onbekende verdiepingen voeren.
Landgoed Voorlinden
Geniet van de rijke natuur op Voorlinden. Een onverhard pad loopt door het bos en de duinen en komt na zo'n drie kwartier weer terug bij het museum. Vanaf het hoogste duin kun je op een heldere dag de Noordzee zien. Ook de weelderige tuin van Voorlinden is een bezoek waard. Landschaps- en tuinarchitect Piet Oudolf (1944) legde deze aan volgens een ontwerp dat drie seizoenen bloeit en het hele jaar mooi blijft.
Restaurant
In het monumentale landhuis naast Voorlinden is het restaurant gevestigd, waar je binnen of op het terras kunt genieten van koffie met taart, een lunch of een borrel. Het restaurant is dagelijks geopend van 10.30 tot 18.00 uur. Naast het restaurant is op het landgoed een foodtruck te vinden, waar je terechtkunt voor koffie, thee, fris, huisgemaakte zoetigheden en broodjes.
Voorlinden voor kinderen
Museum Voorlinden is geschikt voor kinderen. Veel van de werken zijn belevingskunstwerken, die je van dichtbij kunt bewonderen of zelfs kunt betreden. Aan de hand van gratis Ik zie ik zie-kaartjes kunnen jonge bezoekers bovendien een aantal verrassende sleutelwerken op speelse wijze ontdekken. De kaartjes vormen een mooie aanleiding voor ouders en kinderen om samen te praten over hedendaagse kunst. De prikkelende vragen maken een bezoek aan Voorlinden tot een spannende ontdekkingstocht.
Tickets
Museum Voorlinden is doordeweeks geopend van 11.00 tot 17.00 uur en in het weekend van 10.00 tot 18.00 uur. Koop je ticket van tevoren online. Print het kaartje of laat op je smartphone scannen bij de ingang van het museum. Voor een bezoek aan het restaurant en het landgoed is geen ticket nodig: deze zijn gratis toegankelijk. Het landgoed is tevens buiten openingstijden te bezoeken.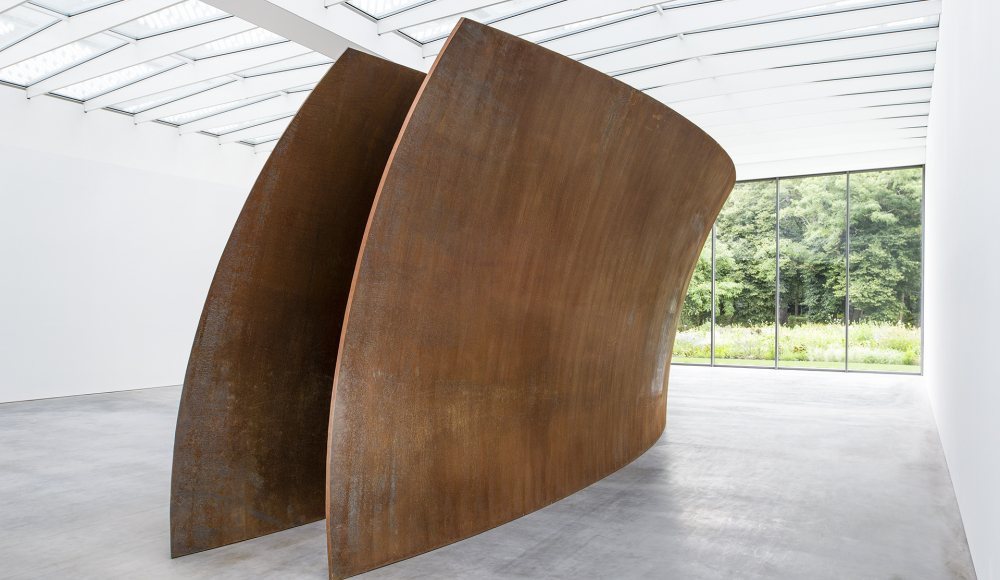 Partner van Cultuur aan Zee
Wereldberoemde meesterwerken en een jaarrond uniek cultureel programma in Den Haag, dat is Cultuur aan Zee. Wil je een handig overzicht van het tijdelijke en permanente aanbod in de stad aan zee, kijk dan hier..
Toegankelijkheid Museum Voorlinden voor mensen met een beperking
Om iedereen optimaal te kunnen laten genieten van een bezoek aan Panorama Mesdag zijn voor mensen met een handicap, lichamelijke beperking, mobiliteits en/of visuele beperking een aantal faciliteiten beschikbaar. Meer weten over de exacte mogelijkheden voor gehandicapten en toegankelijkheid? Kijk dan alvorens je bezoek even hier.
Locatie en bereikbaarheid
Museum Voorlinden ligt in de duinen van Wassenaar, net buiten Den Haag. Het museum is bereikbaar met de auto, het openbaar vervoer en de fiets.
Kom je met de auto Of Uber? Volg de A4 richting Amsterdam. Neem afslag 8 Leidschendam en volg de N14. Neem vervolgens afslag Voorlinden en ga rechtdoor. Neem de eerste afslag links. Je rijdt nu het landgoed van Voorlinden op. Na 500 meter vind je aan je linkerhand parkeergelegenheid P1. Vanaf daar brengt een wandelpad je naar het museum en het restaurant. Extra parkeerplaatsen zijn te vinden bij P2, aan het begin van de oprijlaan. Parkeren is gratis.
Kom je met het ov? Neem dan vanaf NS-station Den Haag Centraal of Leiden Centraal bus 43 en 44 naar halte Wittenburgerweg Wassenaar. Vanaf de bushalte is het ongeveer twintig minuten wandelen naar Voorlinden.
Kom je met de fiets of Felyx? Vanuit de Haagse binnenstad rijd je in twintig minuten via een prachtige groene route naar het museum.