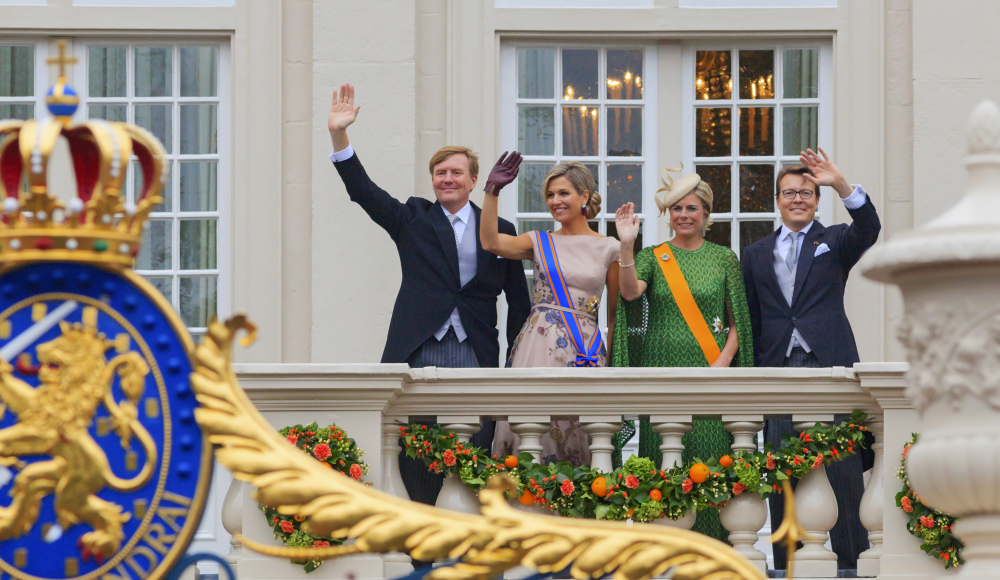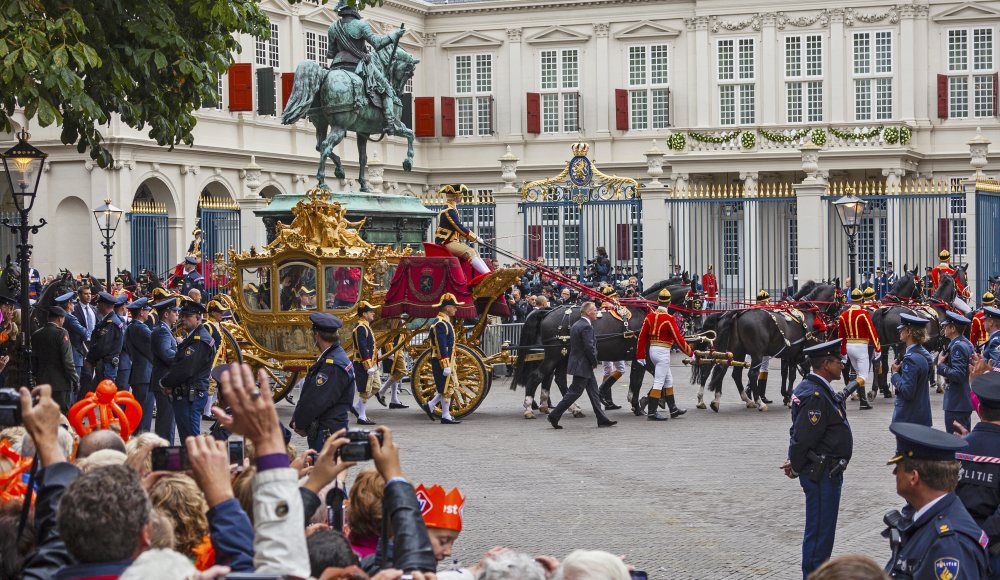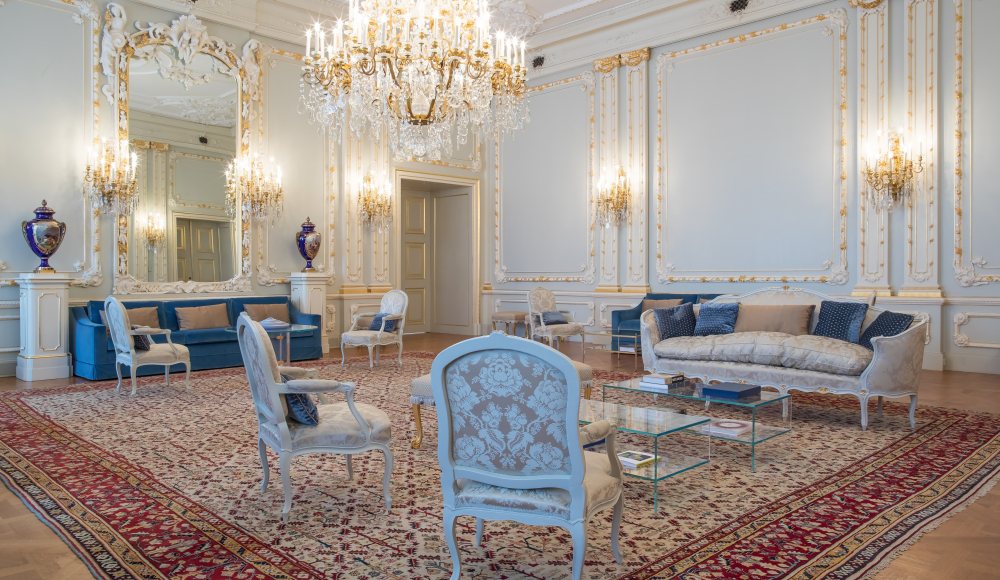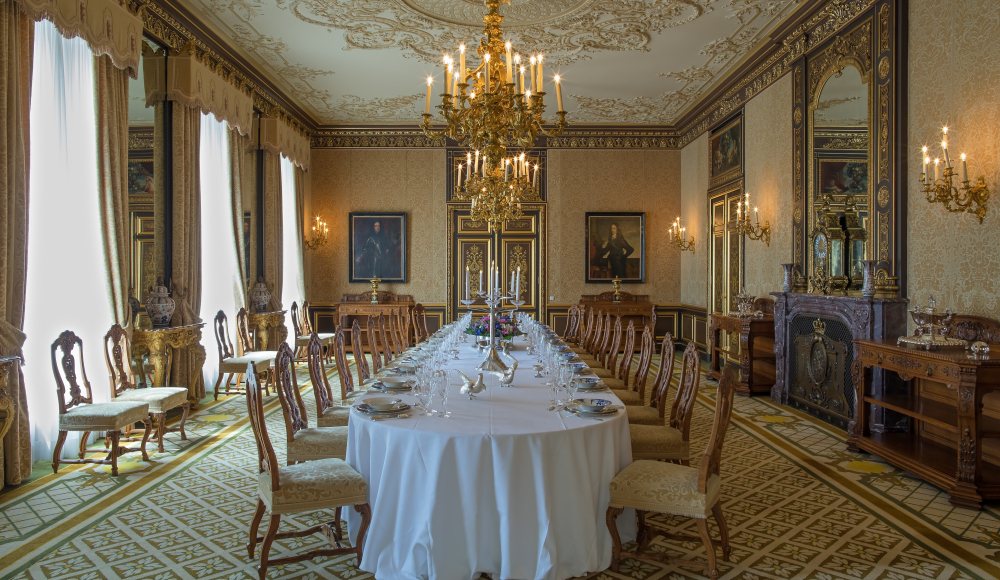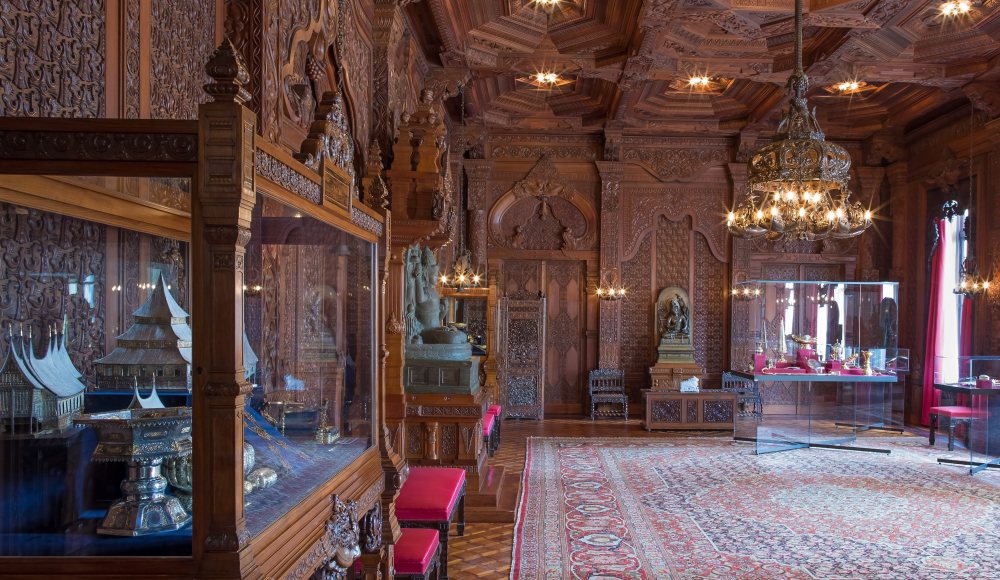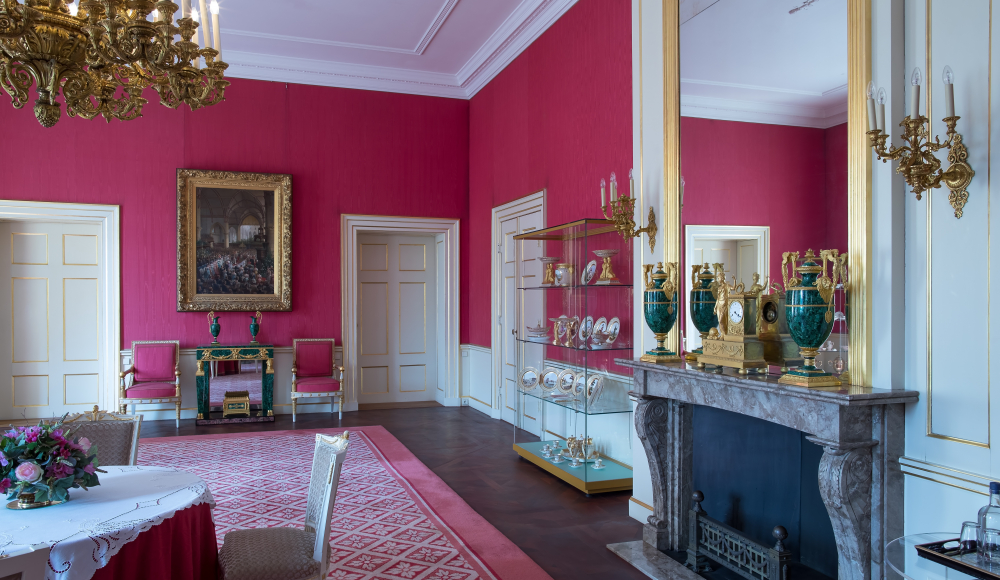 The Palace Noordeinde ('Paleis Noordeinde') with its gracefully landscaped garden is situated on the Noordeinde. Compared to other European palaces, Noordeinde is modest and located at a wonderful location on one of The Hague's shopping streets. After looking at the latest fashion, you could suddenly find yourself at the gates of this working palace. 

Working palace 
The widow of William of Orange and her children lived there. In 1815 the palace was completely restored and used as residence for King William I. Nowadays King Williem-Alexander and his staff have their offices in the elegant rooms of Palace Noordeinde. The palace is not open to the public for the simple reason that it is still in use a working palace. 

Royal ceremony on Wednesday mornings
On Wednesday mornings, HM King Willem-Alexander regularly welcomes new ambassadors who come to present their letters of credence at Noordeinde Palace in The Hague. The new ambassador arrives by state coach early in the morning, escorted by horsemen from the Royal Netherlands Mounted Police. After an honorary salute of four drumrolls, the national anthem of the ambassador's country is played, followed by an inspection of the guard. Inside, the King awaits the new ambassador. Outside the palace, you can watch the arrival of the coach, listen to the national anthem being played and follow the inspection of the guard - always a special moment in the royal city of The Hague.

Palace Garden
The Palace Garden is located behind Noordeinde Palace in The Hague, next to the Royal Stables. The garden is open to the public daily. Frederik Hendrik, the son of William of Orange, had the gardens landscaped for his mother at the beginning of the seventeenth century. Known in those days as the 'Princesses' Garden', the park was full of romantic flowerbeds, ponds, fountains and marble statues. The garden was given to the Municipality of The Hague in the twentieth century and it is now a normal park by Dutch standards, as well as a great place to picnic on summer days. Bask in this wonderfully regal setting for a while, sandwiched between the Royal Stables, the working Noordeinde Palace and the Royal Archives.

Noordeinde 
The chic Noordeinde district of Willem-Alexander's working palace is primarily known for its distinctive fashion boutiques, galleries and art and antiques dealers located in beautiful art nouveau buildings. Jewellers, antique dealers and galleries are interspersed with coffee cafés and restaurants, which makes Noordeinde worth visiting for anyone. During four weekends in the summer the palace is open for visits.

Accessibility 
Noordeinde is easy to reach by car, tram and bike. There are plenty of parking opportunities in the vicinity. The nearest parking garages are Noordeinde parking in Heulstraat and Parkstraat parking garage in Oranjestraat. Noordeinde is a fifteen-minute walk from Central Station. A number of trams stop at the Kneuterdijk stop.