Exhibition
Ernest Utermark's ABC – A collector's Alphabet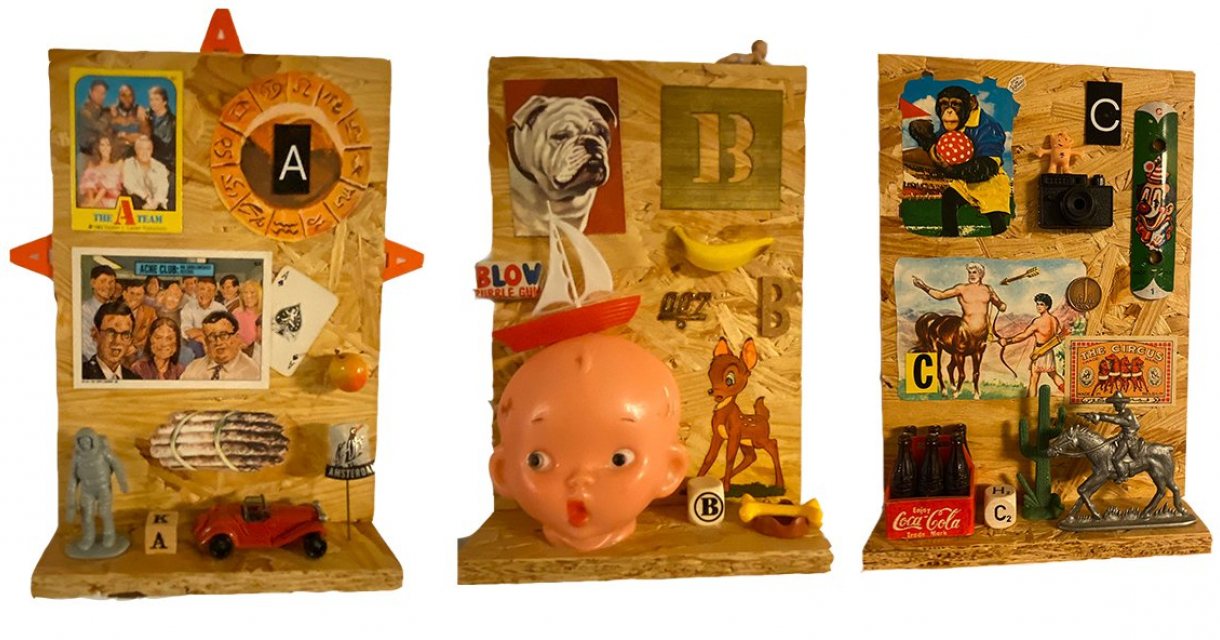 For centuries, the alphabet has been a source of inspiration for artists and book designers. The alphabet of collector, exhibition maker and illustrator Ernest Utermark (The Hague, 1967) can now be seen in the basement. It consists of twenty-six 3D collages of various objects and images, taken from the extensive image archive that he has collected over the years. On each board, all parts start with the same letter, both in Dutch and in English.
In collaboration with the Rotterdam design agency Enchilada and the writer Gerard Janssen, he made the book Ernest Utermark's ABC - A collector's Alphabet in 2010, in which cheerful assemblages are combined with associative, humorous texts. A special typeface was designed for this book; the 'Ernesto'.
Ernest Utermark graduated in 1994 from the illustration department of the Willem de Kooning Academy in Rotterdam. Since 1999 he has been working at the Kunstmuseum The Hague, where he is involved in various capacities in the creation of exhibitions.
ABC: The Collected Alphabet
For centuries, the alphabet has been a source of inspiration for book artists and writers. A number of examples of ABC books from the House of the Book collection can also be seen in the basement. In this small presentation they form a beautiful whole with the original 3D collages of Ernest Utermark.
Dates and Times
| | |
| --- | --- |
| Tuesday | 11:00 – 17:00 |
| Wednesday | 11:00 – 17:00 |
| Thursday | 11:00 – 17:00 |
| Friday | 11:00 – 17:00 |
| Saturday | 11:00 – 17:00 |
| Sunday | 11:00 – 17:00 |