Exhibition
Gabriele Münter - Boys on Shrove Tuesday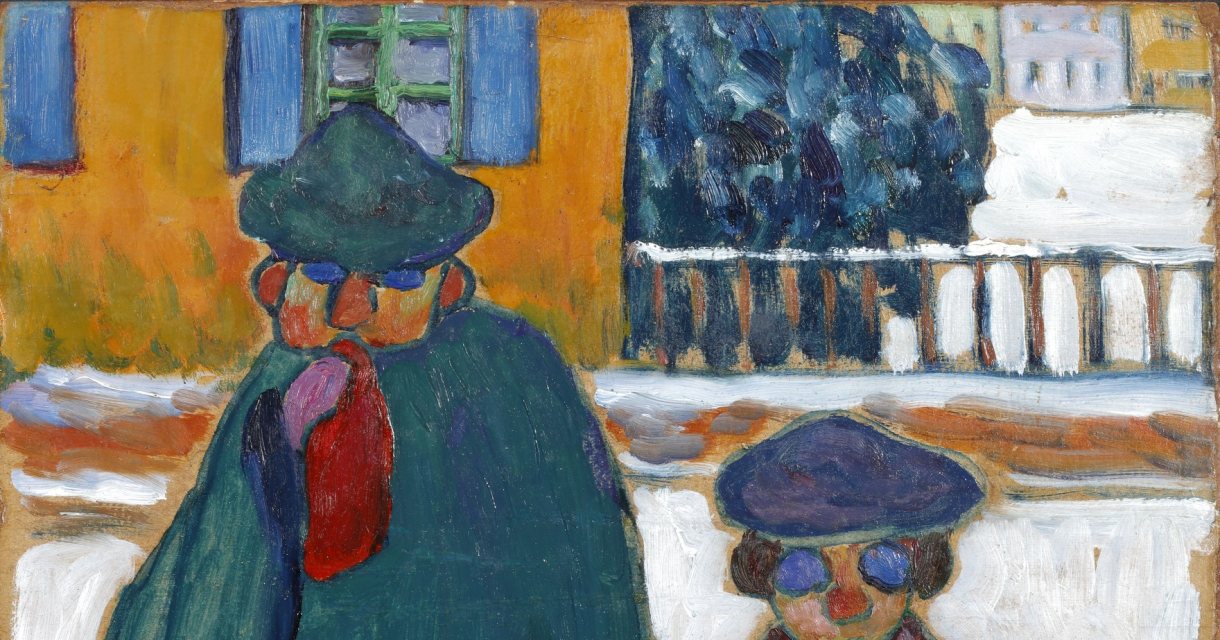 Kunstmuseum Den Haag presents its latest acquisition, Boys on Shrove Tuesday, from 1911 by Gabriele Münter (1877-1962) in an intimate exhibition among her contemporaries. The painting has been on display in the museum on long-term loan for the past few years, but has now been donated by THE EKARD COLLECTION in memory and honor of Henry and Erica Drake.
Out of the shadows
Kunstmuseum Den Haag cherishes a collection of German Expressionists, including a group of works by the artists of Der Blaue Reiter. This sub-collection has been built up since the 1920s with works by Wassily Kandinsky, Franz Marc, Alexej von Jawlensky, August Macke, Heinrich Campendonk and Paul Klee. The most important purchases took place after the Second World War, mostly in the 1950s. Remarkably enough, work by Gabriele Münter was never acquired, who was part of this group of artists from the very beginning. For a long time, Münter was unfairly in the shadow of her partner Kandinsky. Retroactively, in recent years there has been a lot of interest in Münter's work and she has received recognition for her role within German Expressionism. The acquisition of the painting Boys on Shrove Tuesday is therefore not just an enrichment of the museum's collection. It is a crucial addition with which the story of Der Blaue Reiter can be told even better.
Boys on Shrove Tuesday
Gabriele Münter painted Boys on Shrove Tuesday probably in the winter or early spring of 1911. We see two boys wrapped in thick winter clothes on a village street against a snowy background. The caps and glazed eyes hide the boys' faces, only their frozen noses and red cheeks are visible. One of the boys eats a pancake. The tradition of Shrove Tuesday dates back to the Middle Ages and is related to Carnival as well as to Maslenitsa – a Russian pancake festival. In several European countries, this day is celebrated in February or March by eating pancakes. Shrove Tuesday is therefore also known as "Pancake Day" or "Fat Tuesday". It symbolizes the end of Carnival and the beginning of Lent.
Important donation
The collection of Kunstmuseum Den Haag was largely created with the support of private individuals. In 1971, for example, the museum acquired the now world-famous collection of paintings by Piet Mondriaan through a bequest from the collector Salomon Slijper. The donation of Boys on Shrove Tuesday is not only an important asset to the museum collection, but also to the Netherlands Collection as a whole. With this exhibition, the museum reflects on this important donation and welcomes Münter among its artistic brothers in the collection.
Dates and Times
| | |
| --- | --- |
| Tuesday | 10:00 – 17:00 |
| Wednesday | 10:00 – 17:00 |
| Thursday | 10:00 – 17:00 |
| Friday | 10:00 – 17:00 |
| Saturday | 10:00 – 17:00 |
| Sunday | 10:00 – 17:00 |