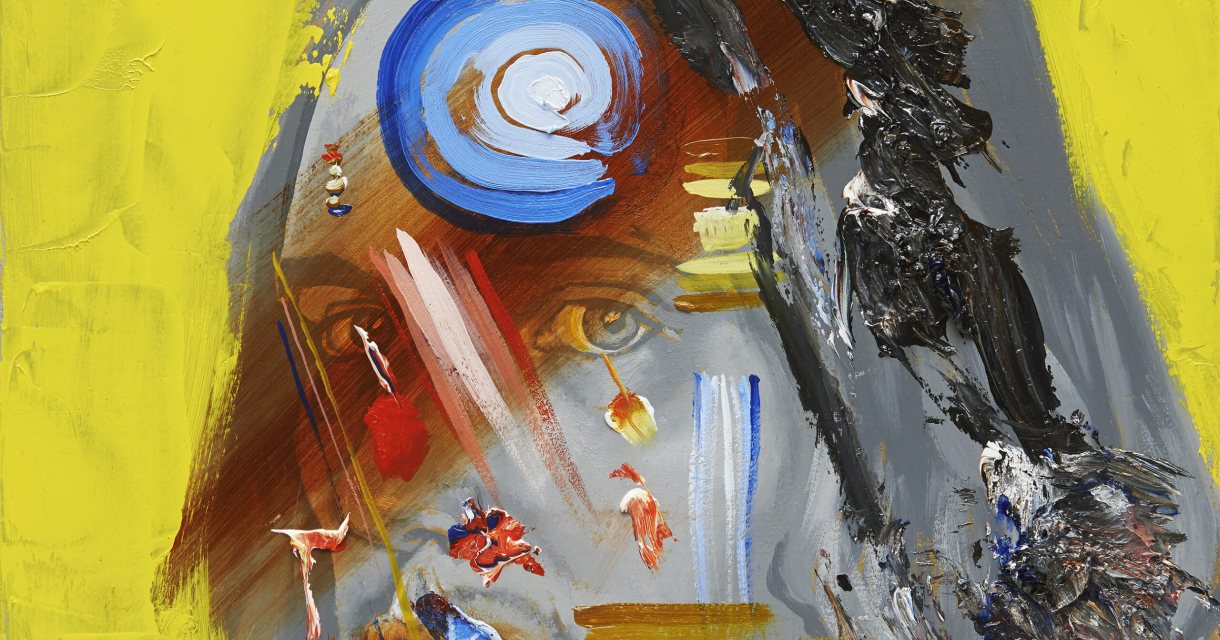 This autumn Nest presents the duo exhibition Telephone with the work of painter Philip Akkerman and musician Jameszoo (Mitchel van Dinther) in a surrealistic choreography. More than 350 self-portraits by Akkerman seek the connection with the self-playing pianos, synthesizers and music compositions of Jameszoo. The exhibition in Nest shows a special collaboration and friendship between two artists who have understood their medium to the core.
Both Philip Akkerman and Jameszoo are artists who spend countless hours in their studios, resulting in an enormous body of work and archive. Both work with precision, and at the same time there is a strong unfiltered character in their compositions. In recent years Jameszoo has caused a furore at home and abroad with his completely unique electronic jazz sound, balancing on technical ingenuity and madness. Philip Akkerman from The Hague has painted more than 5000 self-portraits to date. During 40 years he perfected his technique by limiting himself to one subject: a boundary in which ultimate freedom lies. That these apparently different creators, of different generations, with different materials and methods, meet and inspire each other to explore new artistic avenues is what Telephone shows.
Meeting 
In 2015, van Dinther wrote an email to Akkerman asking if he would like to paint an LP cover for his debut album. He is impressed by the artist's bizarre self-portraits and artistic attitude after seeing Akkerman's work in a museum. Akkerman may not know the young jazz musician, but is a great admirer from the moment Jameszoo's music reverberates from his speakers. It marks the beginning of a series of collaborations and a special friendship. Akkerman has now painted several LP covers for Jameszoo and vice versa Jameszoo composed the piece Philip (at the latest album Blind), in which a hallucinatory video clip appeared with a selection of roughly 4000 self-portraits by Akkerman, which are reviewed in four and a half minutes. Jameszoo also made a graphic score for Philip Akkerman's latest publication and Akkerman painted a set of tarot cards for Blind. 
Telephone
With Telephone, Nest shows a special collaboration between Akkerman and Jameszoo. In three rooms, the artists take you through a surreal choreography, in which more than 350 self-portraits by Akkerman seek the connection with the self-playing pianos, synthesizers and music compositions of Jameszoo. Design and production studio Ruimtetijd is responsible for the technical production of these immersive installations. No day of the exhibition is the same: the pianos have a self-learning ability and adapt the composition to what has happened before. The starting point of the months-long composition is the song Philip, which gradually takes on a life of its own. A 'game of telephone', or a translation of a translation of a translation of a symbiotic work.
Dates and Times
25 November
–
29 January 2023
| | |
| --- | --- |
| Thursday | 13:00 – 20:00 |
| Friday | 13:00 – 20:00 |
| Saturday | 13:00 – 18:00 |
| Sunday | 13:00 – 18:00 |