Classical music
Dreaming like Messiaen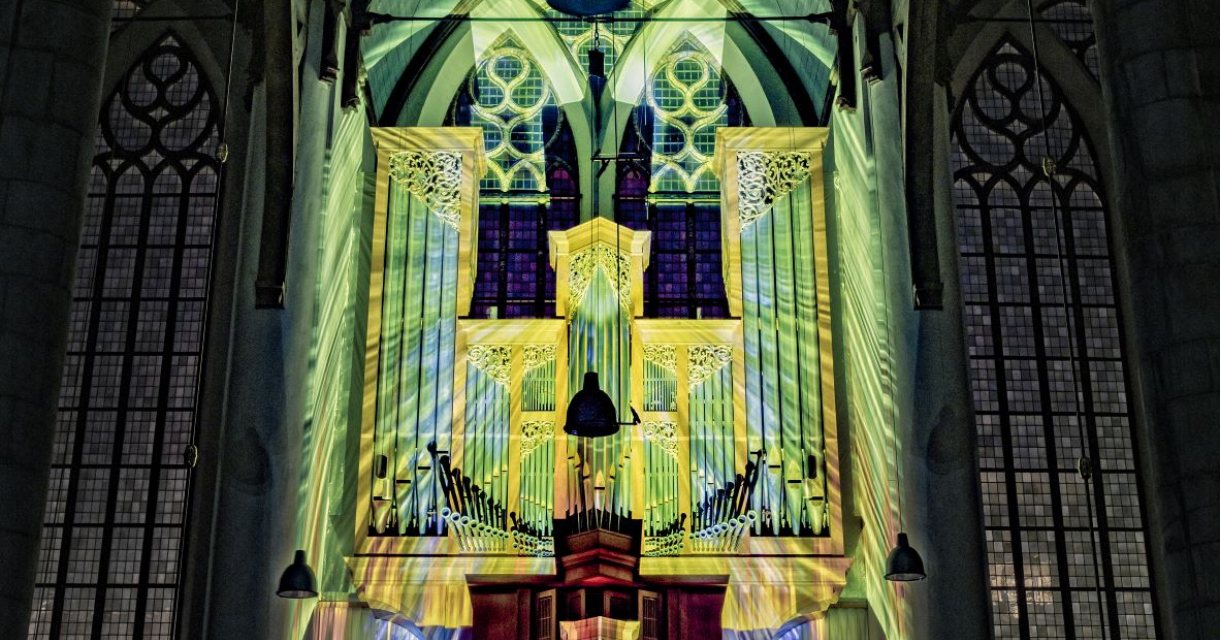 During Dreams as Messiaen, visitors dive into the special sound and color world of composer Olivier Messiaen: while organist Geerten van de Wetering performs the Christmas cycle La Nativité du Seigneur, audiovisual artist Marcel Wierckx projects light animations on the organ. A unique total experience of music and light projections in a dark church! There are two performances: in the evening, on Thursday 15 December (8:00 pm), and early in the morning, on one of the shortest days of the year, Friday 16 December (8:00 am). The visual animations are based on nine pastel drawings made by the French painter Charles Blanc-Gatti, friend of Messiaen, on the occasion of one of the first performances of La Nativité du Seigneur in 1936.
Due to the great success of the first performance in February this year, Dreams as Messiaen will visit The Hague one last time, in the period in which it belongs: the time around Christmas. Organist Geerten van de Wetering and audiovisual artist Marcel Wierckx give visitors another chance to immerse themselves in the special world of sound and color of Olivier Messiaen.
This December edition is extra special: there is not only an evening performance (8:00 pm) in the dark of winter, but also a morning performance (8:00 am) in the early twilight! Experience Messiaen's music with light animations like never before! Dreaming as Messiaen takes place during The Hague Highlights festival: after the evening concert on Thursday evening 15 December, various special light installations can be seen around the Kloosterkerk on Lange Voorhout.
Dates and Times
Thursday 15 December
20:00
€ 12,50 - € 18,00
| | |
| --- | --- |
| t/m 25 jaar | € 12,50 |
| Normaal | € 18,00 |
€ 12,50 - € 18,00
| | |
| --- | --- |
| t/m 25 jaar | € 12,50 |
| Normaal | € 18,00 |