Exhibition
Asad Raza - Coalescence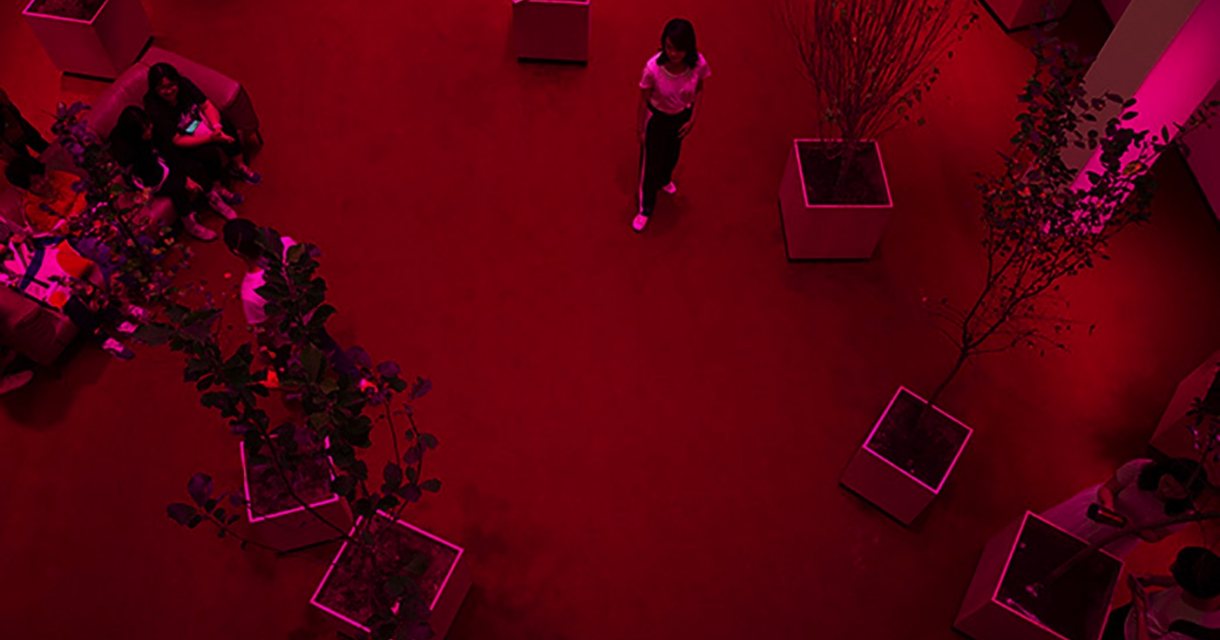 In the practice of artist Asad Raza, dialogue is central, in which the artwork is conceived as an active experience. 'Coalescence' is Asad Raza's first solo exhibition in the Netherlands. Raza's exhibition occupies several rooms in the vml, designed by Marcel Breuer. US Embassy. 'Coalescence' combines new work with older work reconstructed especially for this context, focusing on the visitor and integrating different experiences.
On the ground floor of West The Hague, visitors are confronted with a meditative ritual game, which frees the mind from previous experiences. In parallel, Raza's film 'Minor History' (2019), a long-running conversation between the artist and his 93-year-old uncle, is shown in the auditorium. On the first floor you can see the ingredients for artificial earth "neosoil", which you as a visitor can take home. In Raza's work there is a great need for play and dialogue, in the form of prints and videos in combination with scent these influence the exchange of different energies.

Together with the artist Pierre Bismuth, Raza has created a new work. 'Chiasmus', is a frozen meal presented in a large freezer. The dish, of spinach with potatoes, beans, herbs and spices, combines the Pakistani 'aloo palak' and the Tunisian-Jewish 'pkaila', crossing the culinary background of Raza and Bismuth and their love of cooking as a practice of everyday life. . Visitors who want to try the dish can buy it on the spot.
And if offices were the place that characterized the 20th century 'separation' of work and home life, then culture was the third space — divided into the five senses: painting and sculpture in the gallery for the visual senses, music in the concert hall for the ear, gastronomy in the refined restaurant for the taste, perfume and clothing in the department store for smell and taste. Through the complex and playful design of the office spaces of West The Hague, Raza connects an experience of coalescence: the merging of disparate artistic elements.

Asad Raza (USA, 1974) sees art as a metabolic, active experience. He creates dialogues and rejects disciplinary boundaries. Using processes such as soil cultivation, tennis and horticulture, his projects create encounters within and outside the exhibition environment. They have been realized by institutions such as the Whitney Museum of American Art, Kaldor Public Art Projects, Gropius Bau, the Serpentine Galleries, Grand Union, Metro Pictures, Urbane Kunst Ruhr, Front Triennial, the Lahore Biennale, and his one-room apartment in New York. Absorption, in which cultivators create artificial soil, was the 34th Kaldor Public Art Project in Sydney (2019), featured at the Gropius Bau, Berlin (2020) and Ruhrtriennale (2021). In Untitled (plot for dialogue) (2017), visitors played tennis in a 16th-century church in Milan. Root sequence. Mother tongue, at the Whitney Biennale 2017, combines twenty-six trees, caretakers and objects. Raza's works often populate intimate settings, such as The Bedroom, at the 2018 Lahore Biennale. For Home Show (2015) which took place in his New York apartment, Raza asked artists and friends to intervene in his life, while Life to come (2019) in Metro Pictures consisted of participatory works and Shaker dance. Raza was artistic director of the Villa Empain in Brussels in 2016-2017. With Hans Ulrich Obrist he curated a series of exhibitions inspired by Édouard Glissant, including Mondialité, Trembling Thinki For Home Show (2015) which took place in his New York apartment, Raza asked artists and friends to intervene in his life, while Life to come (2019) in Metro Pictures consisted of participatory works and Shaker dance. Raza was artistic director of the Villa Empain in Brussels in 2016-2017. With Hans Ulrich Obrist he curated a series of exhibitions inspired by Édouard Glissant, including Mondialité, Trembling Thinki For Home Show (2015) which took place in his New York apartment, Raza asked artists and friends to intervene in his life, while Life to come (2019) in Metro Pictures consisted of participatory works and Shaker dance. Raza was artistic director of the Villa Empain in Brussels in 2016-2017. With Hans Ulrich Obrist he curated a series of exhibitions inspired by Édouard Glissant, including Mondialité, Trembling Thinki
Dates and Times
| | |
| --- | --- |
| Wednesday | 12:00 – 18:00 |
| Thursday | 12:00 – 18:00 |
| Friday | 12:00 – 18:00 |
| Saturday | 12:00 – 18:00 |
| Sunday | 12:00 – 18:00 |