Exhibition
Couperus and the silent force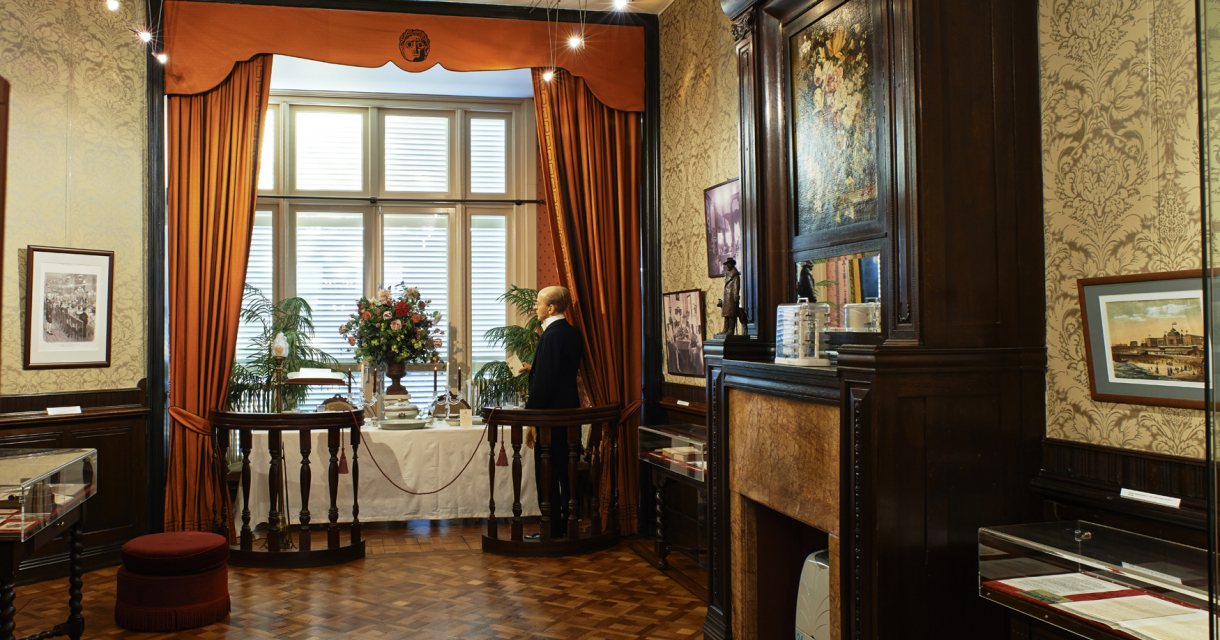 Louis Couperus was not specifically interested in political and social problems. Poverty, inhumane working conditions, exploitation by capitalism and oppression of the Javanese, he preferred nothing to do with it. He fled into fantasy and past: he saw the First World War as a gigantic, tragic opera, the ancient world of Alexander the Great and Emperor Heliogabalus as a time when he could have fulfilled all his unfulfilled dreams. On February 18, 1923, in his fourth 'Intimate Impression' he wrote: 'I want to be happy in my illusions.'
That does not alter the fact that Couperus in De quiete Kracht puts statements into the mouths of a few characters that are highly unusual for him. The most striking is pronounced by Frans van Helderen, who describes the Dutch East Indies as '...a gigantic but exhausted colony, always controlled from Holland with one idea: the pursuit of profit'. And he goes on to say: 
'The reality is not: the ruler is big in India, but the ruler is small, poor sucker; sucked out of the country, and the real population […] now threatening to rise from that pressure and that contempt…'
The silent force  
The aversion to the supremacy of Dutch authority could only be expressed by means of subtle means, such as the mysterious magic arts that fall under the heading guna-guna (and which Couperus calls 'the silent force'). White hadjis are constantly spotted throughout the novel, stone-throwing and sirih spat in the residence house, culminating in the famous bathroom scene. Even the down-to-earth resident, Otto van Oudijck, who does not like what he calls 'juggling', finally loses what gave the novel its title. 
Exhibition
The exhibition tries to visualize 'the mysterious enmity of Javanese soil and atmosphere, against the Dutch conqueror' as Couperus called it by means of images, film, tropical rainforest sounds, two stuffed kalongs, a doll of a white hadji and of course the many prints and translations of The silent force.
Dates and Times
| | |
| --- | --- |
| Friday | 13:00 – 17:00 |
| Saturday | 13:00 – 17:00 |
| Sunday | 13:00 – 17:00 |
1ste en 2de Kerstdag en Nieuwjaarsdag gesloten.