Exhibition
Wiebke Siem - Hot Skillet Mama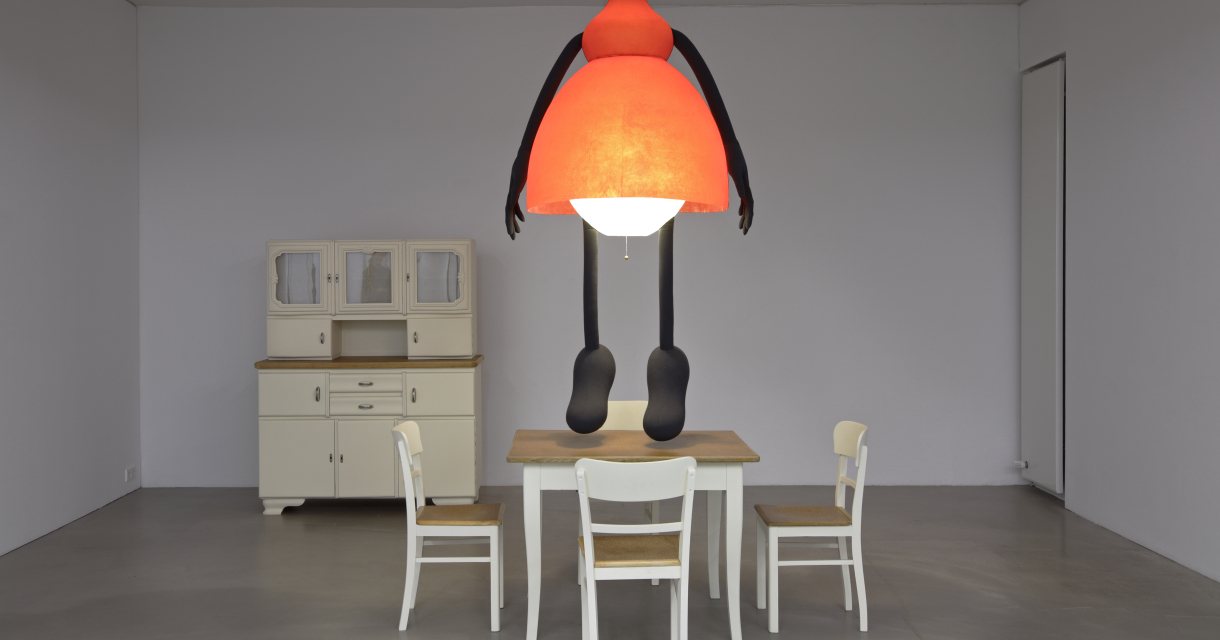 Kunstmuseum Den Haag is to present the first solo show in the Netherlands by German mixed-media artist Wiebke Siem (b. 1954, Kiel). Her installations, sculptures, textiles and fashion objects refer to art history and to 20th-century fashion and design. Above all, however, they are about the subordination of women, both in art and in daily life. Using themes like 'domesticity', and with great humour, Wiebke Siem exposes the social inequality she experiences.
Above a dining table two legs hang from a lampshade. On the wall is an oversized carpet beater, and there are sculptures made of everyday objects like walking sticks, chopping boards, rolling pins and frying pans. The work of Wiebke Siem is alienating and amusing, but it always has several meanings.
At the start of her career in the mid-1980s Siem designed garments that explored the boundary between art and design. Her collection of dresses, hats, bags, shoes, strange costumes and masks blurred the distinction between art and fashion, as the items in the collection could be worn or, equally, regarded as aesthetic objects. Critics dismissed them at the time as 'failed fashion or design'. To Siem, it was as if she were being refused access to the art world. Nevertheless, her work still combines with fashion and textiles with fine art. And by combining visual references to modern art with materials and methods associated with the female or the male, Siem continues to draw a historical parallel between the sexism of the early to mid-20th century and her experiences as a female artist in the art world.
During her career Siem has also drawn on a wide range of ethnographic sources, including dolls, traditional furniture design and European traditional dress. Examples of these will also be included in the exhibition.
Goslarer Kaiserring
Although Wiebke Siem is well-known and highly regarded in her own country, her work has rarely been shown outside Germany. Despite addressing topical themes, she seemed to stay under the radar for a long time. Nevertheless, in 2014 she won the prestigious Goslarer Kaiserring award, ranking her alongside internationally renowned artists like Anselm Kiefer, Rebecca Horn, Cindy Sherman, Christian Boltanski, William Kentridge and Bridget Riley. The jury described her as "one of the most innovative and original artists, who has never made any concessions in her art, and whose sculptures have great presence and allure because she mixes the known and the unknown."
Wiebke Siem and Kunstmuseum Den Haag
The Polak Galleries of Kunstmuseum Den Haag, where Hot Skillet Mama will be shown, often house exhibitions that re-evaluate artists, including Alice Neel, Lee Bontecou and Anton Heyboer, looking beyond the big names of the art world.
After its run in The Hague the exhibition will move on to Museum der Moderne Salzburg and Kunstmuseum Bonn.
A catalogue in German and English will be published to accompany the exhibition.
Dates and Times
| | |
| --- | --- |
| Tuesday | 10:00 – 17:00 |
| Wednesday | 10:00 – 17:00 |
| Thursday | 10:00 – 17:00 |
| Friday | 10:00 – 17:00 |
| Saturday | 10:00 – 17:00 |
| Sunday | 10:00 – 17:00 |
Kunstmuseum Den Haag is open on Boxing Day (10:00 - 17:00), New Year's Eve (10:00 - 16:00) and New Year's Day (13:00 - 17:30).