Exhibition
100.000 Trees and a Threaded Forest from Sara Vrugt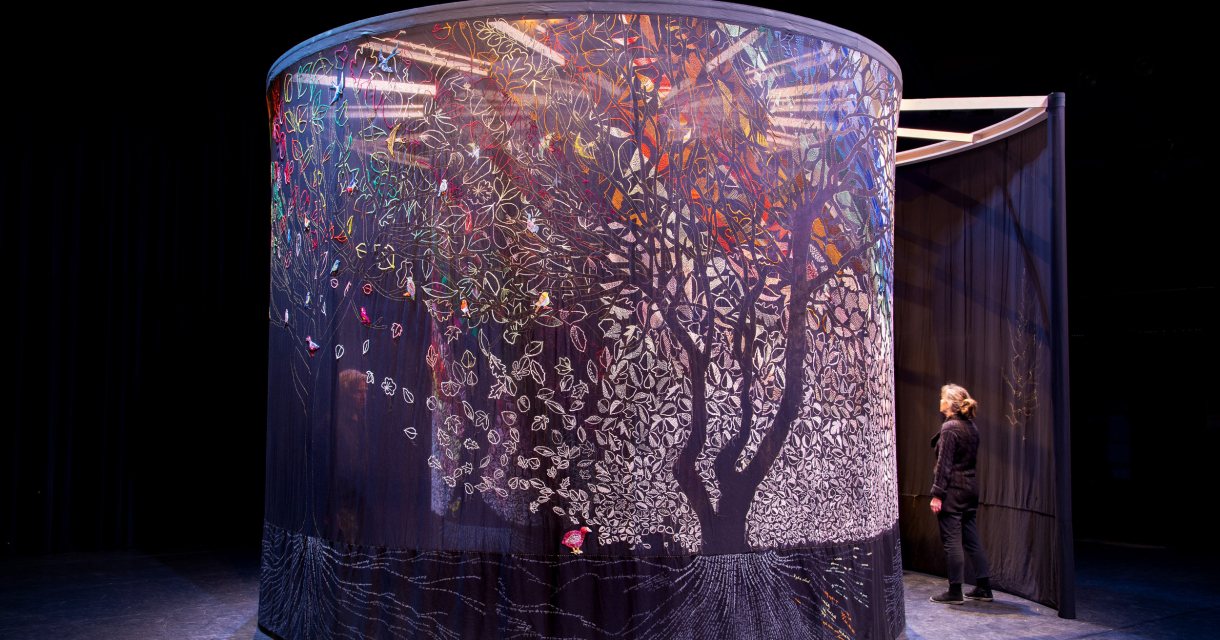 In 2020, the Hague artist Sara Vrugt embroidered a forest together with more than 1,000 people. In 2022, 100,000 new trees will be planted with donations from participants. With this project they jointly realized a work of art and a new living forest: 100,000 Trees and a Wood of Wire. This artwork can be seen from 21st of November until 16th of December in the Atrium The Hague. 
Art project 100,000 Trees and a Forest of Wire Artist Sara Vrugt celebrates nature and its importance with a major project. In 2020 she embroidered a forest of one hundred square meters, in which everyone could participate. Together they use art as a form of resistance and they will plant living trees: activism has never been so pleasant.
The embroidery was created in a pop-up studio that traveled across the country for four seasons. Trees were embroidered there in response to nature stories told by visitors and participants. All stories were given a place in the embroidered forest and together they form a work of art in which you can get lost in thought. 
Sara Vrugt and Stichting Verweven have collected almost € 75,000 with the art project 100,000 Trees and a Forest of Wire. One hundred thousand trees will be planted with this, both in the Netherlands and in the tropics. The purpose of planting these trees is to create more forest, but above all to show that taking action yourself is within reach.
Sara: "The number of trees stems from the desire to contribute something substantial and was inspired by my son. When he, a toddler, wants to point out something of which there is REALLY A LOT, he's talking about a hundred thousand. For him it is the largest possible imaginable. And for me too." 99% of the trees are planted in the tropics by the non-profit organization TreeSisters. Their mission is: to plant millions of trees every year, to provide fairly paid labor for tree planters and to increase awareness of the unity of people and planet. The planting of 99,000 trees will restore more than 30 hectares of forest.
To make the result of this project tangible close to home, 1% of the trees in the Netherlands are planted. This will take place in two places: 1. The first small forest will be planted in Wijkpark De Verademing in The Hague, in the form of a spiral. This will take place in collaboration with the Municipality of The Hague on 20 November 2022. 2. In the garden of Museum Belvedere in Heerenveen, the embroidered forest will eventually merge with nature and become a small but living forest. 
About Sara Vrugt 
Sara Vrugt designs with textiles and thread, humor and an idealistic slant. Her embroideries and participatory projects touch on social themes. With her work she allows people to look at everyday life with fresh eyes.
Within the extensive projects she sets up she looks for the small stories, in the personal contact with participants she knows
Dates and Times
21 November
–
16 December
| | |
| --- | --- |
| Monday | 07:00 – 19:00 |
| Tuesday | 07:00 – 19:00 |
| Wednesday | 07:00 – 19:00 |
| Thursday | 07:00 – 21:30 |
| Friday | 07:00 – 19:00 |
| Saturday | 09:30 – 17:00 |