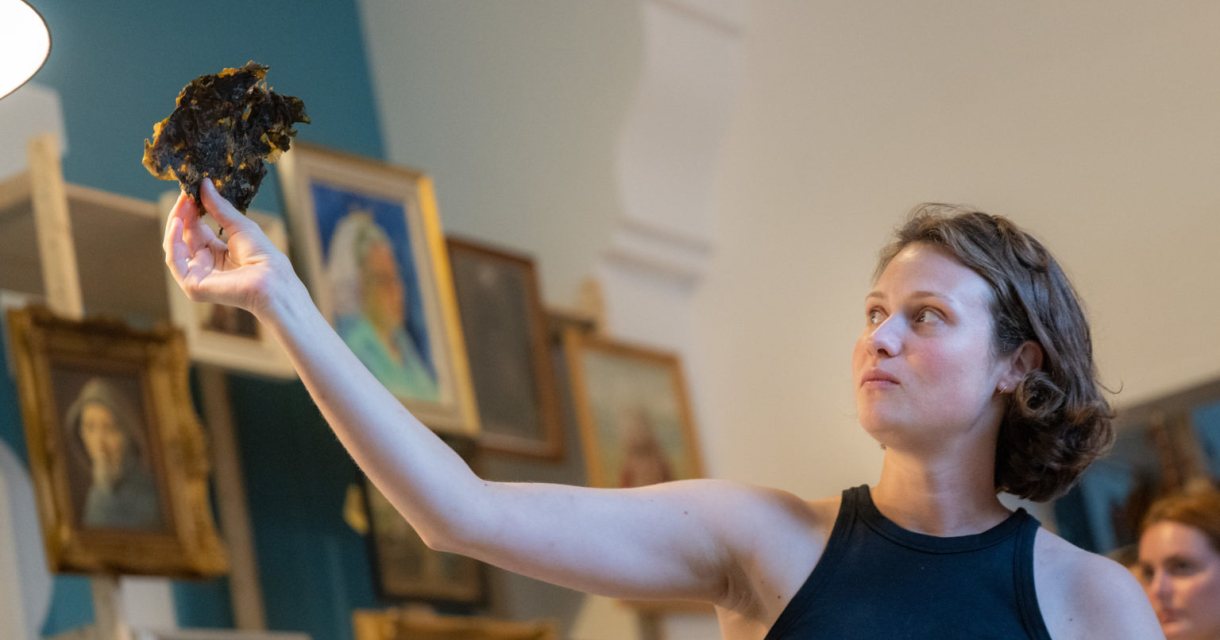 It is the fastest growing biomass on earth, produces 50% of our oxygen and is also referred to as the crop of the future. Seaweed. Everyone knows it in different ways. Like slippery wisps in the sea and on the beach. Or that dark green salty skin around the sushi. However, seaweed is much more than that! At Muzee Scheveningen, you can discover how artists, designers and entrepreneurs were inspired by this 'superhero from the sea'. Could seaweed be the future of Scheveningen?
Scheveningen, one of the most beautiful coastal towns in the Netherlands, is known for its boulevard and harbour. And where a future in fishing used to be self-evident for many (mainly) boys, this certainty has disappeared as the influence of fishing has diminished. Muzee Scheveningen – traditionally a fishing museum – investigates what the future of the coastal town could look like. Can seaweed take the place of fishing? At 12 kilometers from the coast you will find the first (!) offshore test site of the North Sea Farmers, a real seaweed farm. And according to these seaweed farmers, seaweed is the crop of the future. It can be used as food, animal feed and even as a raw material.
A special organism! And not a plant, as is often thought. Seaweed grows like a plant, reproduces like a fungus but… is an alga. Or rather: a macro alga.
Prepare, build, admire
You can see how versatile this macro alga is from 15 January 2023 in Muzee Scheveningen. Biodesigner Marjanne Cuypers explains how she developed a sustainable alternative to sheet material from her workshop SeaWood , made from brown seaweed from the North Sea. Local seaweed farmer Joost Wouters explains how a Dutch start-up went international and The Green Chef and surfer Jethro talks about his love for the sea and cooking with seaweed (umami)
Discover in WEED how artist Nienke Hoogvliet uses seaweeds as a circular textile dye in response to the polluting textile industry. Let yourself be carried away by the installations of Suzette Bousema, who made new work especially for WEED for her Dead Zones project, in which she investigates the filtering properties of seaweed. Or view the development of the seaweed farm over the years in Jurriaan Brobbel's photo exhibition.
ZEE lab
During the course of the WEED exhibition, the Innovatielab  – the hands-on workshop of Muzee Scheveningen – will host various workshops, activities and lectures, for young and old! Come and experiment with seaweed: smell, taste and experience! Study different seaweeds under a microscope and taste for yourself the difference between salt and Umami, the unique taste of seaweed.
Dates and Times
| | |
| --- | --- |
| Wednesday | 11:00 – 17:00 |
| Thursday | 11:00 – 17:00 |
| Friday | 11:00 – 17:00 |
| Saturday | 11:00 – 17:00 |
| Sunday | 11:00 – 17:00 |
Muzee Scheveningen is open on Boxing Day (12:00 - 17:00) and New Year's Eve (10:00 - 16:00).
€ 4,25 - € 8,50
| | |
| --- | --- |
| 4 t/m 12 jaar | € 4,25 |
| Normaal | € 8,50 |