Exhibition
Henry Moore by the Sea - Form and Material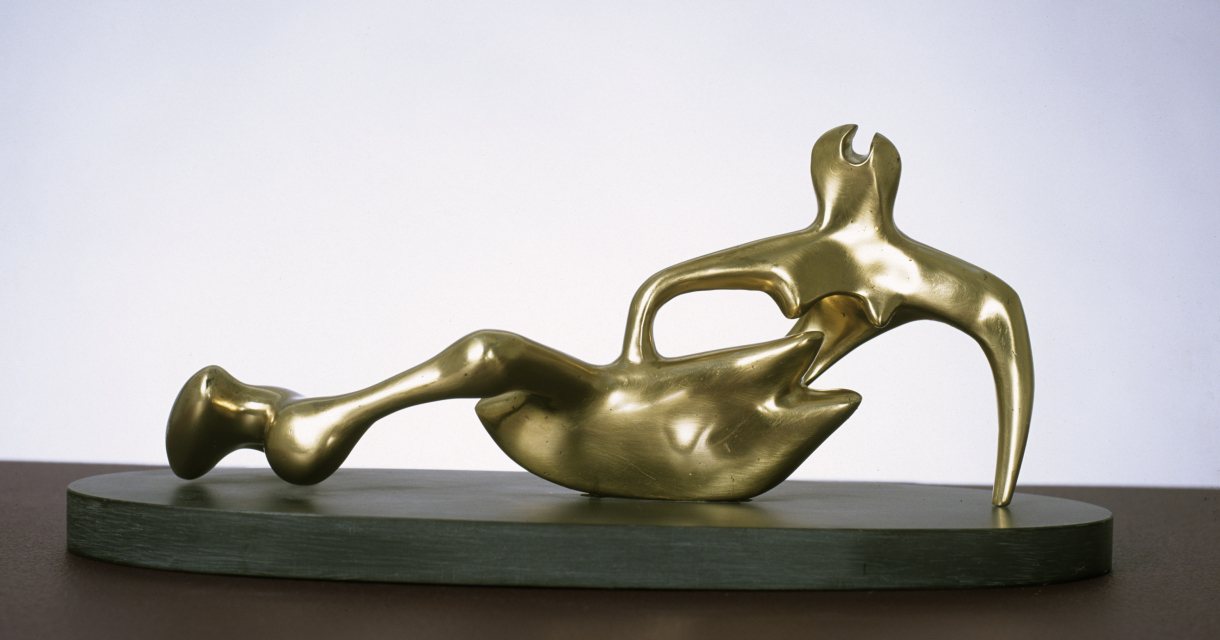 How did sculptor Henry Moore (1898-1986), whose work can be admired in museums, parks and squares in cities all over the world, actually arrive at his unique visual language? That style, recognizable to everyone, in which he managed to combine abstract sculpture and surrealism so beautifully?
His 'Reclining figures' are well known. Statues of reclining female figures, often depicted as a flowing shape with holes, made of bronze, wood or stone. He became world famous with this subject and grew into one of the most important sculptors of the last century.
It is less well known that Moore got many of his ideas during walks where he collected natural objects. For example, a simple shell, a bone or an unusually shaped stone could form the basis for a monumental, bronze, modernist sculpture.
Museum Beelden aan Zee, in collaboration with the Henry Moore Foundation, made a well-considered selection from his considerable oeuvre. On the basis of this, some 80 sculptures and objects, the artistic vision and the creative process of one of the most important innovators of modern sculpture become visible. The exhibition focuses on the influence of nature on his work and the development he went through as a traditional sculptor. From 'direct carving' - sculpting without preparatory sketches - to sculptures made of fiberglass and experimenting with casting lead.
The selected works show the effect of the choice of materials on the shape, dimensions and subject of his images. Throughout his career, it helped develop some of his most groundbreaking ideas.
Henry Moore
Henry Moore is without doubt one of the most important English artists of the twentieth century. His fascinating images balance on the dividing line between figuration and abstraction and are still a source of inspiration for numerous artists. Important themes in his oeuvre are 'mother and child' and 'reclining human figures', both of which were extensively researched by Moore.
Moore has participated in numerous exhibitions since the 1920s, regularly sold work, received commissions and in this way acquired a reputation as an important avant-garde sculptor.
However, the Second World War brought these positive developments to a temporary halt. Henry Moore was forced to accept a position as a war artist. In this capacity he made poignant drawings, so-called 'shelter drawings', of Londoners who took shelter in subway stations from the bombings.
In the fifties he makes larger figure groups. Prices for his work increased significantly and his fame as an international artist continued to grow. In later years he was a commissioner of both the Tate Gallery and the National Gallery and was the recipient of a large number of prizes and honorary degrees.
Moore's work is present in all major museums worldwide and is displayed in public spaces. He is also represented in leading museum collections in the Netherlands, including those of the Stedelijk Museum Amsterdam, Kunstmuseum Den Haag, Museum Arnhem and Museum Kröller-Müller.
Henry Moore Foundation
The exhibition is being created in close collaboration with the Henry Moore Foundation, established in 1977 to administer his legacy. The foundation not only preserves his sculptures and drawings, but also manages his home, studios, extensive archive and surrounding lands.
Catalog
The exhibition is accompanied by a richly illustrated catalog including an article by Dr. Hannah Higham, curator of the Henry Moore Foundation, who elaborates on the artist's working method.
Dates and Times
| | |
| --- | --- |
| Tuesday | 10:00 – 17:00 |
| Wednesday | 10:00 – 17:00 |
| Thursday | 10:00 – 17:00 |
| Friday | 10:00 – 17:00 |
| Saturday | 10:00 – 17:00 |
| Sunday | 10:00 – 17:00 |
Museum Beelden aan Zee is open on Boxing Day and New Year's Day.
€ 8,75 - € 17,50
| | |
| --- | --- |
| tot 13 jaar | Gratis |
| 13-18 jaar | € 8,75 |
| DenHaagPas | € 15,00 |
| Normaal | € 17,50 |