Exhibition
Kate Jenkins - Café Kate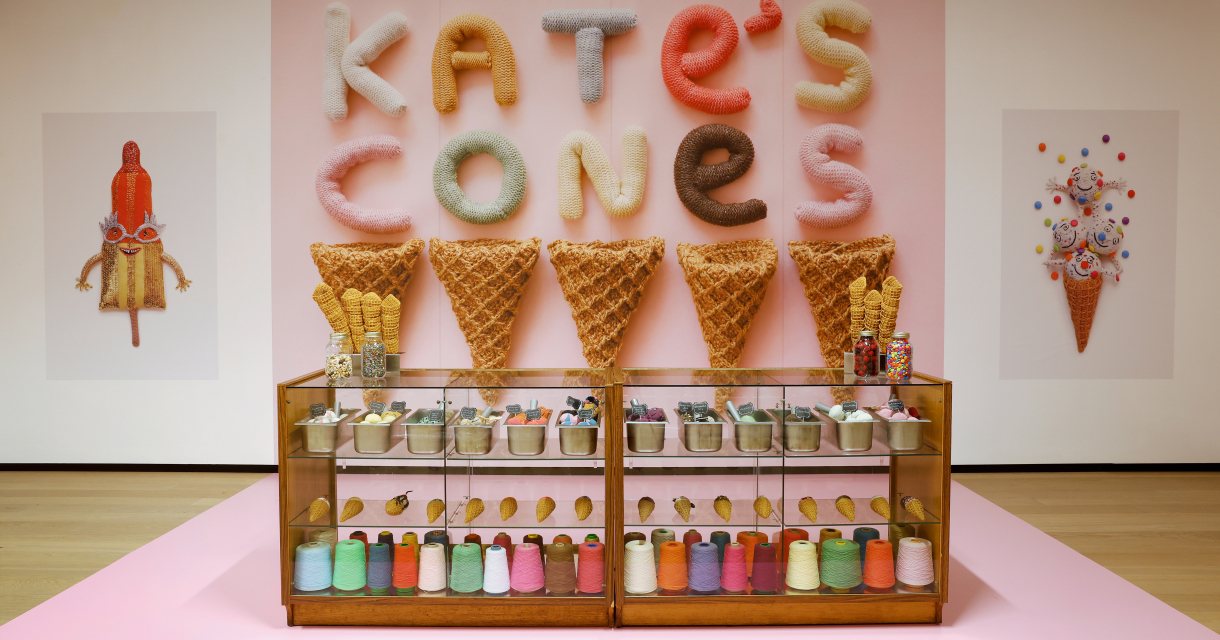 Welcome to the world of Kate Jenkins (United Kingdom, 1971), a magical cornucopia of playful pop art crochet, knit and embroidery. The artist is best known for her delicacies, which showcase her signature sense of humour. With colorful yarns she crochets and knits from richly filled pastries to shrimp dishes. Created with a warm nod to nostalgia, many of Jenkins' artworks transcend everyday life.
The new wing of the museum will be transformed into Kate Jenkins' universe. The concept for the Café Kate exhibition is completely new and designed especially for Museum Rijswijk. Together, the installations form the food plaza Café Kate, which consists of a complete bakery shop Kate's Bakes and the ice cream parlor Kate's Cones. Both installations can travel and the bakery has already been seen in Barcelona, Hong Kong and Great Britain.
The bakery shop consists of more than a thousand cakes, pies, breads and other knitted and crocheted delicacies. There will be Christmas cookies and Christmas wreaths in Kate's Bakes especially for the holidays. The ice cream shop presents knitted and crocheted ice cream with Kate's signature humorous puns.
In the exhibition there is a terrace on which you are cordially invited to take a seat. Bring your own crochet or knitting supplies and be inspired by the surroundings. If you want to get started on the spot, buy a Kate Jenkins crochet kit from the shop. Take your craft friends to the exhibition and settle down; Crafternoon Tea!
Dates and Times
| | |
| --- | --- |
| Tuesday | 11:00 – 17:00 |
| Wednesday | 11:00 – 17:00 |
| Thursday | 11:00 – 17:00 |
| Friday | 11:00 – 17:00 |
| Saturday | 11:00 – 17:00 |
| Sunday | 11:00 – 17:00 |
€ 0,00 - € 10,00
| | |
| --- | --- |
| t/m 18 jaar | Gratis |
| 65+ | € 7,50 |
| Normaal | € 10,00 |