Favourites
Remove
This winter, The Hague is going to be a must-visit as the winter city of the Netherlands! Come and enjoy cozy winter atmospheres and admire iconic buildings such as Mauritshuis that are beautifully lit during The Hague Highlights. Not afraid of a little cold? Dive into the North sea on January first during the traditional Nieuwjaarsduik or go ice skating at Kurhaus. Get your gifts for Christmas at the special shops in The Hague and swing by the beach and get heated up afterwards with a delicious mulled wine or chocolate milk. There's plenty to do and to enjoy in our beautiful city this winter. That's why you can just see a part of the complete Have a Royal Winter programming on this page. Click here for the complete agenda. Please remember: all events on this page and in the agenda are subject to change and can be changed due to any new RIVM guidelines.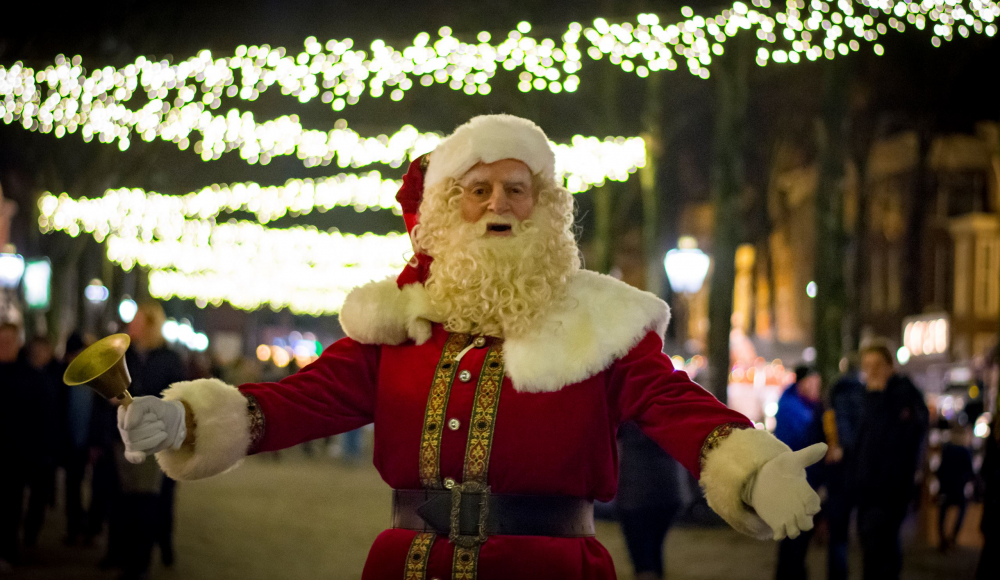 Warm and enjoying winter at Scheveningen

Let yourself be taken into an atmospheric Scheveningen this year. This coastal part of The Hague is shrouded in brilliant mood lighting and breath taking light objects. Enjoy a stylish evening and experience the theatrical history of Scheveningen. For example with the spectacular musical Aladdin or a light show on the ice. From a delicious hot chocolate by the fire to a fully catered culinary evening out with live music and entertainment. Scheveningen has it all!
Cool Event Scheveningen - until January 30th, 2022
The 600m2 covered ice rink of Cool Event Scheveningen is back. Don't forget your mittens or gloves before sliding across the ice. It's mandatory! This year Cool Event can be found again at the well-known spot right in front of Kurhaus. In addition, Ice Sculptures Scheveningen – Ice in a new style has been opened from December 3rd. Two large sea containers on Pierplein and Noord Boulevard are the setting for the ice sculpture exhibition 'Let our future grow' and 'Stowaway'. This new diorama art form can be visited daily until 8 pm and is fun for young and old!
 
The Hague Beat by the Sea - November 20th, 2021
Haagse Beat Aan Zee is a spin-off of the Haags Beat Festival: a tribute to the music pioneers who have forever put The Hague on the map in the history of pop music.
 
Madurodam Winter weeks - December 18 to January 9
Madurodam family park is beautifully lit with thousands of lights and is full of winter fun.
 
New Year's Dive - January 1, 2022
There is nothing better than washing that awkward 2021 off by treating yourself with a refreshing dip in the North Sea. Traditionally on the first day of the new year. Ready? Let's go!
 
Irish Winter Songs O'Dreams in Concert - January 22, 2022
In Podium aan Zee, O'Dreams pays tribute to beautiful Ireland with its famous musicians, literary heroes and strange boarders. Irish songs, exciting stories and a very personal insight into the soul of three passionate musicians.
Looking for a night in The Hague to remember?
Experience a cozy winter atmosphere in the city and the beach for a couple of days!
Book your night here
The center of winter fun: the city center of The Hague
The Hague Highlights - 15 to 19 December 2021
Lights out, spotlight on! The center of The Hague will be in the spotlights for three consecutive days in December. During The Hague Highlights, special stories of four special places in the city center are told through: -yes- light! You can walk along all the highlights in about 45 minutes. And while you're in town; end your walk at one of the many restaurants in the area.
 
Free Hop On Hop Off Coaches 10 to 12 December + 15 to 19 December
Let yourself be transported in style during the cozy winter period with the free 'hop on hop off carriages' that ride through the city center between 1 pm and 5 pm. Stops can be found in front of Esscher's palace, the Kneuterdijk, the Grote Kerk and the Spui.
 
National Countdown Moment- December 31, 2021
Back with a vengeance and therefore extra spectacular this year: the fireworks show on the Hofvijver on the last day of the year. From 10 p.m. to just before midnight, you will be warmed up by DJs and then head into 2022 with a bang.
 
Kunstsnacks Museumkwartier - until 2 February 2021
Museum Quarter The Hague organizes Kunstsnacks for families. A cultural treat on a Wednesday afternoon that, in addition to fun, gives your kids a lot of inspiration.
 
Beats and Bites Foodhallen - Nov to Dec 2021
Enjoy every Thursday, Friday and Saturday evening with drinks and snacks from many different cuisines. 
 
Special packing service - December 17 to 24, 2021
Have you done Christmas shopping in the Spuistraat, Venestraat, Vlamingstraat or Wagenstraat? On presentation of the special HARW brochure, available for free at various entrepreneurs and catering establishments in the city center, you can have your Christmas shopping in the center of The Hague packed by real professionals for free.
 
Writers Unlimited Winternachten festival - 19 to 23 Jan 2022
The motto of the 27th edition of Winternachten International Literature Festival is Whose House is This? With writers and artists such as Jeanette Winterson, Aafke Romeijn, Manon Uphoff, Laura van Dolron and others at locations throughout the city.
 
Chinese New Year - February 5, 2022
There is no Dutch city where Chinese New Year is celebrated so exuberantly than in Chinatown. A Saturday full of fireworks, music, art, performances, Chinese delicacies and the traditional Chinese dragon and lion dance.
 
Rock a Rail - January 8, 2022
Get astonished during this crazy snowboarding event in the middle of the Grote Markt.
 
Sniester Junior - January 9, 2022
A very cool first indoor XXL edition of the Sniester: the music festival on the Grote Markt. A special for kids when everything is allowed. That's right, everything!