Exhibition
Brigitte Spiegeler & Sylvia de Boer - The People versus Nature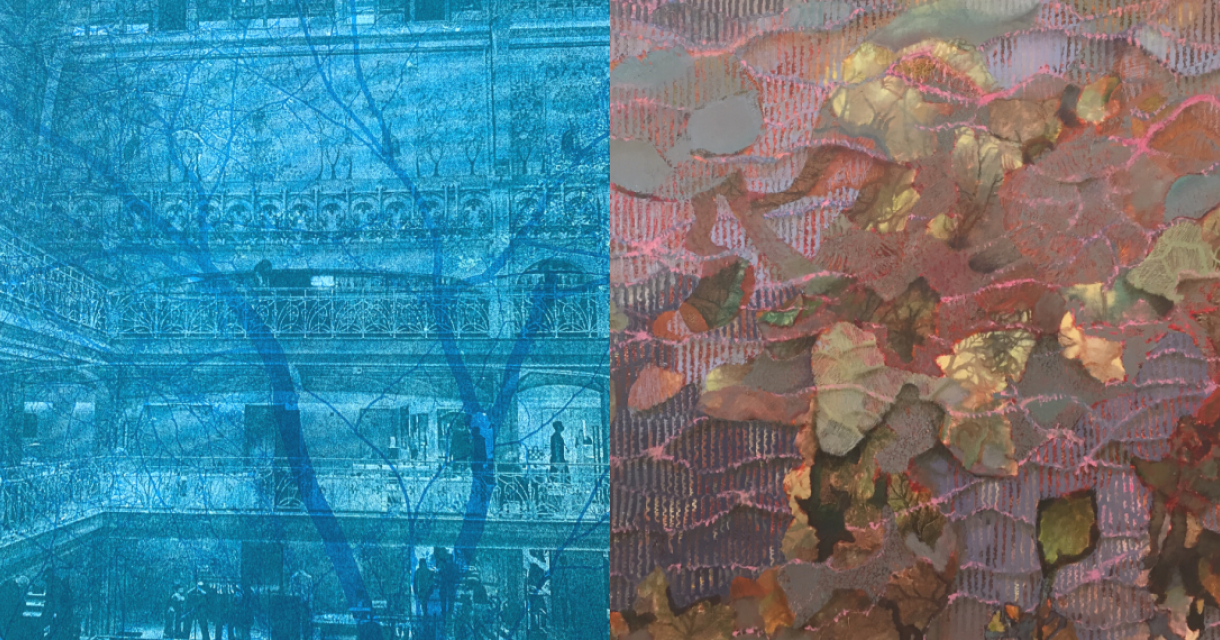 At a time when more and more citizens are successfully suing governments and companies to enforce the protection and, even more, the preservation of nature, an exhibition could not be more topical than The People versus Nature.
The two artists Brigitte Spiegeler and Sylvia de Boer met by chance when they exhibited in two adjacent rooms of Pulchri Studio in April and May 2021. It was a crazy time, because due to the third corona wave, only limited access to Pulchri Studio was possible. Because many visitors came by appointment, the artists were often present for a long time and increasingly engaged in an in-depth conversation with each other.
Their fascination for time is one of the themes that Sylvia and Brigitte have in common. They experience time in their own way, and are well aware of time. Sylvia likes to depict places where time confuses. Brigitte believes that imaginary time only exists in our heads, or as art critic Philip Peters once wrote about an exhibition of hers: a time without time, vague with some details emerging, the memory is now, here, but at the same time endlessly distant and elusive .
Apparent contradictions is something that attracts and fascinates them. The same goes for the title of the exhibition. Man against nature sounds like a contradiction in terms, because isn't man part of nature? Is man then in conflict with himself? Perhaps the answer should be affirmative, although probably not every person is aware of this.
They already knew that they had a lot in common, but the more they talk, the more similarities there appear to be. They both like to work with layers. You cannot call Brigitte a photographer, because she uses photography as one of the multidisciplinary ways of depicting. She also uses various photographic techniques such as camera obscura, salt printing and cyanotype, sometimes adding pigments. In her work she tries to limit the number of visual elements. In a large series of works, Spiegeler uses two elements, a black-and-white photograph and raw pigment of one colour. When there are two elements, one is easily tempted into thoughts of dualities, for example, black and white versus color, figurative versus abstract, point versus counterpoint, static versus dynamic, and so on.
De Boer paints with oil paint and then chisels the canvas to scrape off the paint here and there, and then add paint again. She got the chisels from her grandfather. He was a carpenter and artist. When De Boer had a 'painters block' at some point, she found a set of old, weathered chisels from her grandfather. That took her back to her childhood, when she liked to scratch on a sheet full of crayon colors with black painted over. This was the beginning of her own and recognizable style of work. Her work sometimes resembles textiles, while it is really an oil painting. It is lyrically abstract and above all timeless. She likes to paint a non-existent nature, but even if it is imaginary, one immediately recognizes that it is nature. Nowadays, when she works, she often thinks about what the world would look like after humanity. Not that it matters, because then there won't be any people to regret it anyway. She will soon invite the viewer to this melancholic thought experiment. After all, imagination is what sets us apart from other life (literally and figuratively).
Dates and Times
| | |
| --- | --- |
| Tuesday | 12:00 – 17:00 |
| Wednesday | 12:00 – 17:00 |
| Thursday | 12:00 – 17:00 |
| Friday | 12:00 – 17:00 |
| Saturday | 12:00 – 17:00 |
| Sunday | 12:00 – 17:00 |
Het café-restaurant is geopend van dinsdag t/m zaterdag van 11:00-18:00 uur en op zondag van 11:00 – 17:00 uur